Not finding jobs, Aleppo's young men are joining local and Iranian militias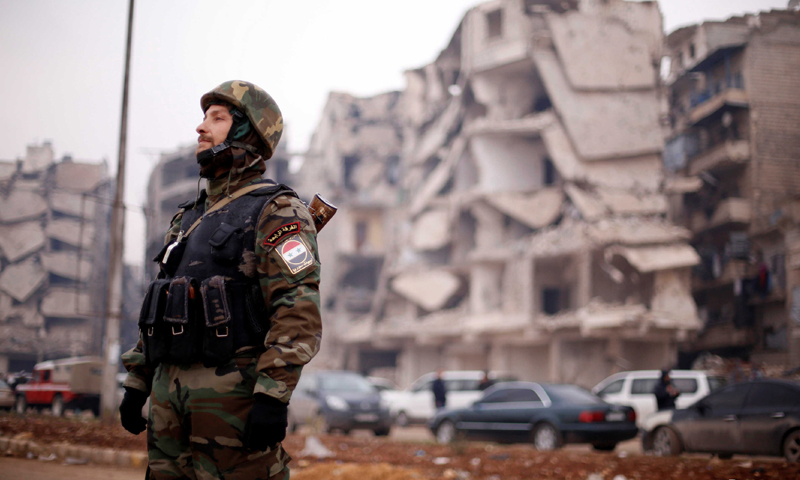 Aleppo- Saber al-Halabi
Hassan did not have the skills, education, or  experience necessary to join the labor market. Therefore, he started his own business and  opened a gaming studio in regime-held Aleppo. A few months later, he had to shut the place down, because rarely any video game players showed up, unable to pay for the entertainment. In an attempt to survive his financial crisis, Hassan turned to join the para-military groups operated by businessman Hussam al-Qatirji.
Withholding his surname for security reasons, Hassan, from the al-Sukari neighborhood, told Enab Baladi about the financial distress suffered by young men in the governorate of Aleppo, particularly the scarcity of jobs. Even when they are lucky enough to find jobs, young men still cannot find a solution to the regime's security services' grip over the governorate. They are often harassed by security personnel or people's committees, threatened with compulsory recruitment to perform the reserve military service within the ranks of regime forces, or worse yet arbitrarily detained based on malicious reports provided by regime informants. 
To escape unemployment and security pressures, young Allepian males are left no other choice but to join informal military groups, either the al-Qatirji units or Iranian-backed militias. 
Having lost his business due to the economic downturn, and after four jobless months, Hassan found himself in the ranks of the Qatirji forces, which provide protection services to the company's oil truck convoys.  
'Attractive' offers
According to Hassan, informal armed groups in Aleppo offer lucrative military pay and other privileges to promote their activities within the local community and attract the larger number possible of recruits. 
Besides a salary of 70 USD, recruits of the Qatirji forces are granted security cards that guarantee them free mobility, navigating streets overseen by regime forces' checkpoints, and protect them from potential arrest. 
These cards do not only protect recruits but also make their daily life a bit easier; for instance, they do not have to stand in lines for bread or fuel, now a familiar sight across Syria.  
Upon joining the Qatirji armed forces, recruits undergo obligatory military training for a month and a half before receiving the security card and weapons. Then, they become official members in Branch 248,  directly affiliated with the General Military Intelligence Division. Therefore, the days the young males serve in the Qatirji forces will be credited to their compulsory and reserve military service. 
Iranian militias, most prominently Baqir Brigade, Imam Ridha Brigade, and the Syrian Hezbollah Brigades run similar alluring recruitment drives to supplement their ranks with manpower. 
The Imam Ridha Brigade is significantly stationed in the eastern countryside of Aleppo, having set up several checkpoints on the roads connecting the countryside with the city. These checkpoints mainly connect the suburbs with villages of Deir Hafer, Maskanah, Manbij, and Kuiris Military Airport.
Other Iranian militias are deployed in Aleppo and its countryside, especially in the southern and eastern rural areas. 
Fayez joined Baqir Brigade a year ago. He is still fighting with them with a monthly salary of about 125 USD, after he was paid a starting salary of 60 USD.
Fayez's cousins joined the Iranian-backed militia before he did. And now, each one of them has a jeep vehicle with a personal weapon. Furthermore, they can move freely between regime-held checkpoints without being searched or stopped. The Syrian regime forces address, as friends, the recruits operating for Iranian militias. "This encouraged me to join their ranks, in addition to my original goal of improving my living conditions," Fayez told Enab Baladi.
Recruits with Baqir Brigade also undergo military training, for three months. During the training, they are denied using mobile phones. Fayez said that "Every new recruit faces some difficulties."
The Syrian recruits joining the Iranian-backed militias cannot leave or move to other groups. Furthermore, the period they serve is not considered part of their compulsory and reserve military service.
Of all these challenges, recurrent attacks against recruits with Iranian militia remain the most difficult. Recruits are under repeated attacks in the eastern countryside of Aleppo, especially in the villages of Khafsa, al-Mahdoum, and Umm al-Amad near the Kuiris Military Airport.
Using militia weapons in family feuds 
The weapons and privileges that recruits are offered by the armed groups they joined have been exasperating regular family disputes, sometimes turning them into clashes in Nayrab Camp and the district of As-Safira in the southeastern countryside of Aleppo. Cousins' fight over a piece of land would suddenly explode into a militia-marked feud. 
Abdullah, a resident of Shekh Ahmad village, told Enab Baladi that family and clan problems have increased in the area, "Whenever there is a problem over sheep or agricultural land, each side brings its friends or relatives, to back it in the quarrels, which sometimes develop into fire exchanges. "
Abdullah said that even sheiks or dignitaries of the village can no longer play their role in conflict resolution in tribal-dominated areas because their voices are overcome by the sound of bullets and the orders of military commanders of groups with which local young men enlisted. 
if you think the article contain wrong information or you have additional details Send Correction