Municipal bureaucracy and absent humanitarian organizations: Daraa Camp denied basic services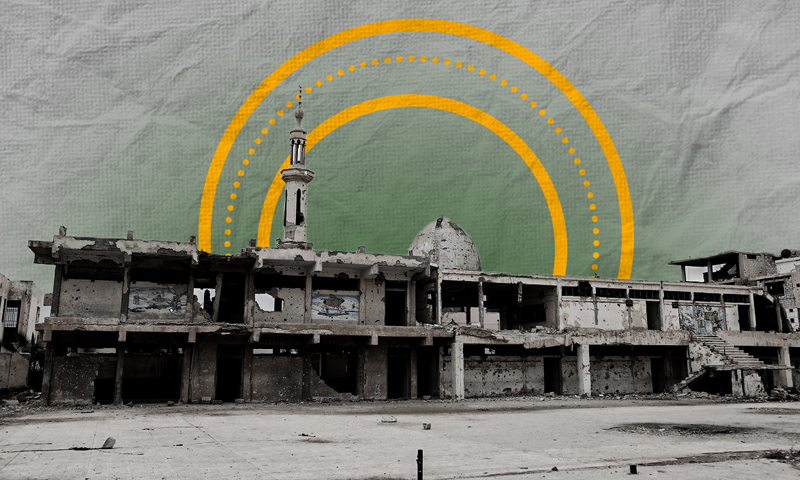 Daraa – Halim Muhammad
Daraa Camp residents, displaced from the Israeli-occupied Golan Heights, suffer from a lack of services that the Quneitra Governorate Council has been failing to provide.
Schools in Daraa camp have been partially or entirely destroyed because of shelling and crossfire during clashes. Furthermore, Daraa Camp experiences sewage overflow, piles of trash littering the roadsides, and rubble that has not been cleared even though it has been two years since the return of residents to the camps under the settlement agreement concluded in July 2018.
The Daraa Camp does not only house the internally displaced persons (IDPs) of the Occupied Syrian Golan but also Palestinian refugees who fled to Syria since 1948.
The camp's section dedicated to Palestinian refugees is supported by the United Nations Relief and Works Agency for Palestine Refugees (UNRWA), which has wholly restored schools and the camp's only dispensary. 
Schools closed in Golan's IDPs section
In the section dedicated to occupied Golan IDPs, there are only four schools, all out of service. Two are partially destroyed and require restoration, while the other two are reduced to rubble that needs to be cleared.
Material destruction in Daraa Camp was caused during the battle code-named "Death Rather than Humiliation" between the Syrian regime forces and the opposition factions in February 2017. 
Despite efforts of the United Nations Development Program (UNDP) to restore a primary school in mid-2019, the school continues to be out of service. 
Anas, 43 years old, left the camp and lived in the town of Muzayrib, in the western countryside of Daraa, for his children's sake. He told Enab Baladi, "I left the camp due to the severe lack of basic services. I wanted my children to live near their school to save time and effort." 
He indicated that all camp service facilities are neglected amid an apparent absence of effective measures by the Quneitra Governorate Council and international organizations to improve conditions in Daraa Camp. 
Kept anonymous for security reasons, a former volunteer in the Syria Civil Defence, which was active in the governorate during the opposition's control, said that "there is an urgent need to restore school buildings of Daraa Camp because camp children have to walk nearly three km (1.86 miles) every day to reach schools located in the city of Daraa."
"Parents do not want their kids to travel a long distance to their schools, which causes fatigue and wastes time. In addition to that, there will be further pressure on schools of Daraa city because of the big numbers of students coming from different areas."
Muhammad, a camp resident who refused to give his full name due to security considerations, said he is unsure why the restored school, in which prefabricated rooms have been placed a year and a half ago, is still out of operation.
Restoration, rubble removal, poverty and health issues
In the camp, sewage and drinking water networks also need to be restored. They only serve 50 percent of the camp's houses, while the rest of the neighborhoods rely on tank trucks water, which is unsterilized and expensive, according to Muhammad.
The camp residents are also afraid of infectious diseases, primarily the novel coronavirus (COVID-19). The camp has not yet recorded any positive coronavirus cases, despite the lack of hygiene due to the flooding of sewage in some neighborhoods and the accumulation of waste in others. "Thank God, no infection cases have been detected so far in the camp, even though all hygiene resources are unavailable."
Only one tractor is cleaning up the streets of the camp. Better off local councils kept this tractor and then handed it over to the camp's municipal council. This sole tractor cannot transfer all piles of waste. In addition, there is always a delay in waste removal services, which are sometimes suspended for days on end. 
The UNDP asked camp residents to supply the machinery with fuel to remove the rubble. However,  residents cannot afford to buy fuel. The camp's municipal council also apologized for being unable to procure fuel supplies, according to Muhammad.
The former Civil Defense volunteer added that camp residents are demanding the removal of the rubble and consider it a priority ahead of restoring their homes.
"Roads were opened for traffic and civilians. Still, the rubble was left on roadsides." Residents fear that the rubble is covering unexploded mines or remnants of war. However, these concerns are not taken seriously by any governmental or relief agency, none has set up rubble removal plans.
"Children of al-Golan Camp" was established near the city of Daraa, following Naksa (setback) that took place in 1967 when Israel occupied 1,260 square kilometers of Syria's Golan Heights and forced 130,000 people to flee their homes.
The people of the Israeli Occupied Golan live in camps spread in Daraa and its western countryside. The camps' names are Zayzun, al-Fawwar, Khirbet Qais, al-Amouria, Yadudah, and Khirb al-Shaham. These camps are linked to the Quneitra Governorate Council, despite being outside its administrative scope, overlapping with the areas served by the Daraa Governorate Council.
The southern Syrian governorate of Daraa, including the camp, has been experiencing an overall lack of services since the Syrian regime forces retook control of the area about three years ago. Daraa continues to be at the mercy of repeated promises made by the Syrian regime officials to secure services and fulfill the settlement agreement's conditions under which the opposition factions handed over their weapons.
if you think the article contain wrong information or you have additional details Send Correction