Increased demand on renewable energy sources in al-Hasakah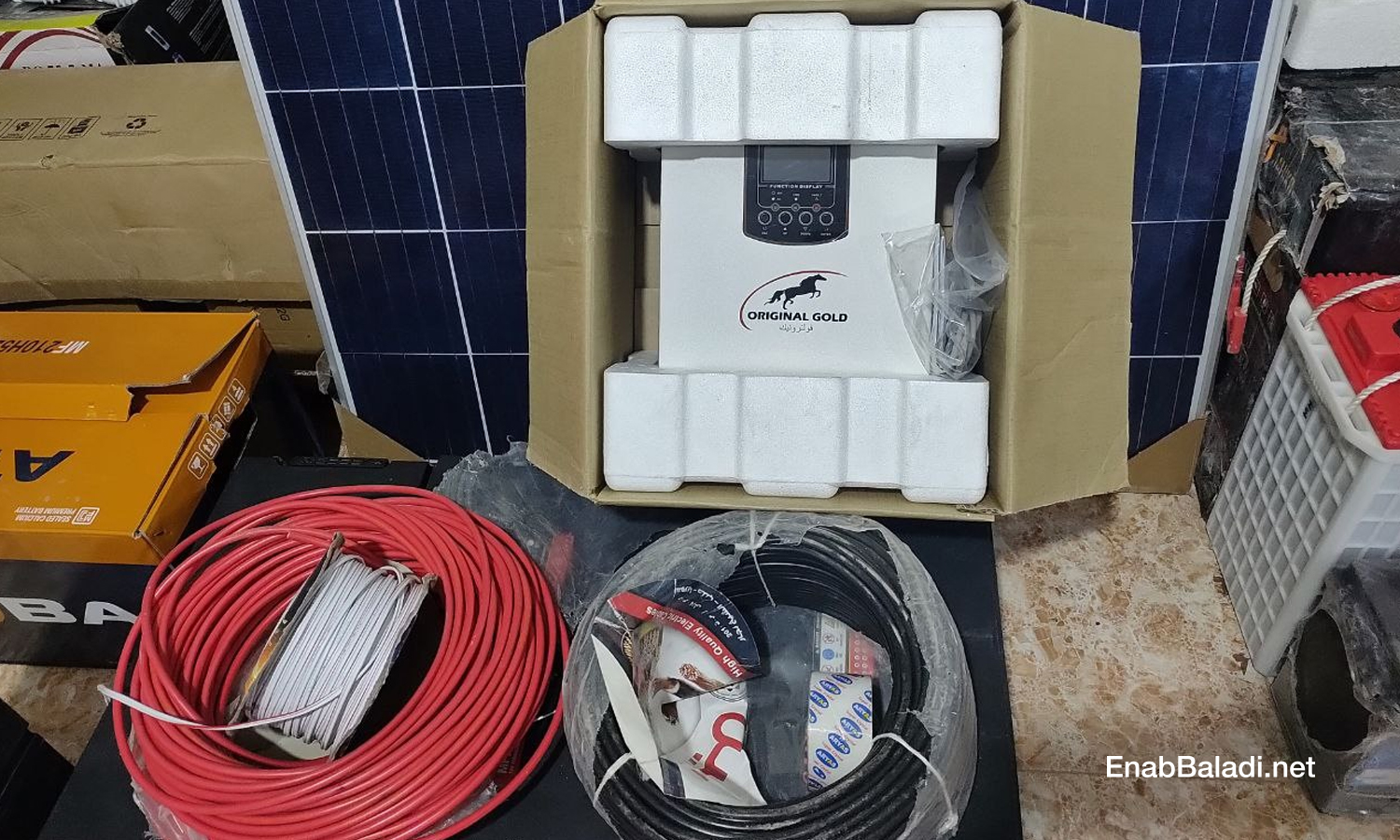 Al-Hasakah – Majd al-Salem
Al-Hasakah governorate residents' demand for renewable energy sources has increased considerably to secure power supply to light their houses, heat water, or operate their small  businesses.
Enab Baladi monitored the increased number of shops selling renewable energy supplies in the cities of al-Hasakah governorate. Six months ago, the city of al-Qamishli had four shops selling sustainable energy requirements while today it includes ten shops distributed in different parts of the city.
Abdul Hussein opened a shop selling solar cells and their parts like batteries and other requirements about six months ago after realizing the residents' high demand for them. He described his investment in this field as "successful," mentioning that last March alone he installed 15 solar power systems.
The great demand for renewable energy can be ascribed to reasons such as power supply instability in terms of low voltages and repeated outages. The continuance rise in amperes monthly subscription fees, which so far amounted to 3,500 Syrian pounds (SYP = about 1 USD) per ampere, has also prompted people towards sustainable energy, according to Abdul Hussein.
Amperes are the names locals use to refer to generators' electricity. 
Diverse sources and price ranges
The prices of solar panels vary depending on their manufacturing country and quality. They range between 75 and 100 USD (nearly 365,000 SYP) per panel, Abdul Hussein said.
Chinese-made solar panels are brought from various regions, including Idlib. The panels are shipped from Idlib to Manbij and then to al-Qamishli and northern Iraq, where they enter the Semalka border crossing in the al-Malikiyah region.
The Semalka crossing is located between the Kurdistan region of Iraq and areas under the control of the Autonomous Administration of North and East Syria (AANES) on the Tigris River.
Other requirements such as Indian and Chinese-made solar batteries are imported to al-Hasakah and then sold at prices ranging between 50 and 150 USD, depending on the battery's quality and capacity.
Meanwhile, installing a solar water heater using the vacuum tubes technology, with tubes made of special materials enabling the absorption of solar radiation in different climate conditions, costs about 450 USD.
Enab Baladi has been told by shop owners that the high demand for solar energy is not limited to the cities of al-Hasakah governorate, as it became quite popular in the countryside as well. Many villages in al-Hasakah do not have access to the amperes subscription system and suffer long power cuts of up to 16 hours daily.
The electrical grid of the governorate suffers continuance problems. As summer approaches, the demand for solar energy increases thanks to long periods of sunlight harnessed to operate refrigerators, air-conditioners, and other electrical appliances, depending on the number of panels used.
Four solar panels can generate power as much as three amperes and can operate a refrigerator and an air-conditioner, besides lighting up a house. However, a larger number of installed panels can run many electrical devices at the same time, Zari, an owner of sustainable energy requirements shop in al-Qahtaniyah city, told Enab Baladi.
Small-scale agricultural entrepreneurs from al-Hasakah countryside have resorted to solar energy to power water pumps after frequent failures and high maintenance costs of their diesel engines, which helped increase solar panels' sales.
International organizations have also started funding projects in collaboration with local charities to light up displacement camps in the province relying on solar power.
Several solar energy projects have been implemented in the al-Hawl and al-Twina camps in rural al-Hasakah. Bluemont Organization, a US-based organization for relief and development programs, set up 160 solar power systems in the al-Twina camp in northwestern al-Hasakah city, early 2021.
The United Nations Development Program (UNDP) has also carried out several projects to light up al-Qamishli and al-Hasakah cities' streets depending on solar energy technology, which increased the demand for solar panels and contributed to their spread in the region's markets. 
Pros and cons of renewable energy
Malik al-Ali installed a solar water heating and lighting system in his house to provide hot water 24 hours a day. He told Enab Baladi that solar systems have solved the problem of repeated electrical outages and are a better source of energy than diesel-powered generators, which require frequent maintenance.
After the neighborhood's power generator broke down for a month, al-Ali got rid of his generator of high maintenance cost and noisy sound, which was a source of annoyance to his neighbors driving them to object to its presence in the building, the thing that is unlikely to happen with the use of solar cells.
Al-Ali pointed out that his house's solar energy systems have relieved him from the burden of constantly worrying about the food getting spoiled inside the refrigerator upon long power cuts. Nevertheless, this renewable energy has a sustainability problem in cloudy weather conditions, which is solved by batteries.  
Moreover, renewable energy does not come at a cheap cost for the residents of the region, particularly that its price is dependent on the exchange rate of the US dollar, which amounted to more than 4,000 Syrian pounds in mid-March, affecting the locals' ability to purchase solar power generating systems.
if you think the article contain wrong information or you have additional details Send Correction