Banished to the mountains: Isolation deepens IDPs woes in Idlib camps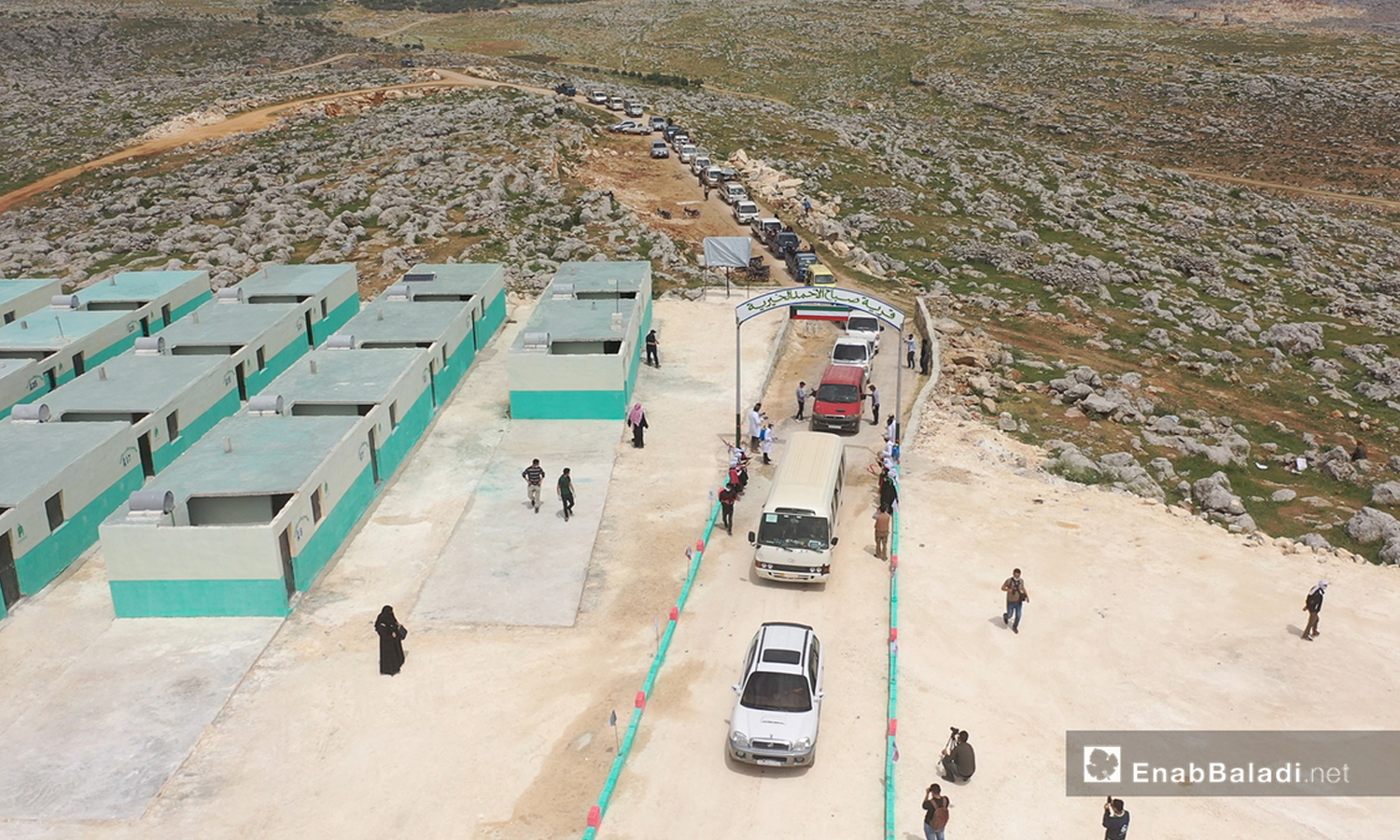 The northern countryside of Idlib- Iyad Abduljawad
Ahmad, 13, felt severe flank pain, started screaming at the top of his lungs, and eventually lost consciousness in his family tent in the al-Bonyan Camp, set up in Konkaya village in the northern countryside of Idlib.
In the deep of the night, on 2 March 2021, Wafaa al-Assa'ad, Ahmad's mother, could do nothing but shout and cry herself as she saw her son collapsing. "Me, his siblings, we were all crying and shouting for help. We needed someone to hospitalize him, but no one showed up."
The mother called a relative in Harbanoush town, located over 10 kilometers from the camp.  After a painful half an hour, the relative came and took Ahmad in his pickup car to Korqenia Village Health Center. It was closed.
The mother, the suffering child, and the relative then headed to the next nearest health center in Killi town. Arriving there, Ahmad received necessary treatment, over an hour and a half of the fit of pain he had.
According to UN data, there are 1106 camps in Idlib, where internally displaced people (IDPs) continue to suffer from torrents every winter. In response, humanitarian organizations opted for relocating these camps to higher areas. The relocation sites, however,  created additional difficulties for IDPs stemming from the isolation they were caught up in.
Stranded remotely
Distance denies Maryam al-Mahmoud the regular health care she needs. There is a single health care center in the Kuwaiti Village camp where she resides. Even though that her son can take her there on his motorcycle, distance can still be a barrier for the center is set up in an isolated hills area, beyond residents' reach.
With or without transportation means to take them there, camp's residents cannot seek the center, which for no obvious reasons, has not been operated though declared open nearly a year ago.
Al-Mahmoud, sixty-something, has cardiac and disk-related issues and has to see a doctor on a fixed schedule. Since that the camp's health center is closed, she had to seek treatment at the Harbanoush Hospital. Risking the motorcycle ride, al-Mahmoud still could not get the regular checkups because she can rarely make it to the hospital at 9:00 am—the time the receptionists make patient appointments. Tired and forcibly late, al-Mahmoud has to wait for an opening within the doctor's jammed patient schedule.
Al-Mahmoud cannot reach the hospital for the 9-am-registration because her body cannot resist the forces of cold that hit her every time she rides the motorcycle behind her son, while she cannot afford to pay for a taxi. Eventually, al-Mahmoud had to see a doctor in a privately operated clinic in Idlib city, paying both the exorbitant checkup costs and medications' prices.
Fatima Haj Ali— a widow and mother of three— lives in the al-Firdous Camp, located on the outskirts of Sheikh Bahr village, six kilometers away from Idlib. She told Enab Baladi that "the camp does not have a health center. Consequently, I have to pay for a taxi or wait for passing cars to reach other centers."
Deprivation of education
Similar to health care services, remoteness is a major obstacle to education. In addition to the shelling which poses continuous threats to students' lives in northwestern Syria, overcrowded classes, and curtailed funding,   students in isolated camps have also to worry about the distance, particularly in the camps with no or out-of-service schools. Due to distance, many children dropped out of school and pursuing a better future.
Al-Haj's three children—between 12 and seven years old— are out of school. The three have abandoned schools because the nearest is at least seven kilometers away from their camp.
Al-Haj decided to stop sending her children to school because there are not transportation means to take them there, and she would not risk sending them on foot.
Faisal al-Assa'ad is a resident of Kuwaiti Village camp and a father of four, three of whom are the age of primary school.  Neither of his children has received any education in earlier years due to hostilities, while they cannot pursue an education today, because their camp lacks a school and is set up away from villages and towns that have ones.
While still in the southern countryside of Idlib, al-Assa'ad's children were denied access to education by consecutive shelling fits on the area and the corresponding displacement, not to mention that schools went on and off in 2020 and 2021 due to the COVID-19 pandemic outbreak.
Actually, there is a school in the Kuwaiti Village camp, but which, like the health care center, remains out of service for reasons that the camp's people do not know.
Sale and purchase: daily agonies, daily exploitation
Humanitarian aid, mainly food baskets and bread, is still distributed to many camps in northern Syria, but the contents of the baskets barely cover the IDPs' basic needs.
There are many shops in the al-Firdous Camp where al-Haj lives. However, camp residents cannot afford the goods they offer on shelves. The prices of commodities, supposedly considerate of the camp finances, are extremely expensive and unaffordable to the majority of residents who are mostly on aid programs or do not have a stable source of income.
Vendors too make it difficult for camp residents to engage in the simplest purchases. These moving merchants demand inconsistent prices, which they set as they wish, taking advantage of the camp's location, away from the markets in adjacent villages.
To avoid exploitation, IDPs seek distant markets on foot to buy necessities, said al-Haj. She is forced to go that far even though she does not have a livelihood and trades the food basket's contents that she does not need for money. However, the little money she makes is not enough to buy her any of the goods displayed in shops or brought by vendors to the camp.
Mustafa al-Halabi, 45, told Enab Baladi that he was staying in a camp next to the town of Killi before moving to a camp next to the town of Koknaya, established by Bonyan organization. "It was easy for me to buy needs for the seven members of my family. Since I moved, getting stuff turned very difficult, given the distance separating the camp from residential areas [that run markets]."
Because he cannot afford to buy large quantities of food and household necessities, Mustafa is forced to walk to markets in the nearest town every day, which he described as a time-consuming and arduous task.
For lack of public spaces
Muhammad Ahmad, the director of Bonyan organization's office in Idlib, told Enab Baladi that the remote mountainous location chosen to set up the new camp was not arbitrary. These areas were selected because most of the plains or mountainous spaces near the cities are private properties.
One other reason for moving away from the cities is the circular issued by the Ministry of Agriculture of the Salvation Government, which banned camp construction on farms because the areas of arable lands shrank after the early 2020 military operation the Syrian regime forces carried out in Idlib's southern countryside.
Even though they seem detached from the rest of the world, these mountainous areas, where the camp was established,  provide IDPs with protection from flood disasters that recur every year, uprooting or submerging the tents and thus depriving residents of their patchy shelter.
Director of Formal Camps Construction Project at Saed Charity, Obada Arwani, told Enab Baladi that camps are being built in the mountains for the lack of unoccupied public lands.
He said that "land ownership is the factor that governs the process of camp-site selection. With repeated and increasing waves of displacement, camps were constructed on large swathes of public and private lands. In time, no lands were left to construct camps."
Arwani added that Saed Charity has so far built six formal and four temporary camps in northwestern Syria.
Organizations do not provide everything
The Director of Bonyan's office in Idlib, Muhammad Ahmad said that the organization provides services to the camps it has constructed. Bonyan built two schools in two camps, a fully equipped dispensary in Salqin camp, and medical points in those with no dispensaries.
Ahmad added that operating schools, medical points, or dispensaries is the responsibility of the organization that handled construction. Therefore, Bonyan has been communicating with the area's medical organizations to start these facilities.
Pertaining to markets and shops, Ahmad said that these were an integral part of the feasibility studies and construction plans. Vendors and people keeping commodity stalls supply camp populations with their needs.
"A single organization cannot provide everything, but services are covered through coordination with other partners," Arwani said.
He added that humanitarian aid is provided "as needed and when available," noting that the organization that helped build permanent camps equipped them with infrastructure, bathroom facilities, road networks, and lighting, while establishing a camp's administration, by appointing management staff, community mobilization and accountability advisors, and observers within each camp.
Camp projects include the supply of water, awareness, protection, establishment of schools and the necessary training for the beneficiaries, in areas such as firefighting. The project also encompasses coordination with other organizations to bring services to the camp, among them medical care and food, in addition to waste collection.
Arwani said that camps, no matter how permanent they are planned to be, should remain the last housing choice, adding that organizations must coordinate to provide IDPs with better and more sustainable shelters given the circumstances they are living under.
if you think the article contain wrong information or you have additional details Send Correction