Activists slam al-Gholani's latest statements on HTS-run prisons as whitewash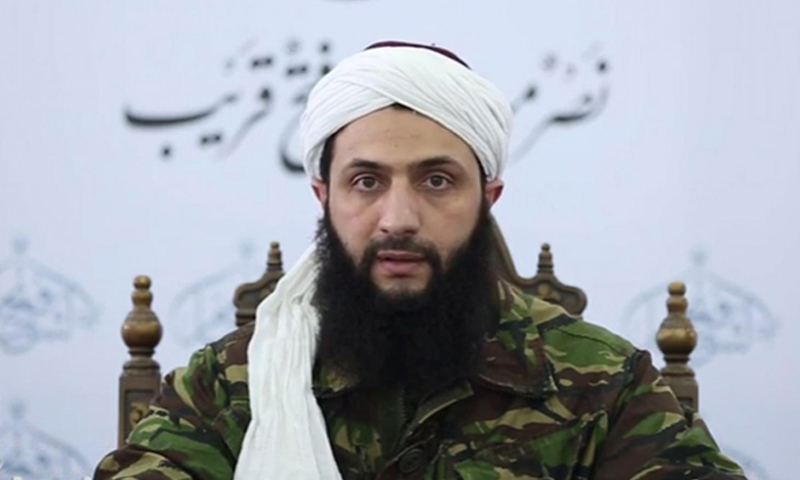 Abu Mohammad al-Golani, the commander-in-chief of Hay'at Tahrir al-Sham (HTS), has been lately slammed by activists and families of  military factions' fighters for his recent comments about HTS-run prisons, the group in control of Idlib governorate and part of the western countryside of Aleppo. 
In an interview with American journalist Martin Smith—parts of which were published by the Frontline Network on 2 April— al-Golani claimed that all the people detained by the HTS were Syrian "regime agents, Russian agents who come to plant booby traps, or members of Islamic State (IS)."
Al-Golani added that the detentions also targeted thieves and blackmailers, rejecting claims that the HTS went after its critics. "There is no torture. I completely reject this," al-Golani told Smith. He dismissed those talks about arresting opponents from other factions or critics of his factions as mere "rumors."
Al-Golani said that he would grant human rights organizations access to prisons operated by the HTS. 
He said, "Human rights organizations can come and inspect prisons or carry out a tour. Our institutions are open to anyone. Organizations are welcome. Or people interested in the matter can visit and evaluate the situation: Are things done properly or not?"
Response
Human rights activists have refuted al-Golani's talk with Martin Smith about the type of people jailed by the HTS.
Sara Kayyali, Syria researcher for Human Rights Watch, told Smith, "We have documented cases where people had described, in detail, their torture, where they shared pictures of marks that they obtained while in detention in Idlib governorate."
When Smith told Kayyali about al-Golani's offer, she said, "That would be very good, if they're able to follow through on it, and if they're able to provide access to both official and unofficial detention facilities."
Kayyali noted that rights groups have heard such promises before from others without any follow-up.
Several videos posted on social media show numerous families demanding the release of their detained sons or disclosing reasons behind their detention and arrest. Some have been detained for over two years, as monitored by Enab Baladi. Civil rights activists demanded the release of people detained by the HTS under the pretext of working for the United States of America (USA) or for the North Atlantic Treaty Organization (NATO), including fighters from other factions or activists who have not been proven guilty of any charges so far. 
In response to al-Golani's recent statements, political and military researcher at Jusoor Center for Studies, Abdul Wahab Asi, tweeted, "Tell it right. It's Abu Mohammad al-Americani [the American] not al-Golani [ in reference to the Israeli occupied al-Golan Heights]." Asi is alluding to al-Golani's attempts to cozy up to decision-makers in Washington in order to be removed from the terrorist lists.
A photo of Mahmoud Qul Agassi, aka Abu al-Qaqa, was recirculated online to serve as a reminder. Agassi was known for his shift from "jihadist" thought to his call for internal reform in Syria. He changed his garb, just like al-Golani, who also changed his oft-vaunted ideas. For those ideas and thoughts, al-Golani has fought and eliminated entire factions. However, he today follows the policies of these factions, which were once their death cause. 
"Abu al-Qaqaa" was shot several times by a gunman in his head as he left the Imam Mosque after Friday prayers in September 2007. "Jihadist" groups were accused of being behind his murder, without an official, impartial investigation of the case.
 The Qatari Al-Jazeera channel met a number of people who had close links with Agassi in a documentary titled "Abu al-Qaqaa – the Syrian intelligence arm" in 2015. The interviewees said that "Abu al-Qaqaa" was dealing with Syria's intelligence services.
 Activists also released a photo of the 2015 interview of Al-Jazeera journalist Ahmed Mansour with al-Golani, commenting that al-Golani in this interview is responding to al-Golani in the interview held by Martin Smith. Al-Golani points out, "We do not care what the West says about us. But, we are only interested in implementing God's laws."
 The HTS media office commented on al-Golani's new appearance, saying in a statement that "We think that we must break the isolation and convey our reality to people in the region and worldwide, using all available legitimate means in a way that ensures the interest of the revolution and eliminates corruption."  
 In April 2020, the HTS denied that there were prisoners of conscience or activists in its prisons in response to calls made by some activists demanding the release of at-risk prisoners due to fear of the outbreak of the novel coronavirus (COVID-19). 
 At the time, the HTS said that its doors are open "to those who want to ask about prisoners" and that it has a "high degree of transparency and responsibility to answer those questions about prisoners and their fate."
The HTS added that "the prisons of the HTS hold only those involved in serious security issues."
 HTS to polish its image through its prisons… Organizations document
The HTS has taken several steps to have its name removed from the international terrorist list since 2016. The HTS has been communicating its changing stance to the world through the media. The recent attempt was its claims about prisons, which allegedly "hold only agents and IS fighters." Al-Golani indicated that the HTS is no threat to the US and Western countries.
 Researcher of jihadist groups Arabi Arabi said in a symposium conducted in the Masarat Center for Dialogue and Political Development that there was no intellectual retreat in the HTS group after the recent speech of al-Golani. Nevertheless, the shift was in the form and language of the political discourse oriented outward and not to the people inside Syria. This is because the rules of addressing localities are different from those when addressing the outside world.  
Researcher Arabi Arabi does not mind that change in the outfit of al-Golani. It actually shows "how pragmatic al-Golani is. He has the ability to ride the wave that fits the reality in which he is."
The Syrian Network for Human Rights documented 146 cases of arbitrary arrest and detention by the HTS, including a child and four women, in 2020. The HTS ranked fourth in the number of arrests after the Syrian regime, the Kurdish-led Syrian Democratic Forces (SDF), and the Syrian National Army, which mostly targeted activists in civil society institutions, media professionals, lawyers, and clerics.
According to the Syrian Network, most of those arrested and detained by the HTS had criticized the HTS administration policy in its area of control or worked within institutions affiliated with the de-facto Interim Government (IG), which used to administrate Idlib's affairs before the expansion of the HTS group.
if you think the article contain wrong information or you have additional details Send Correction