To evade sanctions, smuggle more weapons—Iran to reoperate Bandar Abbas-Latakia sea shipping line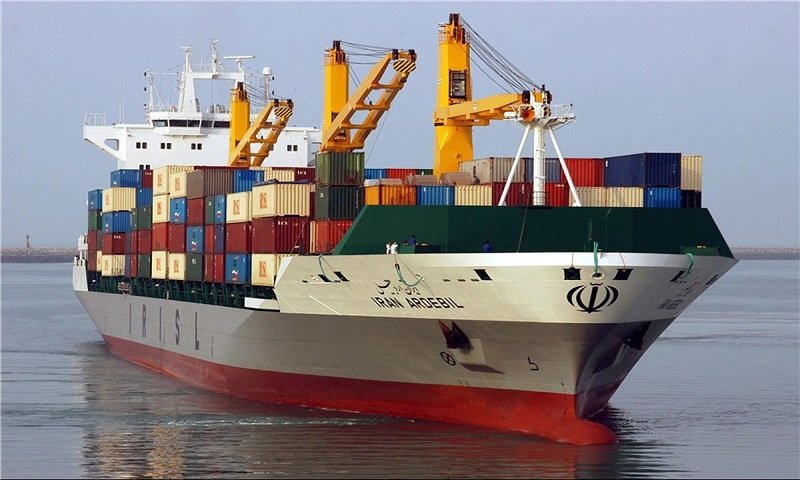 Enab Baladi – Khawla Hefzy
On 10 March, Iran's first cargo ship will set of from the southern Bandar Abbas port in Hormozgan governorate to Latakia port in Syria, as part of a plan to resume direct sea fright between Iran and Syria.
Head of Iran-Syria Joint Chamber of Commerce Fahd Darwish said on 23 February that "the establishment of Bandar Abbas-Latakia direct shipping line would lead to regular shipping services between Syria and Iran," the pro-government al-Watan newspaper reported. 
Cargo ships will hold freight from the Iranian port to Syria, full or empty, on the tenth of each month. According to Darwish, before establishing the new shipping service to Latakia, Syrian importers had to wait for up to three months for their cargo to arrive at the port of Latakia.
According to statements by Syrian and Iranian officials, the shipping line, which was previously active but not on a regular basis, aims to boost Iranian exports to the Syrian market.
The officials did not mention whether there will be Syrian exports to Iran. This raised questions concerning the expected benefits of the shipping line for both Syria and Iran.
Teasing Russia
Co-chair of the Joint Syrian-Iranian Chamber of Commerce, Kiwan Kashfi, said that "frights could take place twice a month, meaning each 15 days, if there is a greater demand for shipping to Syria's Latakia." 
The head of the Syrian Economic Task Force (SETF), Osama al-Qadi, believes that the announcement of the reoperation of the shipping line is "propaganda and media advertisement rather than a commercial one" because it is "difficult to achieve, even though the Syrian market is short on everything right now."
Al-Qadi told Enab Baladi that the Iranian "declaration" regarding the shipping line between Syria and Iran is a response to Russia's statements that Iran cannot advance or save the Syrian economy. It is also a "message" that Russians cannot support the Syrian regime indefinitely, unlike Iran.
The announcement also came at a time when the representative of Russian President Vladimir Putin in Damascus, Alexander Yefimov, indicated that allocating Russian funds to support the Syrian economy would be a challenge. This is because today, Russia itself is adversely affected by sanctions and the economic recession due to the novel coronavirus pandemic (COVID-19).
Yefimov told Russia's Sputnik news agency on 11 February that the socio-economic situation in Syria today is "extremely difficult," perhaps the most difficult it has been since 2011. 
Back door
Iran is trying to gain more from its intervention in Syria. However, the Iranian Mehr News Agency earlier quoted Iranian experts as saying, "The Iranians have not been able to seize the attractive and somewhat ready-made Syrian market."
Kashfi acknowledged that Tehran encountered many challenges in trade with Syria, mainly regarding shipping and transportation, due to the lack of common land borders. 
Researcher on Iranian affairs Alaa al-Saeed told Enab Baladi that trade relations between Iran and Syria are recent and were mainly dependent on transit through Iraqi territories.
Al-Saeed stressed that land transportation through Iraq experiences "increased pressures from the US." This prompted Iran to revitalize "the maritime transport," prospecting that it will be "a back door" to evade sanctions. 
In addition to transporting Iranian goods through Iraq to Syria, Iran has other options to ship its goods to Syria, including air transport, which is costly and restricted by COVID-19 control measures. The second route is by the Turkish port of Mersin. However, this route is expensive. Therefore, the Bandar Abbas-Latakia shipping line is the best option for transporting its goods to Syria.
Potential benefits of the shipping line
The new shipping line will regularly transport exclusively Iranian goods to Syrian. There is only a one-way transit system from Iran to Syria, where Iran will be the exporter and Syria will be the importer. Iran hopes that "this shipping line will lead to an increase in the export of agricultural products to Syria."
Kashfi told the Iranian Fares News Agency, "Currently more Iranian goods will be exported to Syria," while "Syria does not export many goods to Iran." Yet, this might happen with "the expansion of commercial relations between the two countries."
However, the Syrian people "are not in a position to afford imported goods, because they can hardly pay for bread and fuel," according to the head of the SETF, Osama al-Qadi.
 Al-Qadi asked mockingly, "Will Iran export Persian carpets and food to Syria? We have food in Syria." He added that "people hardly buy vegetables; they do not need to buy Iranian food."
A recorded 12.4 million people in war-torn Syria – nearly 60 percent of the population – are now food insecure, by far the highest number ever recorded, the World Food Program said, based on results of the nationwide food security assessment conducted in late 2020.
According to Fahd Darwish, head of the Joint Syrian-Iranian Chamber of Commerce on the Syrian side, the new shipping line has the "advantage" of shipping bulk goods. Bulk goods are raw, unprocessed materials used in primary production or manufacturing processes. 
Iranian gains 
The annual Syria-Iran trade volume is between 170 and 180 million USD, according to recent official Iranian estimates. However, Tehran hopes that "the volume of trade between the two countries will triple by next year, based on the plans developed."
Researcher on Iranian affairs Alaa al-Saeed considered that reviving the "irregular" shipping line is "extremely important" for Iran because it can escape from sanctions through Syria, whether shipped products are directly intended for Syria's local markets or are aimed at transforming Latakia into a transit port and launch pad of Iranian oil.
Al-Saeed believes that maritime transport is "a way to prove the actual Iranian presence in Syria, militarily and economically. Also, maritime transport increases the Syrian regime's dependence on Iran so that it will be difficult for Iran's forces to leave Syria later."
The new shipping line could have "marginal" benefits for the Syrian regime, not "substantial" ones. This is represented by showing the world that "some international regimes are still dealing with the pariah regime," according to al-Saeed.
Syria may turn into a secret "exporter of Iranian products, especially oil. This will strengthen the Syrian regime's position and prove its intention to control Syria before the international community."
New Iranian gateway to smuggle "weapons"
All the economic experts interviewed by Enab Baladi agreed that there is no clear "economic feasibility" for the new shipping line between Syria and Iran. This sparked the question as to whether the Latakia port may turn into a new gate for entering Iran's weapons into Syria. 
Iran transfers weapons to Syria and Hezbollah in Lebanon by sea to avoid Israeli assaults on its land convoys, Israeli Haaretz newspaper quoted an Israeli official in July 2019.
Head of the SETF, Osama al-Qadi, said that "if Iranians use Latakia port to a large extent, this could be a bad omen for Syrians."
And if the port of Latakia becomes "a gateway for smuggling Iranian weapons to Syria to support the Iranian militias, then it will be vulnerable to aerial attacks. Consequently, Syria will lose this port," according to Qadi.
Iran usually uses Damascus International Airports to transport weapons and other smuggled items. For 10 years, Israel has been destroying any facility suspected of being Iranian.
Al-Qadi believes that "the new sea route has no economic weight, and that it may turn into a door to bolster the military machine that wiped out the Syrian people."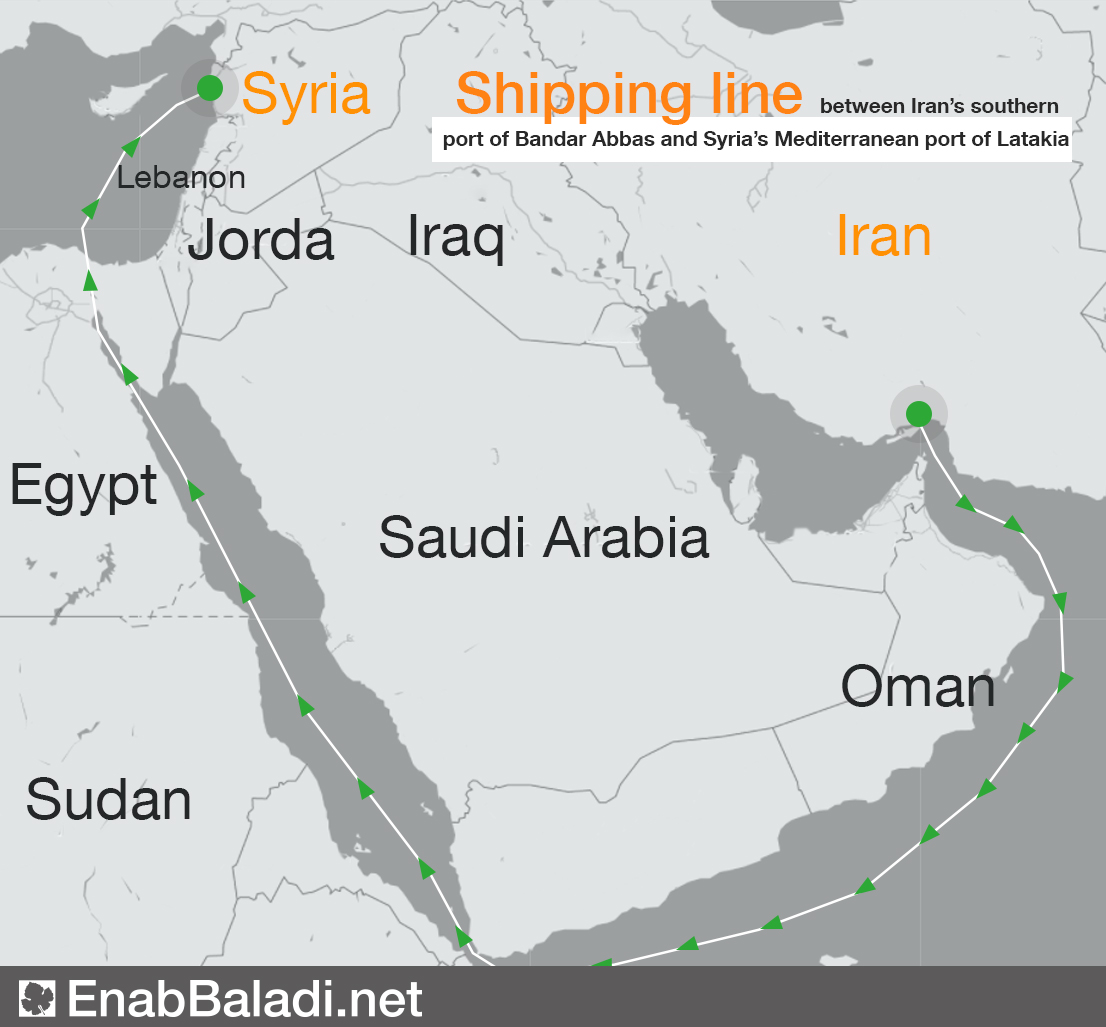 if you think the article contain wrong information or you have additional details Send Correction