Livestock breeders struggle with high fodder prices in al-Hasakah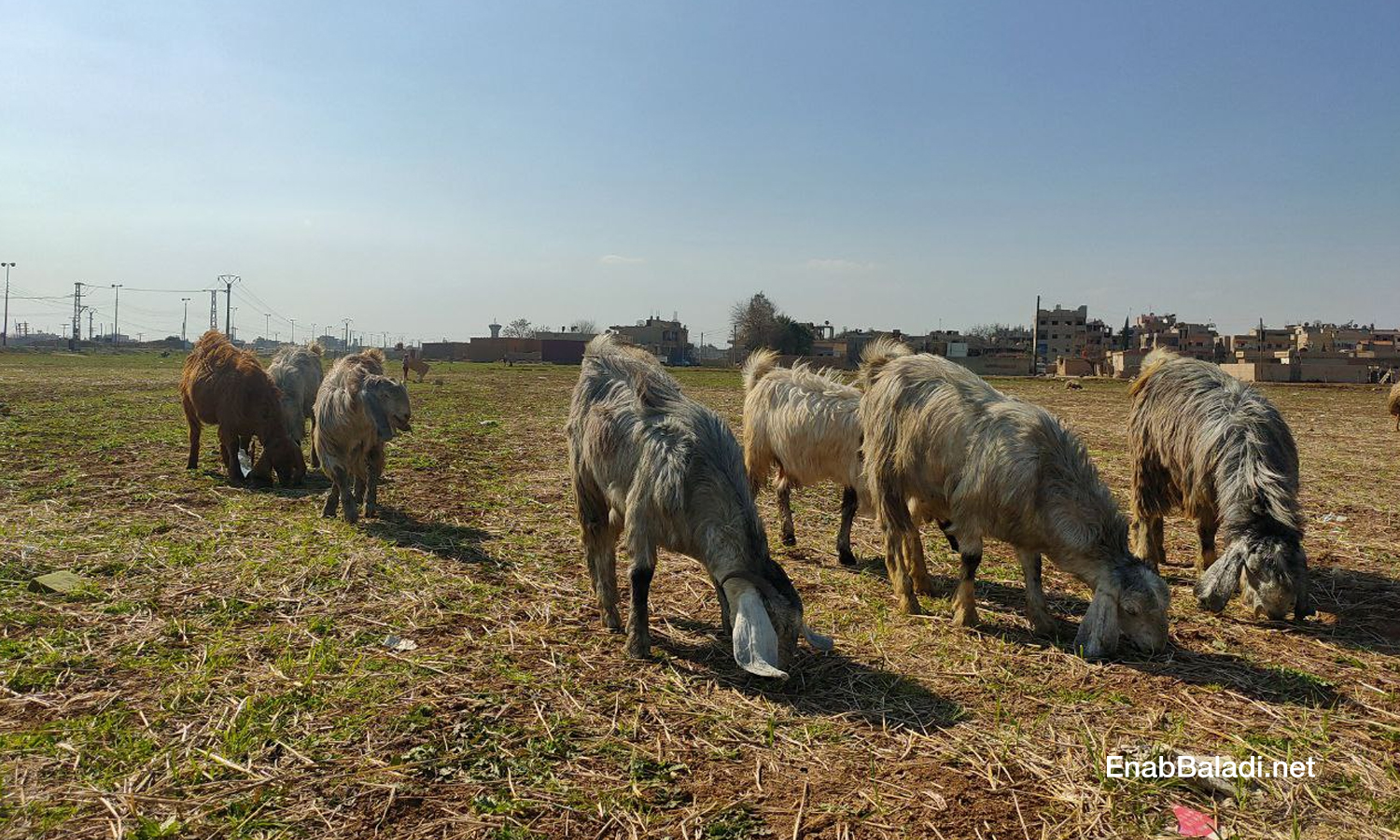 Al-Hasakah – Majd al-Salem 
By the beginning of 2021, livestock fodder prices increased in the al-Hasakah governorate, forcing breeders to sell some of their cattle as they could not afford to feed them.
Ma'an, a livestock breeder from the al-Qahtaniyah Subdistrict, who requested that his surname be withheld for security reasons, told Enab Baladi that he owns 200 head of sheep, for which he bought fodder at the cost of 800 Syrian pounds (SYP) per kilogram from local merchants. This price is more than the doubled price of subsidized fodder promised by the Autonomous Administration of North and East Syria (AANES) without implementation.
The Agriculture and Livestock Establishment of the AANES has set the price of one kilogram of the al-Nakhlah (Palm) fodder at 300 SYP. It pledged to provide the fodder at this price by the beginning of 2021; however, the delayed and insufficient rainfall and the lack of natural green pastures forced livestock breeders to buy fodder at the merchants' prices. 
Enab Baladi monitored the prices of different livestock fodder in the AANES areas. The prices ranged between 700 SYP per kilogram of barley, 200 SYP for hay, 900 SYP for wheat, and 800 SYP for dried bread waste. 
According to Malik al-Sarhan, a sheep breeder from the southern countryside of al-Qamishli, the feeding cost of 100 sheep exceeded 80 thousand SYP (about 20 USD) daily for the fodder of an average nutritional value. This forced many cattle breeders to sell some of their sheep at low prices to buy fodder for the remaining sheep, al-Sarhan said.
He added that the cessation of sheep selling to northern Iraq during March contributed to a 25% decrease in sheep prices from the average price of 750,000 SYP (193 USD) per sheep.
AANES's fodder allocations are based on old statistics
"We do not have new statistics on livestock fodder. The feedstuffs problem was caused by drought this year," the Joint head of the Agriculture and Livestock Establishment of the AANES in al-Malikiyah city, Bashir Hamza, told local radio station Arta FM, on 23 February.
According to Hamza, the fodder amount allocated to each livestock farmer of the subsidized feedstuffs is 10 kilograms of bran grains for sheep and goats and 50 kilograms for cows, buffaloes, camels, and horses.
Enab Baladi has been told by most cattle breeders it interviewed that the actual number of livestock is different from those of the AANES's 2018 statistics. The current allocations of subsidized fodder are "insufficient considering the numbers of cattle on the ground." Sheep numbers doubled in the years that have seen an abundance of fodder and natural forage and pasture areas.
if you think the article contain wrong information or you have additional details Send Correction