How does the UN assess the work of Syrian rights organizations?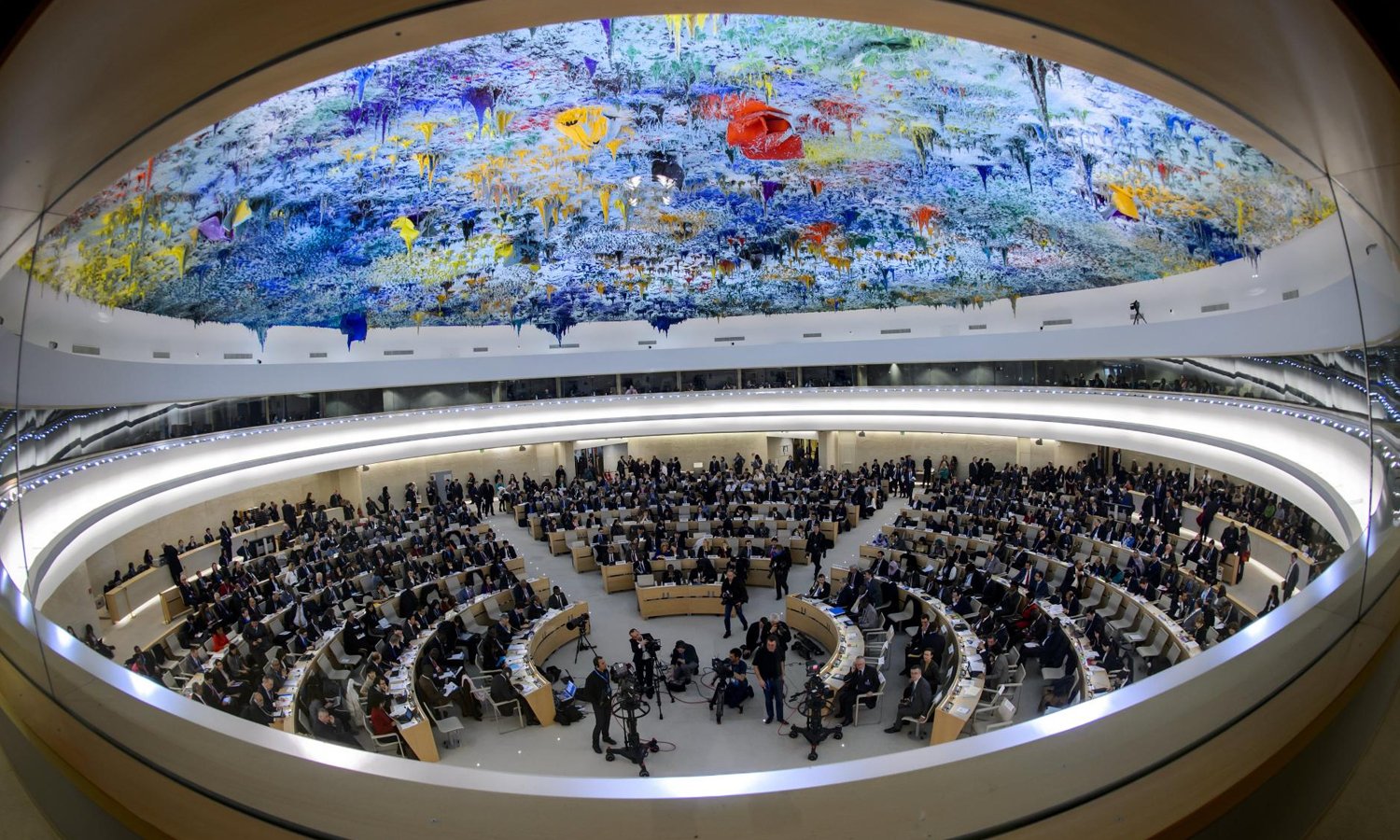 Enab Baladi – Saleh Malas
A prison is a place where individuals are held temporarily or permanently as a punishment for a crime they have committed. The state deprives those individuals of their right to interact and connect with the outside world because it believes that their presence outside the prison may harm the whole society in one way or another. For the state, prison is an opportunity for convicted individuals to be rehabilitated to cope with society again in the future.
Thus, imprisonment should be to rehabilitate prisoners, not take revenge on them. 
Governments worldwide uphold prison systems that align with existing international laws' standards. However, the purposes of prisons in Syria are different under the rule of the al-Assad family. They are venues for severe torture and ill-treatment, the execution of detainees, and the use of solitary confinement, which has adverse psychological effects on prisoners.
Thus, prisons and detention facilities run by security and intelligence services are a source of physical and psychological pain for Syria's inmates.
Syria's political prison system includes intelligence agents, security officers, formal judiciary, and martial laws under the historic state of emergency, which was effectively replaced later by the 2012 Counter-terrorism Law No.19.
All tools of the Syrian political prison system are intended to keep Syrian society in a state of fear and anxiety. Syrian people are afraid of being held in detention under inhumane conditions for several years without trial. Most of the Syrian people feel that they will be detained at any time because of a malicious report from an informer.  
 The Syrian regime increases fear and anticipatory concerns among Syrian people by preventing them from conducting political activities of any kind outside the authority of the ruling Baath party. However, following protests against the Syrian regime in 2011, arbitrary arrest campaigns were intensified against civilians. Thus, prisons and detention facilities were switched from a tool to spread fears and violence into another instrument of war beyond conventional weapons.
In conjunction with the spread of peaceful protests against the Syrian regime, which eventually evolved into an armed struggle, several Syrian associations were formed by victims and survivors of enforced disappearance and detention and their family members to address detention and forced disappearances.
Later, their work developed to be organized collectively within a charter that lays out a shared vision as a first step to create adequate pressure on the international community to release the detainees and to address impunity against the perpetrators of these violations and prevent their recurrence.
"An important complement to HRC Commission of Inquiry" 
At the international level, the Independent International Commission of Inquiry on Syria was established in August 2011 by the Human Rights Council (HRC) through resolution S-17/1.
The Commission's mandate is to investigate all international human rights law violations since March of the same year in Syria.
The HRC also tasked the Commission with establishing facts and circumstances that may be classified under these violations and investigating the crimes that have been committed. The Commission then identifies those responsible in order to ensure that perpetrators of violations, including those that may constitute crimes against humanity, are held accountable. 
In addition to periodic updates, since the beginning of its work in 2011, the committee has issued more than 20 reports about human rights violations committed in all Syrian territories.
As part of its regular work, the UN Commission of Inquiry on Syria reads and reviews many reports and publications from Syrian and international human rights organizations, the Commission told  Enab Baladi in an email.
It liaises and meets with a variety of interlocutors, including NGOs as well as other UN agencies, funds and programs, diplomatic representations, international organizations, international NGOs, and journalists, among others.
"The Commission recognizes and commends NGO work on the documentation of human rights violations as very important and complementary to the Commission's work. Such efforts are especially critical in situations like Syria where access to a country is completely restricted, and Syrian NGOs bring unique perspective and insight."
As an independent and impartial Commission mandated by the Human Rights Council, the Commission applies a consistent methodology based on such commissions' best practices.
This necessitates that the Commission's investigators obtain first-hand (i.e., witness) accounts that are corroborated and examined to determine if the information meets the Commission's "reasonable grounds to believe" standard of proof (namely if the Commission obtained a reliable body of evidence, consistent with other information, indicating the validity of the facts in question). The Commission's personnel conduct interviews with witnesses; it evaluates the credibility of the information and reliability of the source according to accepted international standards.
The Commission's investigators speak in person and individually to a broad range of the refugee population in a secure and protected manner and remotely to witnesses and victims inside the country. 
 Help with "developing a methodology for investigation"
From the Independent International Commission of Inquiry's perspective, the role of the reports of the Syrian human rights organizations is to help with credibility assessments. For instance, if the information is wholly inconsistent with NGO reports on similar topics, such information will come under heightened scrutiny when assessing whether it is credible. Also, NGOs' information can help the Commission map out an investigative approach or determine a strategy on specific alleged incidents or conduct patterns.
In addition to their reports assisting credibility assessments and providing valuable leads for investigation, NGOs can also help the Commission facilitate direct contact with victims, witnesses, and local authorities and allow the Commission to expand its networks for current and future investigative work.
This includes local and regional NGOs, including, for example, those providing services such as medical care and education, who have established contacts with communities and their leaders. As part of applying the 'do no harm principle,' the Commission attempts to minimize re-interviewing and potential re-traumatization of victims and witnesses.
Awaiting justice
 The UN Commission has been documenting arbitrary detention cases, enforced disappearances, torture, and death in detention since its start on the war in Syria. The Commission has consistently advocated for the rights of arbitrarily detained, disappeared, tortured, and murdered Syrians and their families through its reports as well as its 27 briefings at the UN Human Rights Council and nine briefings at the UN Security Council. These are in addition to innumerable meetings with the Member States and various armed groups.
However, the Syrian government has not engaged in direct dialogue with the Commission since the early days of its work, "but the Commission continues to engage with other countries that have good relations with the government and the broader UN community to continue advocating for the rights of Syrians, including those in detention."
 In 2020, the UN Human Rights Council gave the Commission a specific, new mandate – namely to prepare a special report on arbitrary detention and imprisonment to the Council's 46th session in March 2021, reflecting on trends related to detention over ten years of the conflict.
 The Commission focused on documenting six main types of violations, namely arbitrary detention, forced disappearances, torture, inhuman and degrading treatment, sexual violence, and death in detention. 
 The Commission has previously issued more than 130 recommendations related to detention, over more than 33 reports. Chief among them has been recommended to release all those still held in arbitrary detention and stop the violations in detention – stop torture, stop holding people incommunicado, stop degrading treatment, sexual violence, and executions. 
Another has been to call for the perpetrators of such crimes to be held to account and break the impunity cycle for crimes and violations committed in detention facilities across Syria.
 The faltering of the negotiations between the Syrian regime and the opposition hampers the resolution of the issue of detainees and forcibly disappeared persons. Although the UN Security Council Resolution 2254 stipulated that the political and humanitarian files do not coincide, the Syrian regime continues to use the humanitarian file in its political interests, according to Human Rights Watch's report. 
According to the Syrian Network for Human Rights reports, the Syrian regime's security services continue to persecute and arrest people in areas that previously concluded settlement agreements with the Syrian regime's ally, Russia, in contravention of the provisions of Resolution No. 2254. The resolution states that all detainees in the Syrian regime's detention facilities, mainly women and children, must be released immediately.
The UN, represented by its former Special Envoy to Syria, Staffan de Mistura,  did not implement a clear path that would lead the two parties to the conflict to a political transition through a transitional governing body, nor did de Mistura give priority to the detainees' file.
On 22 January, Geir O. Pedersen, UN Special Envoy for Syria, considered that what has been achieved in the file of detainees' exchange so far was "disappointing" and that the file has not witnessed any real progress.
if you think the article contain wrong information or you have additional details Send Correction