Enab Baladi| Ali Eid & Mustafa al-Sayed, a project by Syria Indicator
In May 2019, Kinana was murdered, only 14 months old. Her father threw her off their third-floor home in Giza town in the eastern countryside of Daraa Province in Southern Syria. In Jbab town, in the northern countryside of the same province, Limar, only two years old, was murdered too. In May 2020, Limar's maternal uncle smashed her head to death.
The investigation team obtained access to court and police murder reports. Authority investigations concluded that the perpetrators—Kinana's father Mahmoud A., and Limar's uncle Hassan H., were both high when they committed their hideous crimes, living in that part of war-stricken Syria where drugs have been spreading like a wildfire.
As if the decade-long war has not been enough. Organized crime of drug trafficking, particularly of counterfeit pills, also has taken hold of Southern Syria, causing irreparable damage to society's most productive members, including breadwinners.
One crime gave rise to another. What ensued were large-scale murders and assassinations, as well as high rates of divorce and irrevocable family fragmentation.
It was not what happened backstage that mattered. Rather, it was the two crimes' impact on the community. A relative of Kinana, who is informed of the little girl's murder details, said that Kinana's father was going through a complicated financial situation and that he killed her driven by poverty and hunger that predominated the Giza town. Prior to the war, Kinana's hometown was known as one of Syria's wealthiest areas, with its economy based chiefly on expatriates, who run businesses and trades, or had companies outside the country's borders, particularly in the Gulf region.
Both crimes are the residual of another, more prevalent and widespread south of the country. In this other crime, involved are local and cross-border mafias. Local witnesses said that those who manage and fund these mafias are influential state figures, including officers affiliated with the Military Intelligence Directorate and the Fourth Division led by Maher al-Assad, the brother of the Syrian president, Bashar al-Assad, in cooperation with networks run by the Lebanese Hezbollah.
Prelude to the Southern Chaos
The murders of Kinana and Limar at the hands of their addicted father and maternal uncle prompted the investigation team to search records on drug abuse, its extent, and its impact on the local community. Courts' records for 2019 and 2020, corroborated by testimony from an inside source, demonstrated that in each 100 divorce cases, 40 are caused by drug abuse, while 90% of theft cases that police stations handled are perpetrated either by addicts or drug abusers. The records also documented four murders, all committed under the influence of drugs, including those of the two little girls.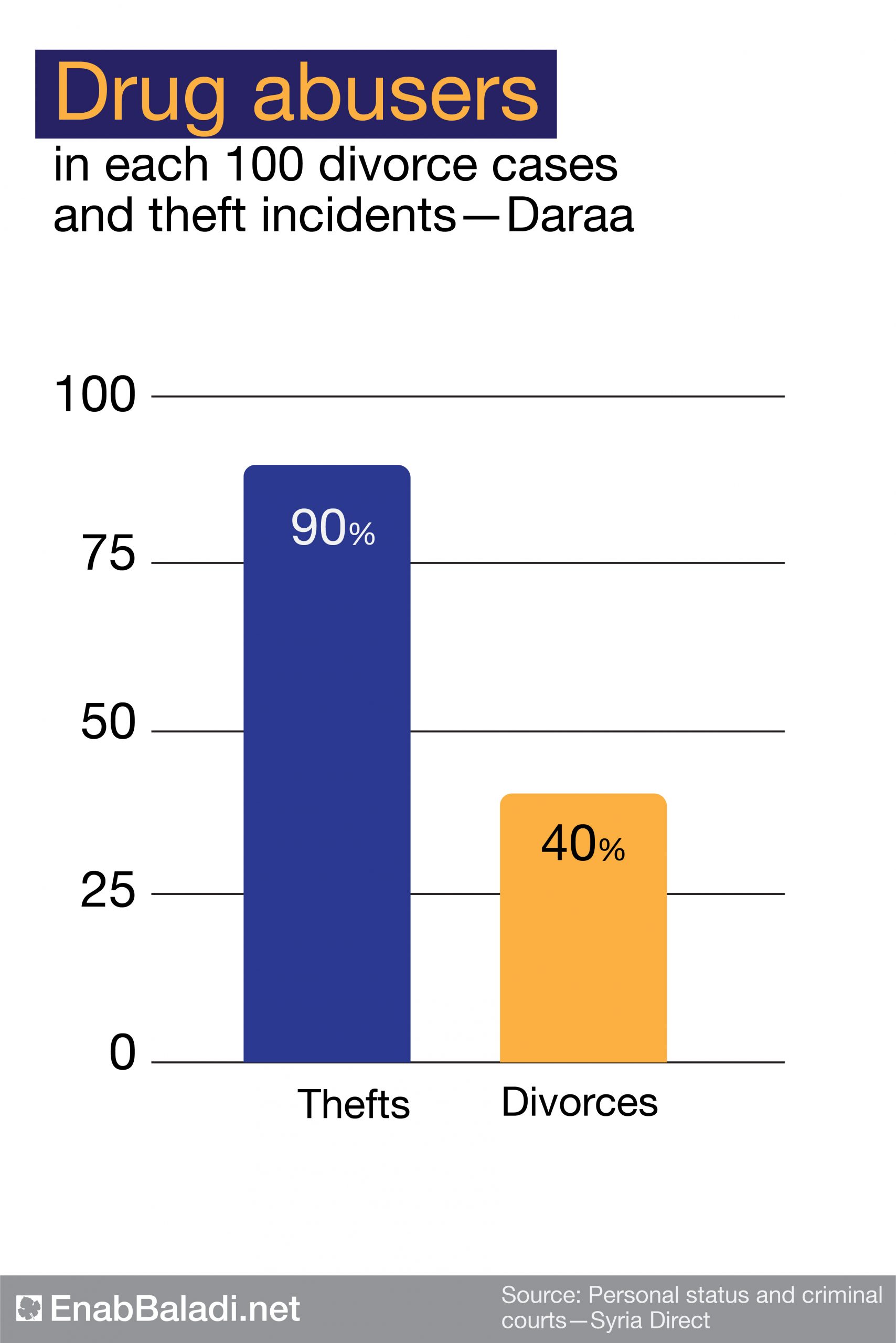 The investigation team attempted to identify the reasons why drugs have substantially aided the spread of crime and family disintegration in Southern Syria. However, the team could not obtain figures on the exact number of addicts and users in the region, for relevant concerned authorities do not own such figures, a source from the Criminal Police Department said, on the condition of his anonymity.
The same source attributed verification and data collection difficulties to absent research centers, counter-crime organizations, interested civil society organizations, and even rehabilitation centers. He added that the numbers in existing records are all rough estimations, compiled after the arrest of drug dealers, or during the registration of divorce cases or investigations into murders when reports of such incidents are delivered to the Criminal Police Department and the courts.
Director of Humanitarian Affairs at the United Nations Office for the Coordination of Humanitarian Affairs (OCHA) between 2015-2018, Yadan Daraji said that the office did not conduct any survey of the numbers of drug users in Southern Syria or drug addiction treatment centers, if any, despite the importance of the issue. He added that the Syrian State also has never taken any action in this regard.
Daraji added that drug addiction and treatment remain neglected by civil society organizations, concerned UN agencies, and international donors, adding that the issue must be directly overseen by the World Health Organization (WHO). However, we did not see the WHO conduct any related studies or projects.
According to Daraji, pertaining to the period he served as Director of Humanitarian Affairs, stimulant drugs and hash were widely available in the Southern region, with a marked increase in the number of abusers, including civilians and fighters of military factions.
The source from the Criminal Police Department talked about ingang killing and assassinations, carried out by drug smuggling gangs who were motivated by competition. He also pointed to enlistments by political parties, which order recruits to carry out assassinations that are always documented as committed by unidentified perpetrators in police reports.
Pertaining to assassinations, figures documented by the Syrian Observatory for Human Rights (SOHR) indicated that between June 2019 and October 2020, Daraa province was a site for over 700 assassinations and attacks by unidentified persons.
The assaults caused the deaths of 474 persons; among them 211 militants of the regime forces, loyalist gunmen, and others working for security forces; 89 former fighters of armed opposition groups, who signed "reconciliations or settlements" and later joined the ranks of the regime's security services, including former commanders; and 23 fighters of militias affiliated with the Lebanese Hezbollah and Iranian forces; as well as 22 members of the Russia-founded Fifth Corps.
Documenting deaths in the region, the Daraa Martyrs Documentation Office in 2020 recorded 409 assassination attempts, which resulted in 269 deaths and 102 injuries. Only a few assassinations failed, survived by 38 persons.
The real murders
The investigation team obtained information via thorough observations, which they cross-checked with witnesses, including smugglers, police, and local forces. Collected information revealed that two killer drugs are the most widespread in Southern Syria, which are also the often-smuggled drugs. These are Captagon pills— which users call Capti— and Kif hashish.
The most abused is Captagon. It is the brand name for fenethylline, which is an amphetamine methylation compound.
Captagon— a codrug of amphetamine— is classified as a Central Nervous System (CNS) stimulant by PubChem, a database of chemical molecules and their activities maintained by the National Center for Biotechnology Information (NCBI).
Captagon is a recreational drug that users smoke, inhale, swallow or inject. It provides users with a feeling of well-being; it increases energy, euphoria, and alertness, and boosts concentration and physical performance. In cases of overuse, it causes psychosis and paranoia.
The United States Drug Enforcement Administration (DEA) lists Captagon as a controlled drug, for it was used during World War II to enhance soldiers' alertness. At the end of the war, it ended up on the black market. And It was then when abuse started.
Captagon ingredients are as varied as trade routes and shipment destinations. A forensic expert told the investigation team that Captagon is originally a mixture containing crystal meth, which makes the substance expensive to export. However, producers in Syria and Lebanon add other materials to the cocktail to reduce costs. According to a Foreign Policy report, the pills distributed locally contain toxic levels of zinc and nickel.
Published on 1 August 2020, the report exposed the source of Captagon pills smuggled from Syria to Italy, and that large quantities of counterfeit pills were delivered to other countries through Syria, the first of which is Jordan.
According to Drugs.com, an online pharmaceutical encyclopedia, Captagon was first manufactured in 1961. "It is used by the Islamic Forces (ISIS or ISIL) and other extremist groups to enhance their soldiers abilities today is far removed from the Captagon of the eighties. … illegal manufacturing likely combines several highly addictive stimulants with compounding actions into one destructive little pill."
The encyclopedia adds that "Captagon, as with any highly addictive substance, is likely to cause irreversible changes in brain circuitry that govern impulse control and judgement, taking away a person's ability to reason or think rationally."
Describing Kif hashish, specialized authorities said that it continues to be the most available drug in the world, manufactured of the dried liquid from the resin found on the stems and leaves of the hemp plant, a variety of the Cannabis sativa plant.
There are many types of hashish, but variants differ only in the degree of purity. In Southern Syria, counterfeit hashish is widespread because it is cheaper compared to pure hashish or Marijuana. In the Eastern Mediterranean region, the chief supplier is the Beqaa Valley in Lebanon.
A new hashish type has been on the market for a while, called Joker. It is harmful and destructive, being made of highly toxic synthetic materials and chemical mixtures.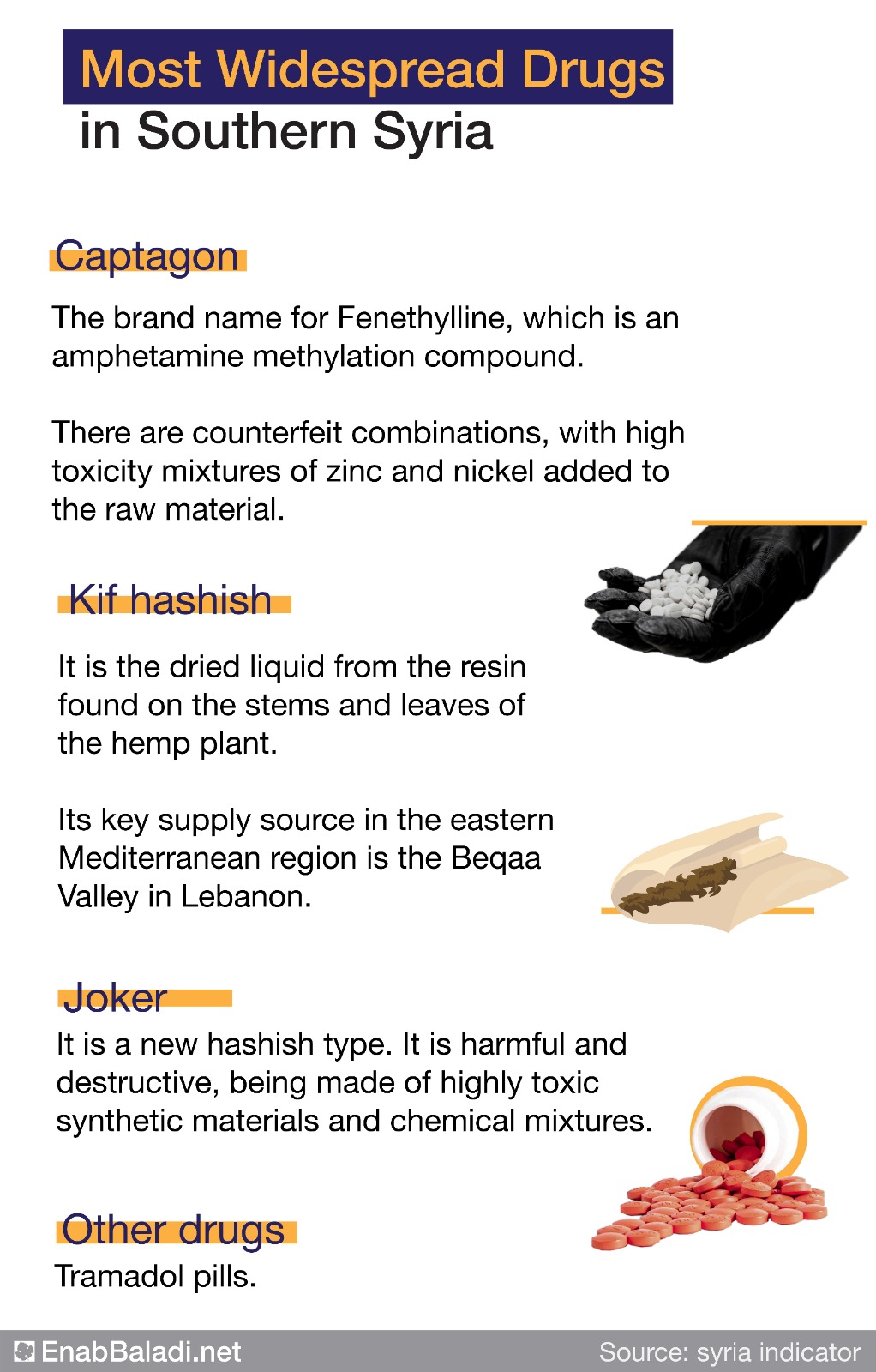 Out of reach
In Southern Syria, or Horan locally— extending from Quneitra in the west to As-Suwayda in the east and passing through Daraa— an extraordinary level of drug abuse can be detected, and drugs can be even called the people's main preoccupation.
However, it remains difficult to access information on drug marketing and trading networks. Testimonies obtained by the investigation team and other sources confirmed that the Syrian government-affiliated armed groups or allied ones, mainly backed by Iran and Hezbollah, are in control of the local distribution and smuggling operations. These groups, according to numerous accounts, have organized an integrated process of manufacturing, packaging, and smuggling, while running complex networks of smaller merchants, who distribute products inside Syria.
One of the witnesses interviewed by the investigation team said that informed sources fear that revealing the names and identities of persons involved in these networks will cause their death. Therefore, any overwhelming proof will be just out of reach. This also highlights the threats that working on this file poses, for due to the drug issue and under the cover of war and chaos, multiple assassinations and crimes have been committed in the region.
Threats involved in approaching the drug issue are aggravated by cartels. These organized groups use the region as a pathway to smuggle large shipments of drugs to Jordan for distribution and sale and then to Saudi Arabia. To these cartels, eliminating any sources of danger to their activities is a condition for continuity.
Working for months, the investigation team collected dozens of files, crosschecked names of merchants and information, analyzed official and unofficial data and numbers. The goal was to get an approximate assessment of the drug market size.
For the purposes of the investigation, the team reached out to bodies working on the ground and individuals, including police, detectives, and addicts. The team also kept a track of leaks from various sources, some leaks were offered by influential sources close to decision-makers in Damascus.
Ultimately an extensive amount of information by sources that wished to remain anonymous, without exception, was put before the team, part of which might have been mistaken and would have created a major gap. These parts the team decided not to integrate into the investigation for objective reasons.
However, a good opportunity unfolded before the investigation team, when offered access to two smugglers, involved in trafficking, and transporting large amounts of drugs.
The two key witnesses
The team interviewed Mahmoud S., an experienced drug dealer from Kiswah in Damascus countryside, and his associate Muhammad A., a member of the Bedouin tribes of As-Suwayda province in Southern Syria. The two dealers opened the door to the world of a vast network of smugglers, their operations, and the locations where drugs are stored, distributed, smuggled from or to.
Although the team finally had the investigation's crown witness, it was crucial to go for a criminal probe into the sources of the Syrian government's Criminal Police Departments. Mahmoud is involved in drug trafficking and terrorism cases. He was previously arrested and sentenced to eight months only for a crime that the Syrian law clearly punishes with a minimum of 10 to 20 years in prison or else a life sentence, under Law 2 of 1993 and its amendments.
The same applies to Muhammad, who is involved in cases of drug trafficking and possession of weapons and ammunition. According to the Syrian government's records, Muhammad was captured while smuggling a large shipment in Otaybah area in Damascus countryside in 2011.
The two witnesses' accounts heighten the investigation process's credibility while raising several questions as to whether Syrian government agencies and services are involved in protecting drug smugglers and merchants after they are arrested.
From Baalbek to Nasib
Mahmoud called himself a professional, for he does not work in distribution to dealers or small merchants. He added that the last job he carried out was delivering a shipment to a merchant at the border Nasib town in Daraa.
Mahmoud does not care about the shipment's subsequent course in the local market. His work is limited to delivering a commercial quantity to the southern region.
He recently carried out at least five transfers, each including the delivery of five to 15 kilos of hashish and a few thousand Captagon pills.
He outlined the shipment route and named the persons making the network he works with. The network covers Baalbek north of Lebanon and the towns of Brital, Dar El Wasaah and Khodor. The shipment's first stop in Syria is one of the three cities in the Qalamoun region—namely Madaya, Sargaya, or Yabroud. From there, the cargo moves to Damascus countryside bordering Daraa, particularly Kiswah city and its surrounding areas. The cargo then lands in Daraa, coming through al-Sanamayn, which is a domestic distribution line that differs from the smuggling line towards the border, according to the second witness Muhammad.
Hezbollah is in all the details
A closer look at Mahmoud's account reveals that all the suppliers he deals with across the Lebanese territories are linked in one way or another to Hezbollah and other Lebanese local forces, headed by a merchant called Hajj Hussein.
The team also found out that Mahmoud's recurrent illegal journey between Syria and Lebanon was covered by the same parties every time, in cooperation with senior officers in the Syrian army. Mahmoud was granted special identity documents with a different name to navigate checkpoints.
Mahmoud added that Hajj Hussein sent him a high-ranking officer in the Syrian army. The officer helped twice, he gave a ride the first time and transported goods for him to Southern Syria in the second.
Having cross-checked documents and information, the team found out that Hajj Hussein has great influence in Lebanon and Syria that enables him to provide cover for smuggling networks and smugglers.
Mahmoud's testimony corroborates other information obtained by the investigation team from various sources, indicating the tight cooperation between Hezbollah and the Fourth Division, led by Maher al-Assad. The two groups are engaged in the cultivation, manufacture, smuggling and distribution of hashish and narcotic pills inside Syria.
This cooperation continues further to the southern region, where forces from both sides control large areas, starting from Damascus and then south of Damascus, reaching the city of Daraa and its surrounding countryside, and Quneitra in the west to the border with the occupied Golan (Israel).
The two smugglers provided the team with Hajj Hussein's phone number, which Lebanese authorities close to the General Security verified as belonging to a person called M.M.M., who is a renowned Sharia scholar and Hajj Hussein's father.
Tribal supply lines
Muhammad W., a smuggler, prominent merchant from As-Suwayda tribes, and one of Hajj Hussein's associates, confirmed the relationship between Southern Syria merchants and smugglers, Hezbollah and the Fourth Division.
Unlike Mahmoud, he manages two domestic distribution lines, targeting Daraa and As-Suwayda. The two destinations are reached through Lajat, which functions as a collection point. The Lajat's rugged and rocky terrains, as well as its location between Daraa and As-Suwayda provinces, make it difficult for authorities to storm the smugglers' locations there, turning Lajat into a safe place for warehousing and packing drugs, in preparation for local distribution or transportation across borders.
The team matched Muhammad's security record and his activity with information leaked by a high-ranking source in Syria and Lebanon, finding that two of his relatives, Hussein and Yasser, handle Captagon and hashish cargos coming from Lebanon and the Syrian city of al-Qusayr, in Homs province on the Lebanese border.
The two prepare received shipments for transfer across the border to Jordan, under the supervision of al-Habib (the loved), a key Hezbollah officer.  Al-Habib is the supreme commander of the Lebanese armed group Resistance Brigades. One of al-Habib's helpers, called al-Hisan (The horse), is the person who accompanies the shipment, with officers from the Fourth Division, protecting the pills smuggled to Jordan in a variety of ways.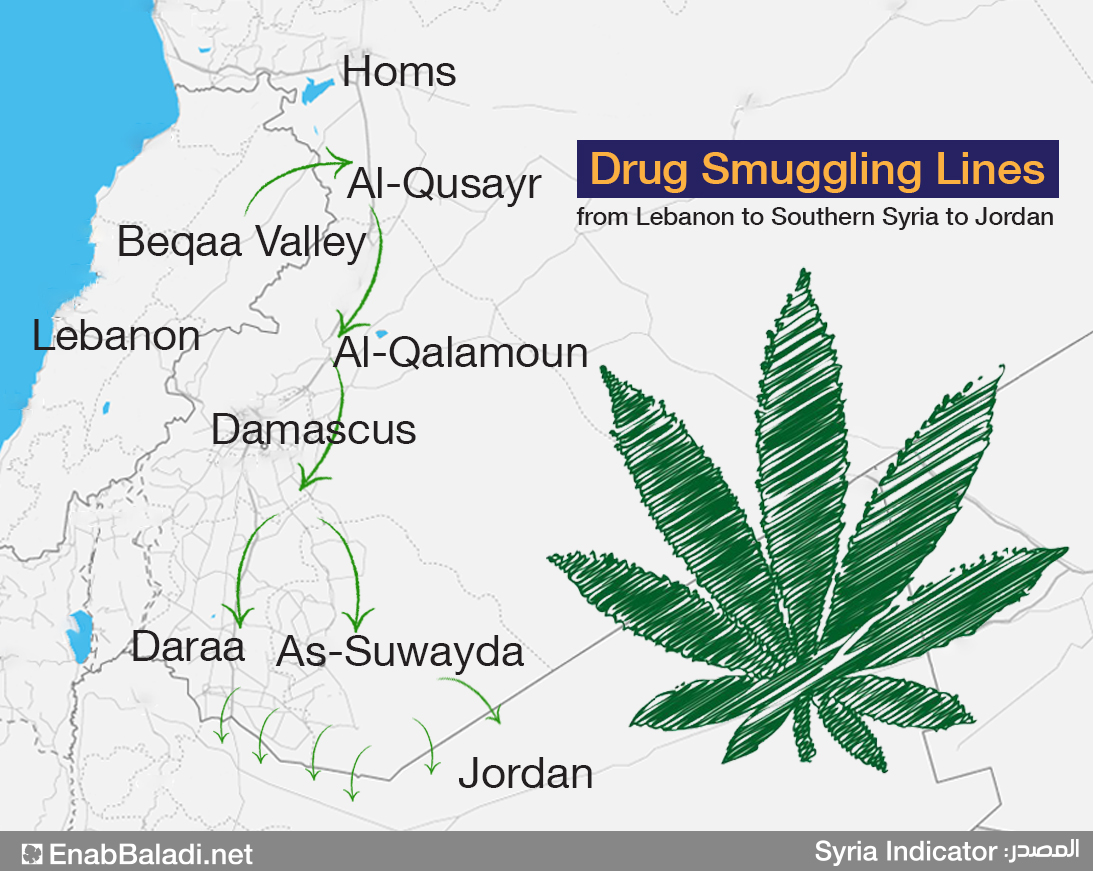 Military Intelligence also involved
As the investigation progressed, the team had a new opening. On 7 February 2021, another line of cooperation between the Lebanese Hezbollah and the Syrian Intelligence agencies was detected. At dawn that day, a clash broke out between militants of the Eighth Brigade—a local armed group founded under understandings with Russia in 2018 and known for being at odds with Iran-backed armed groups—and an unknown armed group monitored near the Syria-Jordan border between the villages of al-Summaqiyat and al-Nada. The Brigade stopped a large-scale smuggling operation back then.
The investigation team contacted officers from the Eighth Brigade and obtained the details of the raid that ended with the arrest of a group of people working within the ranks of Branch 265 of the Military Intelligence Directorate. The branche's captured personnel possessed large quantities of Captagon pills and hashish, weighing more than half a ton, headed to Jordan. The brigade also confiscated individual weapons and machine guns.
Over the course of the investigation, the brigade concluded that the arrested group's main task was limited to transporting drugs to a collection point, into the custody of a Jordanian party. The investigation also revealed that the Lebanese Hezbollah was the source, as the shipment was brought from the Hezbollah-controlled Qalamoun area, transported to Damascus, then As-Suwayda and Daraa, before it was sent towards Jordan.
Tracking the activities of the security branch-affiliated group, whose commander Imad Uqla Abu al-Hayal, along with several militants, were arrested, and matching their accounts, it became apparent that the involved members of the Military Intelligence received the confiscated narcotics through G. al-Saeed, one of As-Suwayda's Bedouins, and J. Abu Dhail, one of Lajat's Bedouins.
According to commander al-Hayal's account, G. al-Saeed and J. Abu Dhail have an unmediated relation with a Hezbollah associate, called Zahir Jaafar, the son of the drug dealer Ahmed Jaafar, known as Haji Abu Yassin, who was killed by gunmen in As-Suwayda for assassinating a religious figure that led the Sheikh al-Karama Forces.
The investigation team obtained a variety of documents possessed by personnel of the arrested security group, including security cards saying that the holder is a fighter of Branch 265 – Military Intelligence Directorate. These documents confirm the hypothesis that a cartel indeed is formed by Hezbollah commanders and influential Syrian State figures.
Why Southern Syria
The illegal drug trade is not limited to Southern Syria. The decade-long conflict has actually turned Syria into one of the countries with the highest levels of drug abuse and availability, particularly counterfeit Captagon pills, according to the Report of the International Narcotics Control Board for 2019.
Syria has also become the launch place of massive drug shipments, smuggled to Arab and European countries, including the shipment seized by Italian authorities as coming from Latakia port, which amounted to one billion US dollars (USD). The Italian police have even described the smuggling operation as the largest of its kind.
The flourishing drug and hashish trade in Southern Syria can be attributed to two factors. The first is related to the military and political war between international rival powers.  For instance, a military commander of the Eight Brigade, affiliated with the Russia-founded Fifth Corps, said that drug trafficking is on the rise because pro-Iranian forces have made it their goal to dismantle social structures while seeking to control the region. A proof of this is the arrest of the drug trafficking group run by the Military Intelligence Directorate in the operation territories of the Eight Brigade.
The second factor pertains to the revenue made from local drug sales and smuggling operations intended to the southern Arab market through borders with Jordan. This second factor has already been proven relevant by the testimony of merchant Mahmoud, who estimated the trades' annual income with millions of USD.
Golden borders
The investigation team monitored drug trafficking news coming from the Jordanian side of the border strip. The team found out that in 2020 the Jordanian Anti Narcotics Department (AND), the northern and eastern military zones— opposite the Syrian border— seized about 10,100 hashish packets, each packet weighing about 200 grams. The total confiscated hashish thus amounted to 2.2 tons. In addition, the AND seized over four million and 156 thousand and 460 pills of Captagon, weighing about 700 k, and other substances, including crystal—the raw material used for manufacturing Captagon pills. However, though large, these quantities are only a fraction of drugs transported across borders.
In addition to his personal observations, forensic expert Kh. M. said that theories of criminology indicate that only small numbers of smuggling operations are often thwarted. Even in countries with high-level precautions only one to three out of 10 operations is stopped. These barely significant numbers are documented in the 2000 report by the United Nations Office on Drugs and Crime (UNODC).
The expert said that in Syria—given that there is not an operative state, while available state agencies themselves are involved in the drug trade— authorities are likely capable of stopping only one out of every 20 drug smuggling operations. To put this in perspective, for every seized hashish kilo, 19 kilos successfully cross the border. The same applies to Captagon tablets and other narcotics.  Based on the expert's estimates, drug quantities entering Jordan through Syrian borders amount to about 40 tons of hashish and over 83 million Captagon pills.
A customs broker, by the name A. F., confirmed to the investigation team that drug quantities successfully entering from Syria to Jordan, which authorities fail to seize, are extremely larger than those confiscated. He said that detecting drug smuggling operations on the Syria-Jordan borders is rare unless the Jordanian authorities are reported on an operation in advance by a whistleblower or are aided by sheer chance. Border customs cannot inspect 100 or 200 trucks waiting to cross. Officers in charge pick a few trucks and ask them to unload their cargo to conduct a thorough inspection, while the rest of the trucks and vehicles pass unchecked.
The price of a Captagon-amphetamine pill ranges between three and four USD, according to the UNODC monitored price list in Jordan over 2016. Hashish prices, exact or estimated, are unavailable. However, a comparison between 2019 and 2018 prices shows that prices in Jordan are twice as much as in Lebanon. Accordingly, the price of the hashish kilo in Jordan in 2018 averaged about 2,400 USD, compared to an average price of 1,200 USD per kilo in Lebanon.
Testimonies and figures displayed above indicate that the drugs seized by the Jordanian authorities at the border with Syria in 2020 have a market value of over 14.5 million USD for Captagon pills, and about 5.3 million USD for hashish, totaling about 20 million USD.
Should the seized amounts be multiplied by 20—the presumed quantity of drugs confiscated and others that escaped authorities— then the amount would be 400 million USD, keeping in mind that these prices double when drugs are shipped to Saudi Arabia or other Gulf countries.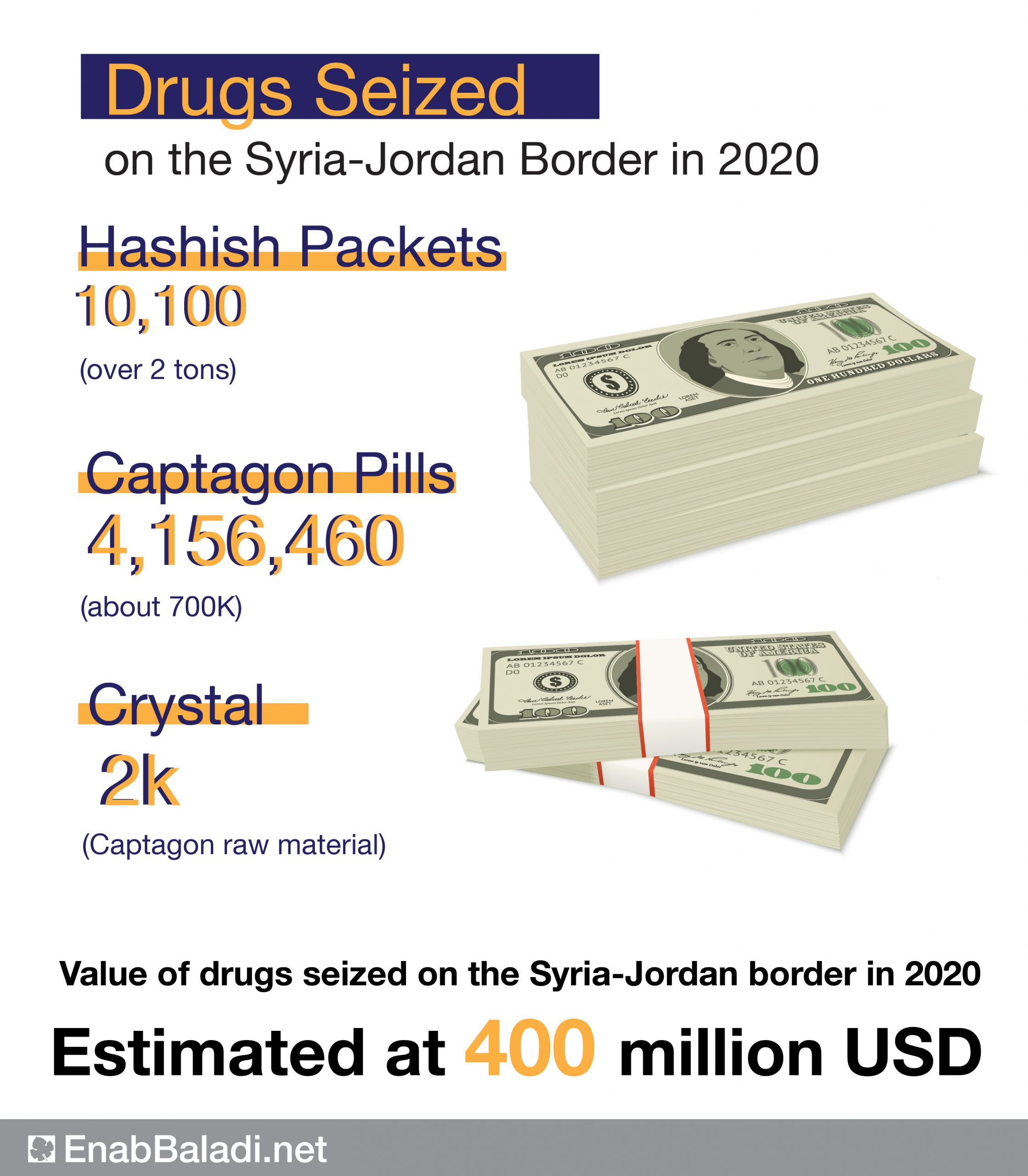 Key drug trafficking operations from Syria to Jordan in 2020:
Source: Jordan News Agency (Petra) and other media outlets.
Date
Region
Quantity
1 January 2020
Jaber Border Crossing
 90k of amphetamine
23 January
Border strip
348 hashish packets and 803 narcotic pills
31 January
Eastern border with Syria
805 hashish packets
1 February 2020
Border Strip-Jordan
203,500 Captagon pills
2 February 2020
Eastern border with Syria

600,000 Captagon pills and 12 hashish packets

16 February 2020
Eastern border with Syria
200,000 Captagon pills and 21 hashish packets
1 March 2020
Jaber Border Crossing-Jordan
320,000  Captagon pills
28 April 2020
Border Strip-Jordan
3,822 Captagon pills and 6 hashish packets
20 May 2020

Border Strip-Jordan
20,000 Captagon pills and 2831 hashish packets

26 May 2020

Border Strip-Jordan
140  hashish packets
2 June 2020
Border Guard
1272 hashish packets
6 June 2020
Jaber Border Crossing-Jordan
2,2 million Captagon pills
27 June 2020
Eastern borders
70 hashish packets

29 June 2020
Eastern borders
226 hashish packets

25 July 2020
Eastern military zone
252 hashish packets

11 August 2020
Eastern military zone
2000 Captagon pills and 143 hashish packets
2 September 2020
Drug smuggling attempt from Syrian territories to Jordanian territories
Unidentified large quantity
October
Border strip
100,000 narcotic pills
5 October
Eastern military zone
1055 hashish packets seized
6 November
36,335 Lyrica pills and 409 hashish packets

 9 November
Eastern military zone
279 hashish packets,

12,000 Lyrica pills,

1K crystal meth

26 November
Eastern military zone
187 hashish packets

27 November
Eastern military zone
1942 hashish packets,

19,500 Captagon pills,

Small container of crystal meth

15 December
Eastern military zone
14 hashish packets
375 kilometers of anxiety
A source from the Jordanian army said that the 375-kilometer-long border strip with Syria is a site for daily infiltration attempts by drug smugglers.
On the condition of anonymity, another witness, highly informed of the region's terrains and familiar with smuggling groups, said that the area where smuggling operations are carried out is divided into two sectors. The first is the border plot adjacent to Daraa province, extending over an estimated 50 km. In this sector, about 40% of the smuggling operations take place, including those conducted through the Nasib- Jaber border crossing.
The second sector extends from the border plot adjacent to the As-Suwayda province towards the eastern parts of Rif Dimashq province, and then the countryside of Homs to the tri-border area, where Jordan, Syria and Iraq meet. In this area, the remaining 60% of smuggling operations are carried out, given the vastness of the region, which makes it easier to penetrate, and the length of the included border part, over 300 km.
According to sources from local authorities, the border strip is almost exclusively controlled by the Bedouin tribes' armed groups, deployed across the two sectors mentioned above and their extensions inside Syria and Jordan.
A cooperating witness provided the investigation team with maps of crossing points and infiltration locations, where 15 smuggling operations were thwarted. Large quantities of drugs were seized while transported through the border area adjacent to Daraa province and part of As-Suwayda. The smugglers were captured by the Jordanian army and the AND. The operation area ranged from the border part opposite the town of Dibin in rural As-Suwayda, to the west of the Nasib-Jaber crossing.
Analyzing these maps, the investigation team concluded that smugglers used water drainage points and waterways, as well as one site of TAPLINE oil pipeline, which has been inoperative for decades. On 17 February 2018, the Jordanian army announced that it thwarted a smuggling operation involving weapons and drugs. Involved smugglers dug tunnels linked to the TAPLINE oil pipeline on the Syrian side of the border. Jordanian authorities later had to elevate the pipelines over the ground to prevent further smuggling operations.
The cooperating witness, also the whistleblower who helped in the early detection of these operations, asked that his name be withheld for security reasons. He also said that the region's Bedouins crawl between the Jordanian control points to smuggle bags containing about 15k of hashish or pills each.
He added that thermal cameras are installed at the observation points, with automatic weaponry, which fires once an activity is detected. But smugglers have been using waterways such as valleys or reefs because they are lower than surrounding ground level, to evade the cameras' range. Smugglers also wait for suitable weather conditions; they mostly get going when there is rain, dust or sandstorms and during specific hours only. Bedouins master these skills and can identify low locations and appropriate weather conditions.
The source said that there are two types of operations; based on the drug quantities transported. In some operations, individual smugglers carry drug bags through the reported routes. In larger operations, sometimes smugglers transport tons of drugs. The second category operations are carried in coordination between smugglers on both sides of the border and after monitoring the decided route.
The source added that the larger quantities are transported onboard Hilux cars, accompanied by armed men. Several of these larger operations involve a few collusive border guards, who are paid by smugglers a fee to use roads, amounting to 100,000 dinars (about 140,000 USD) per operation.
Black hole
The reports of international organizations concerned with drug control barely contain any figures on the volume of the seized drugs or trade in Syria, for reasons related to war and the Syrian government's lack of cooperation with these organizations as it stopped providing them with periodic reports. However, official statistics are made available by the Directorate of Drug Control (DDC) from time to time, in addition to statements by some officials.
The latest of these statements was made by Brigadier General Hussein Jumaa, Director of DDC. He said that over the first nine months of 2020 his directorate managed to seize quantities of drugs amounting to 3.4 tons of hashish, about 28 million Captagon pills, and 82 k of raw materials. In 2019, he said that the directorate seized about 6.2 tons of hashish, over 144.5 million Captagon pills, and 925 k of raw materials.
The investigation team conducted a survey of thwarted smuggling operations reported between 31 October 2018 and 30 October 2020. The team recorded 260 drug seizures. None of these failed operations occurred in Southern Syria, where the DDC had no other activity except for two interventions, one carried out particularly at the Nasib border crossing. The DDC arrested a few individuals and seized a small quantity of drugs. Daraa thus continues to be a black hole, with no information as to the volume of the drug trade and amounts of drugs seized.
Figures on domestic drug trafficking in Daraa are also lacking. However, identical testimonies indicate that there are dozens of major wholesalers working for different parties, mostly for Hezbollah, the Fourth Division, and the Syrian Military Intelligence Division, and hundreds of retailers across the province's different villages. Internal distribution is limited to low-quality industrial varieties, given the area's deteriorating economic conditions and the residents' modest income.
The figures of the United Nations Economic and Social Commission for Western Asia (ESCWA) for the year 2019 indicate that 40% of the population spends less than 1.9 USD per day. These tight finances made drug manufacturing gangs look for cheaper alternatives, pumping into the market tablets made of synthetic materials or counterfeit hashish, excluding from combinations pure hashish or the expensive crystal meth.
Half a dollar for euphoria or murder
The investigation team cross-checked testimonies and accounts provided by addicts and retailers regarding the prices of the two most consumed and available drug types in Southern Syria. The team found out that a Captagon pill is purchased for 1500 Syrian pounds (SYP), equivalent to 50 US cents (one dollar equals 3000 SYP on average). While the price of a shadd (a carton), totaling 200 pills, is about 30,000 SYP (equivalent to 10 USD).
As for tramadol, a pill is purchased for 2000 SYP (about two-thirds of a dollar). It is sold by pharmacies although it requires a prescription.
On the market, the Kif hashish is sold in different wrappings. The price of Isba' (a roll) or Nus-Rubea (Half a quarter) is 5,000 SYP (about 1.6 USD).  When mixed with tobacco, a roll would provide addicts with four cigarettes at a rate of 1,250 SYP per cigarette (less than half a USD).
Witnesses told the investigation team that wholesale prices tend to be lower so that merchants can make some profits. The average price of a kilo of hashish is 225,000 SYP, and the price of a hashish packet (200 grams, which is the often distributed wrapping), ranges between 45,000 and 50,000 SYP.
The website of the United Nations Office on Drugs and Crime (UNODC) does not provide estimates of prices in Syria and Jordan. Rather, it talks about 2018 estimates of the prices of Captagon and impure hashish in Lebanon, where the retail price of per gram is 70 US cents for hashish and 80 cents for marijuana, while the average price of Captagon pill is 70 cents.
Prices get several times higher, according to the UNODC, in other Arab countries such as Saudi Arabia and the UAE, influenced by the quality of drugs and their transportation costs.
The price for the high-quality substance goes up to 1,200 USD for a kilogram of hashish, 8 USD for a gram of hashish, and 15 USD for a single Captagon-amphetamine pill in Arab countries, other than Jordan and Lebanon.
The drug trade, distribution and abuse in the south is limited to hashish and Captagon pills, which also applies to smuggling operations, with the only difference that smuggled drugs are of better quality. A smuggler told the investigation team that cheaper types are sold on the domestic market and sometimes shipped to Jordan. Expensive and high-quality varieties are always aimed at countries such as Saudi Arabia, where markets allow for such quality-related price differences.
Destruction of the local community no longer needs bullets and rifles. It only requires tablets and kif hashish that are cheaper and more available than bread. In villages, towns or cities, your path will always cross that of a small drug dealer, for drugs are displayed in stores and sold by street vendors. You only need to have half a dollar to spend the rest of the day unconscious. It takes only half a dollar to create addicts that can kill, rape, or carry out a dirty task unconsciously, who upon waking up would ask for another shot to relive the cycle of numbness and euphoria.
With drugs, cartels hit two marks in a single shot. The spread of drugs across Southern Syria has rendered a significant segment of the population dysfunctional. This in turn has sent rates of crime skyrocketing and simultaneously opened channels for smuggling drugs to Jordan and from there to the countries of the Gulf region. These cartels run a trade that contributes to feeding the war with money and human capital. This war is fathered by the Lebanese Hezbollah, the Fourth Division and the Military Intelligence Directorate, which have an essential relationship with Iran's plans in Syria in general and the south in particular, given its proximity to Israel.
if you think the article contain wrong information or you have additional details Send Correction