American journalist tells Enab Baladi: "My job is not to promote or polish the work or ideas of anyone"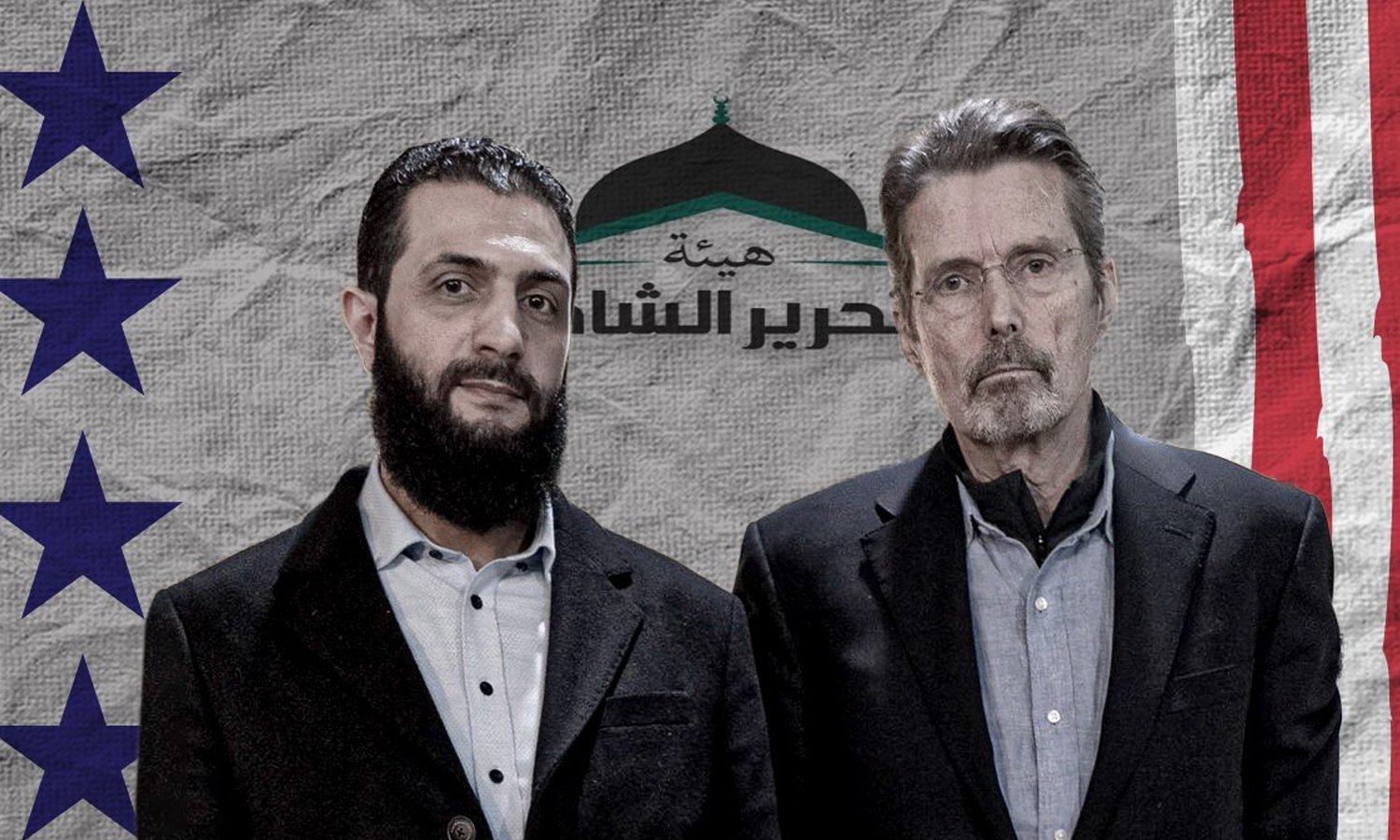 Enab Baladi – Amal Rantisi
It has been a month since the photo of the American journalist Martin Smith and the leader of Hayat Tahrir al-Sham (HTS) Abu Muhammad al-Golani was posted, taken during an interview held in the northwestern Syrian province of Idlib.
The photo raised several questions about the interview, including how could a U.S. citizen arrange a meeting with al-Golani, one of the U.S.'s most wanted men, without the knowledge of his country's intelligence services?
The U.S. State Department offers a reward of up to 10 million USD for information leading to the location of al-Golani.
Smith tweeted his picture with al-Golani at that time with a caption saying: "Just returned from three days in Idlib, Syria with Abu Muhammad al Jolani [Abu Mohammad al-Golani], founder of al-Qaeda affiliate Jabhat al Nusra. He spoke candidly about 9/11, AQ [al-Qaeda], Abu Bakr al-Baghdadi, ISIS [Islamic State], America, and more."
Al-Golani has undergone an image change, which sparked controversy among Syrians. In the photo, al-Golani showed up wearing a western-style business suit, contrary to his habit of wearing his traditional Shami sirwel (loose trousers), and his turban, with no rifle in sight.
Some social media users mocked the photo, questioning whether the interview was "a trap to capture al-Golani," especially since the CIA, of big power, could never miss this chance. 
The US Department of State's Rewards for Justice program posted a sarcastic comment on al-Golani's new appearance via its Twitter page, saying, "Hey, handsome al-Golani! Nice suit! You can change your outfit, but you will always be a terrorist. Do not forget the 10 million USD reward."
Enab Baladi interviewed the American journalist Martin Smith, who explained that he made two trips to Idlib last February and stayed for seven days.
Smith said that when he was staying in Idlib, none of his government officials contacted him. 
"I interviewed many people- some on the US wanted lists in the past. I have never shared information that would facilitate their arrest."
This is the first meeting in which al-Golani speaks with a Western reporter on TV.
 Should the journalist provide information?
There are numerous interpretations of the meeting on the internet. Some of the commentators point to the U.S.'s failure to catch al-Golani. Others call Smith's interview with al-Golani a press scoop, or an attempt to brand al-Golani. 
Smith told Enab Baladi that he does not work with or for the US government or any government on terrorism cases.
He stressed that his responsibility as a journalist is to "ask questions, and report what I find; not to facilitate the arrest of wanted figures." 
The United Nations Educational, Scientific and Cultural Organization (UNESCO) published a handbook in 2018, prepared by Belgian journalist John Paul Martoz and titled Terrorism and the Media.
The handbook explains the relationship between terrorism and the media. It indicates that the authorities pay "special attention" to journalists who cover terrorism, given that the topic affects national security and the reputation of security forces and political authorities.
Journalists themselves are exposed to the dangers of being under surveillance and being prevented from conducting investigative reports in areas controlled by armed groups. Sometimes they are even accused of complicity and convicted, according to the handbook.
Spanish authorities have pressed several charges against journalist Tayseer Allouni, most notably "using his profession to conduct an interview with Osama Bin Laden, the leader of the al-Qaeda organization" on 7 October 2001.
On the eve of the World Press Freedom Day, on 3 May 2005, the World Association of Newspapers and News Publishers issued a reminder of the rights that all democracies should guarantee to media outlets. For example, journalists should have the right to cover all parties involved in the conflict, including terrorists, and ensure that they will not be prosecuted if they publish secret information.
The UNESCO handbook indicated the importance of media coverage in areas where terrorist groups are active.
In his book How We Missed the Story, the 1993 International Reporting Pulitzer Prize Laureate, journalist Roy Gutman said that the absence of large-scale media coverage in Afghanistan in the 1990s led authorities to "miss" the rise of Taliban and al-Qaeda until the attacks of 11 September 2001 took place. Likewise, there was minimal press coverage regarding the rise of the Islamic State (IS-ISIS) for years. Almost no major international press covered the phenomenon in its early stages. 
Is HTS trying to polish its image?
In December 2020, the U.S. State Department designated "militant" groups, including HTS and IS, as entities of "special concern" over allegations of religious freedoms violations.
HTS militarily controls the city of Idlib and parts of the western countryside of Aleppo, along with other factions that fall under the banner of the Turkish-backed National Liberation Front (NLF).
Former U.S. Secretary of State Mike Pompeo said in a report on "religious freedoms" that his country "will continue to work tirelessly to end religiously motivated abuses and persecution around the world, and to help ensure that each person, everywhere, at all times, has the right to live according to the dictates of conscience."
In response to the U.S.'s designation of HTS as a foreign terrorist organization, the communications director at HTS, Taqi al-Din Omar, said that those designations "lack truth" and were not based on facts or concrete evidence, indicating that the HTS does not deserve to be classified as a terrorist group.
On 4 September, the French-speaking Swiss newspaper Le Temps quoted an interview with Abd al-Rahim Atoun, HTS general jurist (leading cleric), also known as Abu Abdullah al-Shami, in which he talked about "normalizing relations with Western countries."
With U.S. President Joe Biden's assuming office, the International Crisis Group called on the new administration to reconsider Idlib's status and the classification of HTS.
In a report issued on 3 February, the group stated that "if the Biden administration is looking to correct Washington's overly militarized foreign policy, then one of the opportunities to redefine the US counter-terrorism strategy lies in Idlib."
The report considered that the term "terrorist" attached to "the most powerful rebel group in Idlib" reflects a gap in Western policy.
After al-Golani met with the American journalist, the HTS focused on the same point, saying in a statement that "We think that we must break the isolation and convey our reality to people in the region and worldwide, using all available legitimate means in a way that ensures the interest of the revolution and eliminates corruption."   
For his part, journalist Martin Smith told Enab Baladi that "I am not a reporter for promoting or polishing anyone's work or ideas." Instead, his job is quite the opposite. It is intended to "challenge the people he meets, asking them to explain their ideas and motives, think and respond to the charges against them."
Smith believes that it is his duty as a journalist to seek out those who "have not been heard from, or whose side of the story has not been shed light on." 
He said, "I thought hearing from Al-Jolani [ al-Golani] was valuable. That does not mean he will be the only voice heard in our final report. He understands that."
He added, "I did that in over six hours of interviews. I have to leave it to my viewers to decide if I have done my job well. I always expect a range of opinions from our audience."
Smith emphasized that he can protect himself from being manipulated by listening to many sources. Then, he considers all opinions and experiences. Besides, he questions all assumptions, not afraid of where those assumptions and doubts may take him.
American journalist in Idlib: What about local journalists?
Aِfter the spread of the image of al-Golani with Smith, Urabi Abdulhai Urabi, a researcher in jihadist groups affairs, tweeted that "It is not al-Golani's changing look that must be investigated. What needs deep analysis is: how can Western researchers obtain accurate details on or conduct interviews with [jihadist] organizations and groups, while local researchers fear for their lives should they write a word or report a piece of information in passing."  
After taking control over northwestern Syria, the HTS also took the lead in violations against media workers and journalists, according to figures reported by the Syrian Center for Journalistic Freedoms (SCJF) of the Syrian Journalists Association (SJA).
From 2011 until last May, the number of violations against media workers and journalists stood at nearly 575 in Aleppo and Idlib governorates, where the HTS military branch has perpetrated the most since 2019, the director of the SCJF Ibrahim Hussein said in a statement to Enab Baladi. The director added, "Hardly a month goes by without some new violations by the HTS."
On the other hand, Mulhim al-Ahmad, the director of public relations in the Salvation Government (SG), which administratively controls Idlib, denied that journalists are subjected to "any kind of harassment." He also pointed to "the facilitation of their work," and "comfort" news agencies enjoy in the SG's areas of control compared to other regions.
For his part, Smith said, "It is true that local journalists could be at risk when posing hard questions to a leader like Jolani."
Several journalists and media workers interviewed Al-Golani. In 2015, Al-Jazeera journalist Ahmed Mansour met with al-Golani on the Without Borders program. 
 Earlier, in 2013, Syrian journalist and Al Jazeera correspondent Tayseer Allouni also interviewed al-Golani in Today's Meeting program.
The HTS, previously known as Jabhat al-Nusra, held a press conference attended by local Syrian journalists, such as Hadi al-Abdullah and Musa al-Omar, in 2015.
Al Jazeera correspondent in the city of Idlib, Adham Abu al-Hussam, also met with al-Golani in 2016.
On 20 February 2020, the International Crisis Group published an interview with al-Golani. The group said that the meeting was held in late January 2020, in the presence of the Center for Humanitarian Dialogue.
Who is Martin Smith?
Martin Smith,  72 years old, is an American journalist, reporter, and documentary filmmaker. He started his career in 1976 as a film editor at CBS News Network.
He worked for 40 years on producing and preparing reports. He won many international awards. In 1982, his first documentary Guatemala won both a George Polk Award for Investigative Journalism and an Emmy award from the Academy of Television Arts and Sciences.
Smith covered many world events: from the revolution in Central America and the fall of communism in Russia to the rise of al-Qaeda and the wars in Iraq and Afghanistan.
He also produced several investigative films for Frontline about the conflict in Iraq, including Truth, War, and Consequences in 2003 and Beyond Baghdad in 2004.
Smith also worked on covering the Syrian war. In 2015, he presented a documentary named Inside Assad's Syria for PBS. He was accompanied by regime soldiers and prominent personalities, such as director Najdat Anzour. The documentary showed the contradiction between the official statements and false Syrian officials' propaganda and the reality captured by the camera.
Smith currently chairs Rain Media, an independent documentary production company based in New York City. He founded the company in 1998. 
if you think the article contain wrong information or you have additional details Send Correction