Though prescribed to avoid COVID-19, Daraa residents cannot afford citrus fruits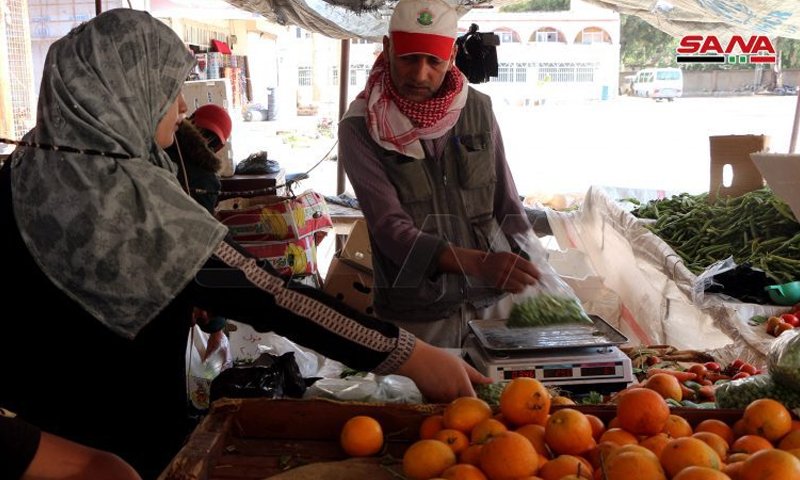 Daraa – Halim Muhammad
"We spent no day without citrus fruits last winter," Ahmad told Enab Baladi. However, this year, due to the soaring prices of citrus fruits that the province of Daraa is experiencing, Ahmad can only afford to buy two kilograms (kgs) of orange per week instead of the ten Kgs he used to purchase last winter."
Although the citrus is regarded as the most consumed fruit in winter and the most popular prescription for decreasing the risk of contracting the novel coronavirus (COVID-19) in  Daraa, its lovers nowadays cannot afford to buy it like before due to its high prices. Citrus fruits are considered somewhat of a luxury. They are purchased only when needed. 
 Unaffordable Prices
Ahmad, a young man in his thirties, used to drink fresh orange juice every day during the winter.
"I used to squeeze two kgs of oranges a day. However, this winter, I cannot afford to buy it constantly."
As observed by Enab Baladi, prices doubled this year; one kg of Valencia or Navel oranges has stood at 1,200 Syrian Pounds (SYP-0.4 USD). One kg of Mandarin has amounted to 1,300 SYP (0.3 USD).
In the past year, one kg of Valencia or Navel oranges was 300 SYP, while one kg of Mandarin oranges was sold for 400 SYP.
"Citrus fruits have been added to the list of fruits that Daraa residents can no longer afford to buy, such as bananas, apples, peaches, and pears. The price of one kg of any of these fruits is no less than 2,000 SYP in the market," Ahmad said.
Umm Hussein, 40 years old, who provides for a family of five, can no longer buy oranges as a necessary fruit in the winter.
She told Enab Baladi, "I was surprised over the high prices of citrus fruits. I can no longer purchase large quantities," despite the frequent recommendations of doctors to eat more oranges or drink orange juice – for warding off colds and flu. 
Umm Hussein, who spoke on condition of anonymity for security reasons, added that during winter in previous years, she used to force her children to eat oranges and drink natural fresh juice. Citrus contains vitamin C, which is known to empower the immune system.
Enab Baladi looked over the prices of citrus fruits in Daraa stores, finding out that citrus sales decreased by about half compared to 2020.
Costly production
Syria's southern province of Daraa is not considered a producer of citrus fruits. Rather, the domestic markets of Daraa are filled with oranges and lemons coming from the two coastal governorates Lattakia and Tartous.
The director of the citrus office, Suhail Hamdan, told the pro-government newspaper al-Watan, at the end of last January, that the production of citrus fruits decreased by 30 percent compared with the previous year's output. 
Hamdan said that the decline in citrus fruits' production could be attributed to the variable weather conditions.
A drought, accompanied by eastern winds, adversely affected the crop of citrus fruits, causing the drop of some flower buds and fruits. 
As a result of the low prices of citrus fruits, some farmers abandoned their cultivation and replaced them with other crops due to their lack of economic viability.
On the condition of anonymity, a trader who imports and exports vegetables and fruits to the Syrian governorates said that the spiking shipping costs caused by the high fuel prices led to an increase in citrus fruits' prices.
He noted that one liter of fuel is sold on the black market for 1,200 SYP (0.4 USD) while it did not exceed 450 SYP in 2020.
The trader told Enab Baladi that there has been a high demand for citrus fruits from neighboring countries, such as Iraq, Lebanon, and the Gulf states, which increased their prices.
Speaking with al-Watan on 22 December 2020, a member of the Fruit and Vegetable Exporters Committee, Osama Qaziz, expected an increase in citrus prices by 100 percent due to the high percentage of citrus destined for export. 
 Qaziz said that 30-40 refrigerators loaded with fruits and vegetables leave daily to Iraq through the Albukamal crossing, of which 20 are loaded with citrus fruits.
Qaziz indicated on 26 January, that the exported quantities of citrus fruits from the al-Hal wholesale markets to Iraq, the Gulf states, and Russia reach 200 tons per day.
if you think the article contain wrong information or you have additional details Send Correction