Female trainees learn mobile phones maintenance in Idlib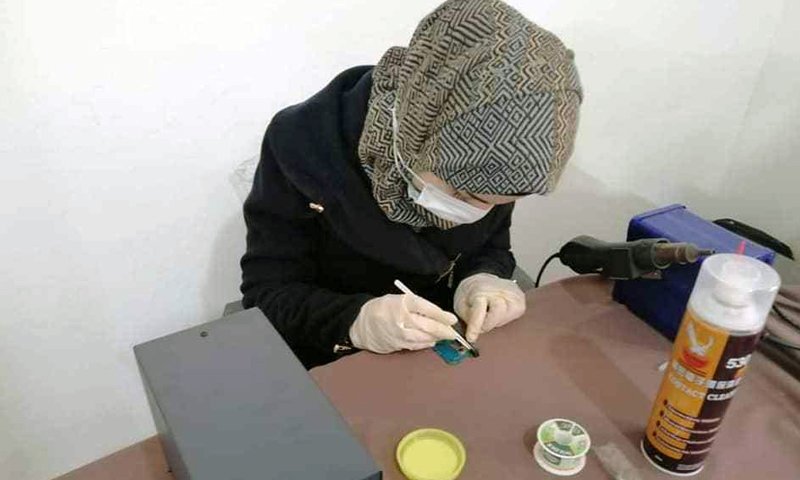 Recently, the Glimpse of Hope organization that is centered on women empowerment published images on its social media platforms showing young women holding and inspecting small parts of mobile phones while trying to repair them in Idlib city, northwestern Syria. These images stirred critical and disapproving comments by some followers of the organization's Facebook page.  
"The training's subject is not suitable for women," one commentator posted. "Do you think yourselves in Canada?!" another person commented in disapproval, indicating that such training is meant for men, not for women.
Despite the negative comments that poured on the mobile phone maintenance workshop, of all the organization's vocational training and economic empowerment programs, 15 female participants completed the training that started in early December 2020, aspiring to continue their learning and improve their capabilities.
Destructive criticism strengthens our resolve
Mariam al-Izo, a 26-year-old business administration graduate, learned about the negative criticism directed to herself and her colleagues who chose to join the workshop. The assaulting comments on social media could not discourage al-Izo, who said to Enab Baladi, "When we start practicing what we have learned, they will realize that this training is useful, as it serves women in our communities and benefits us."
Al-Izo found the workshop useful as it helps to protect women's private data on their mobile phones. She pointed out that the training program included learning the principles of financial management and marketing. It educated them on how to join the job market and introduced them to mobile phones' hardware components and software applications.
Driven by her desire to achieve financial independence, Doaa Ramadan joined the workshop to acquire vocational skills and make an income. She described the training as joyful and unique, adding that she continues learning by herself even after the end of the one month workshop through YouTube and Google as searching tools.   
"The women's vocational training project aims to give women access to the job market and improve their economic conditions," Suzan al-Said, one of the project's coordinators, told Enab Baladi.
Women experience some difficulties when they need to have their mobile devices repaired. They worry about having to delete their personal data and other similar matters. This vocational training was planned for this exact reason, to make the repairing process smoother and safer through dealing with another woman, al-Said added.
The organization provided the participants with an integrated training program. The program included a theoretical training part on acquiring business skills, which educates the trainees about the basis of a successful project.
As for the practical part, it focused on mobile devices' maintenance skills. The workshop also tackled the startup projects part by teaching the participants the requirements needed to open a technical maintenance center under full female management and female cadres.
The heavy criticism of the training course included phrases such as "the project's focus is misdirected," "you left men with nothing to do!" and "there are only two or three male experts in the area, and they are unsuccessful, so how can women be experts in this!" Nevertheless, women are more determined than ever to continue learning, according to al-Said.
The same men who opposed the project's idea acknowledged the importance of women checking and repairing other women's devices to protect their privacy. "We engaged them in dialogue sessions and convinced them," al-Said told Enab Baladi.
Meanwhile, the female trainees have been enthusiastically waiting for the opening of a center by the Glimpse of Hope organization for the economic empowerment of women. "Misjudgments make me stronger and push me to continue learning to succeed and prove the claims wrong," the 23-year-old Doaa said to Enab Baladi. She considered that her love for what she has learned recently would guide her to creativity.
---
This report was prepared with the contribution of Enab Baladi's correspondent in Idlib Yousef Ghuraibi.
if you think the article contain wrong information or you have additional details Send Correction