Fallen power lines threaten residents' lives in Jaramana camp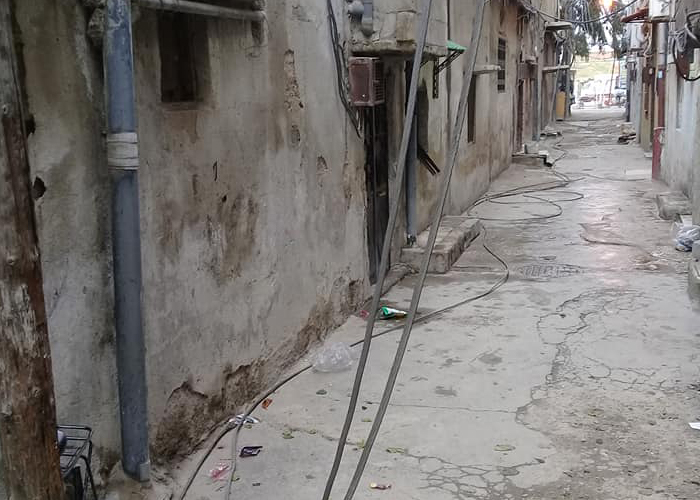 The residents of the Jaramana camp for Palestinian refugees in Rif Dimashq governorate have been complaining about the life-threatening power cables falling into their streets, noting that their previous complaints were unanswered by official authorities. 
On 30 January, the Action Group for the Palestinians of Syria (AGPS) reported that the camp's residents called on the Syrian Ministry of Electricity and relevant authorities to take urgent action and carry out needed maintenance works to the electricity cables falling into the streets, warning that some of these downed lethal power lines are situated near their children's schools. 
The residents expressed their concern over their children's safety, especially in current winter conditions of rainfall and wet grounds, increasing the risk of getting electric shocks.
The Jaramana camp residents suffer from poor services, including long power outages and frequent water cuts, which forces them to buy water from water tankers at high prices. They are also subjected to poor sanitation services and waste accumulation in the streets, exacerbating the residents' living and economic crises.
Jaramana camp was established in 1948, eight kilometers from the Syrian capital Damascus, on the road to Damascus International Airport. It occupies an area of 0.03 square kilometers. In 1985 and before the demolition operations, the camp included 2,414 dwellings. The camp had a population of 7,978 Palestinian refugees in 2009.
Since 1948, displaced Palestinian refugees have come to Syria and settled in nine official camps. They became part of the Syrian society, with more than 500 thousand Palestinian refugees concentrated mainly in the Yarmouk camp, southern Damascus, and other camps and areas before 2011.
The Palestinians in Syria are distributed in the al-Nayrab camp in Aleppo, Hama camp, Homs camp, Khan al-Shih camp, Khan Dannun camp, Sbeineh camp, Qabr Essit camp, Jaramana camp, and Daraa camp in southern Syria.
The informal Yarmouk camp is considered the largest camp in terms of its population. It is home to 144 thousand persons, according to the estimations of the United Nations Relief and Works Agency for Palestine Refugees in the Near East (UNRWA).
if you think the article contain wrong information or you have additional details Send Correction