Steel bars, water and sewage pipes in the Yarmouk camp continue to be looted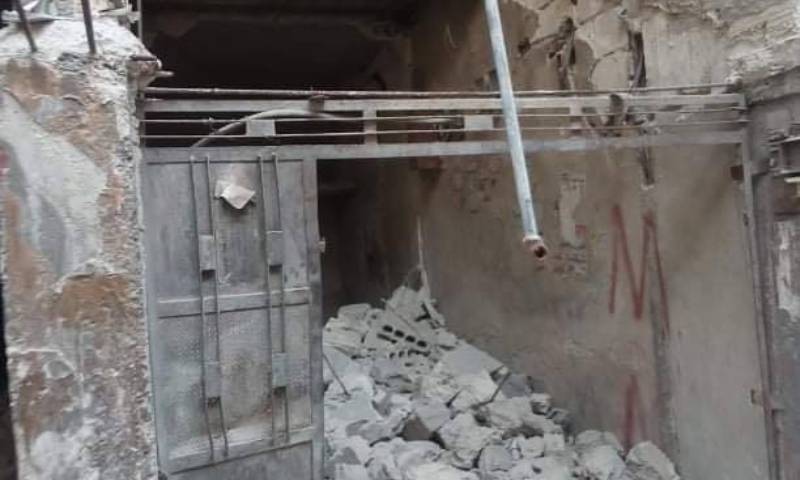 Looting and pillaging of civilian houses continue to take place in the Yarmouk camp, south of Damascus, despite the return of 600 displaced families.
Local Facebook pages have published images showing the stealing of reinforcement steel bars, and water and sewage pipes from the camp's buildings, besides the ongoing pillaging and looting operations.
On 13 January, the Action Group for the Palestinians of Syria (AGPS) cited Palestinian activists saying that property theft in the camp included water and sewage pipes. Thieves and looters were seen in the camp's neighborhoods and streets collecting pipes made of steel and plastic and loading them onto their vehicles, intending to sell them.
The Palestinian activists accused security officers and members of the Syrian regime forces of leading the camp's looting operations and selling the stolen items through middlemen in Damascus.
The Yarmouk camp former residents demanded the Syrian regime government, the concerned parties, the Palestine Liberation Organization (PLO), and the United Nations Relief and Works Agency for Palestine Refugees in the Near East (UNRWA) to work on securing proper infrastructure for the camp to return home as soon as possible.
Over the past few months, around 600 families were able to return to their homes in the Yarmouk camp after the Damascus governorate set three conditions permitting their return. The conditions included the structural safety of properties, the availability of ownership proof, and the ability to obtain necessary security permits, according to the local pro-government al-Watan newspaper.
The camp saw battles between the factions of the former Free Syrian Army (FSA) and the Syrian regime forces, amid the division of the Palestinian factions between the two sides before the so-called Islamic State (IS) took control of two-thirds of the camp in 2015.
In May 2018, after a month-long military operation, during which  IS was expelled from the camp, the forces of the regime completely re-established control over al-Hajar al-Aswad and the Yarmouk camp, in the wake of an unofficial evacuation agreement that transferred  IS  members to the desert areas of As-Suwayda.
The military clashes destroyed more than 60 percent of the buildings and infrastructure in the Yarmouk camp, which was classified as the seventh most destroyed area in Syria, according to the "Syrian Cities Damage Atlas," a report issued by the United Nations Institute for Training and Research (UNITAR) in cooperation with the REACH initiative.
if you think the article contain wrong information or you have additional details Send Correction