Photos—Syrian regime personnel parading in Mount Hermon; just a few days after Israeli attacks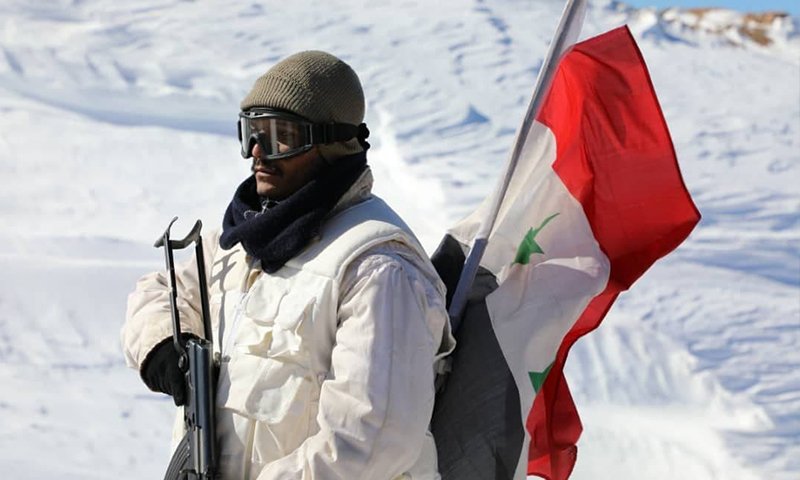 The Syrian Arab News Agency (SANA) posted photos of regime personnel in Mount Hermon, or Jabal al-Shaykh, in Syria-Lebanon-Palestine tri-border region.
"The soldiers of the Syrian Arab Army at observation posts in Mount Hermon, where snow is meters thick and temperature is far below zero," SANA, state-run medial outlet, captioned the photographs.
Quiet summit
Mount Hermon is a cluster of mountains with four distinct summits. The first and highest, called Sharat Hermon, is 2814 meters above the sea level; the second, to the west, is 2294 meters high; the third, to the south, is 2236 meters high; the fourth, to the east, is 2145 meters high.
On top of the southern summit, which straddles the Syrian part, there is an Israeli intelligence base, with a reconnaissance platform and radar systems.
This summit was a battleground during the 1937 war. However, it has been a quiet front for nearly 50 years.
These photographs were posted a few days after the third 2021 Israeli attack on various military positions across Syria.
Israeli airstrikes in Syria
Since the beginning of 2021, the Israeli Air Force has raided several military posts in Deir ez-Zor and Hama provinces, as well as the southern parts of Syria.
On 22 January, the Israeli airstrikes on the outskirts of Hama city rendered a four-member family dead. Others were injured.
"the Israeli enemy launched an aerial aggression with a barrage of missiles coming from the direction of the Lebanese city of Tripoli, aiming at some targets in the vicinity of Hama province," SANA reported, quoting an unnamed military official.
Israeli warplanes have on 12 January targeted posts of the Syrian regime forces and Iranian militias in different parts of Deir ez-Zor province.
Similar raids struck warehouses and military positions of Iran-backed militias spreading across the eastern countryside of Deir ez-Zor.
On 7 January, from the occupied Golan Heights, Israeli forces aimed several missiles at a number of marks, a week after Israel attacked the regime's missile defense systems in Mount Hābīl in northwestern rural Damascus.
With every airstrike, the Syrian regime makes statements that the attacks were aborted through ground-to-air missiles. Shortly after, satellite images would show the partial damage in the regime's military posts and scientific research centers.
Israel rarely makes available any data on the number of attacks it launches. However, in the 2020 annual report, it stated that 50 airstrikes were carried out, but mentioned nothing about the targeted locations.
if you think the article contain wrong information or you have additional details Send Correction