Islamic State in the Syrian Desert: an enemy used by different parties for strategic objectives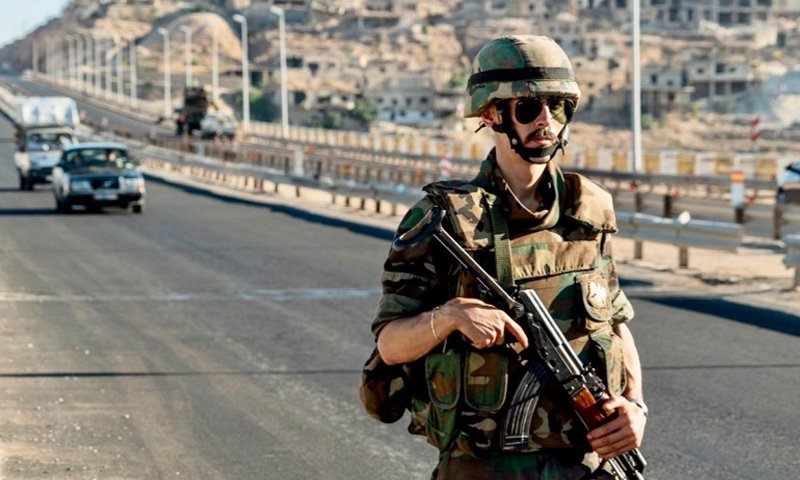 Enab Baladi – Nour al-Deen Ramadan
The so-called Islamic State (IS) attacks in the Syrian Desert have been targeting officers, military personnel, commanders, and elements of Syrian, Russian, and Iranian forces. At the same time, all these parties seem to refrain from launching military operations that would limit IS's movement or eliminate its last strongholds in the area. 
IS militants concentrate in an open area exposed to warplanes but difficult for on-ground confrontations because IS fighters are experienced in the region's geographic nature.
IS depends on special tactics in its attacks that make it difficult to target it.
This disregard toward IS's attacks raises questions about the reasons and whether this was for strategic objectives of powerful parties in Syria that have been exchanging accusations regarding IS's targetings. Another reason is that all these parties are unwilling to fight a battle in a land of complex geography, in which any war against IS is a possible failure. 
Intensive operations
During the last few months, IS intensified its operations in the Syrian Desert. The most recent of these operations was an attack by explosive devices on a bus carrying elements of the Syrian regime forces on the Deir Ezzor – Palmyra road, in which about 40 elements were killed, according to the IS.
This last week's ambush was the second by IS against a bus carrying members of the Fourth Division. On 27 December 2020, IS killed and wounded ten members of the Fourth Division in the western countryside of Deir Ezzor.
IS' recent operation comes within about 50 operations by it in December 2020 in Syria, mostly against the Syrian regime forces and the Syrian Democratic forces (SDF). IS operations killed and wounded military commanders and officers, according to what Enab Baladi monitored through IS's announcements of responsibility for attacks in the region.
IS targetings did not exclude the Russian forces in Syria, as a Russian general was killed and other military personnel was injured in an explosion in August 2020 in the eastern countryside of Deir Ezzor.
IS operations are similar in their targeting ways, as most of them were carried by detonating explosive devices or kidnapping, killing or performing surprise attacks on regime's checkpoints and returning to places of centralization.
In September and October 2020, IS groups centered in the Syrian Desert attacked checkpoints for the Syrian regime forces in al-Raqqa countryside, killing dozens.
Recent attacks by IS militants reveal its deep penetration in the SDF control areas in northeastern Syria and target of prominent leaders from the SDF and regime forces. IS claimed responsibility for several operations in the northern Deir Ezzor countryside after concentrating its operations in the province's eastern countryside linked to the Syrian Desert.
IS exploited the spread of the novel coronavirus (COVID-19) pandemic to intensify its attacks on several fronts and rearrange its ranks, according to a research study by the center of Omran For Strategic Studies.
According to the study, IS views the virus's repercussions as appropriate conditions to undertake security tactics that fit its interests.
Why are there no military operations against IS militants?
Mahmoud al-Hamza, a Syrian political analyst specializing in Russian affairs, said to Enab Baladi that Russia and the regime forces did not launch large-scale military operations against IS because of their inability to fight it in the Syrian Desert where it has fighting experience. Al-Hamza excluded a Russian strategic objective behind this lack of action against the IS.
Military analyst Major-General Mahmoud Ali told Enab Baladi that international parties would not allow the Syrian regime to launch a wide-scale military operation against IS even if it wishes to do so, because such fighting is not in line with the strategic aims of those countries.
The Islamic State's fighting tactic represents the hardest types of warfare
On his part, the military analyst Colonel Fayez al-Asmar told Enab Baladi that after losing eastern Euphrates and being evicted from it, IS changed their tactics into undercover fighting or sleeper cells. IS militants reorganized themselves in small groups and engaged in attrition fighting using hit-and-run attacks, guerrilla warfare, ambushes, raids, mining, and assassinations that targeted their opponents in the Syrian Desert or the eastern region. IS operations were carried out almost daily. IS exhausted its enemies and caused them heavy losses in lives and equipment like the Syrian Desert ambush on the Palmyra – Deir Ezzor road.
Tactically, Colonel al-Asmar believes that the Syrian regime's forces and Russian forces centered in the Syrian Desert, and the SDF in eastern Euphrates backed by the International Coalition Forces (ICF), are fighting one of the hardest types of war. IS is an invisible enemy and has no specific geographical concentration. It is prepared for this kind of war in the Syrian Desert with its entrances, exits, terrain, and knows the best ways to approach its targets. IS militants benefit from the vast Syrian Desert through its caves and shelters, and use them to hide and camouflage their machinery, moves and transportation.
According to al-Asmar, the airstrikes cannot end IS's existence this easily, indicating that any military action against IS in the Syrian Desert requires an ensuing combing of the area and significant numbers of trained forces, which the militarily debilitated regime forces do not have.
The Syrian Desert extends from the eastern countryside of Hama and Homs to the Iraqi borders, and from the countryside of Deir Ezzor and al-Raqqa in northern Syria to the Jordanian-Syrian borders. It spreads over an area of more than 75,000 square kilometers of Syria's 185,000 square kilometers area, making it a suitable environment for launching the Islamic State's attacks.
if you think the article contain wrong information or you have additional details Send Correction