Idlib's disabled people invisible to charity organizations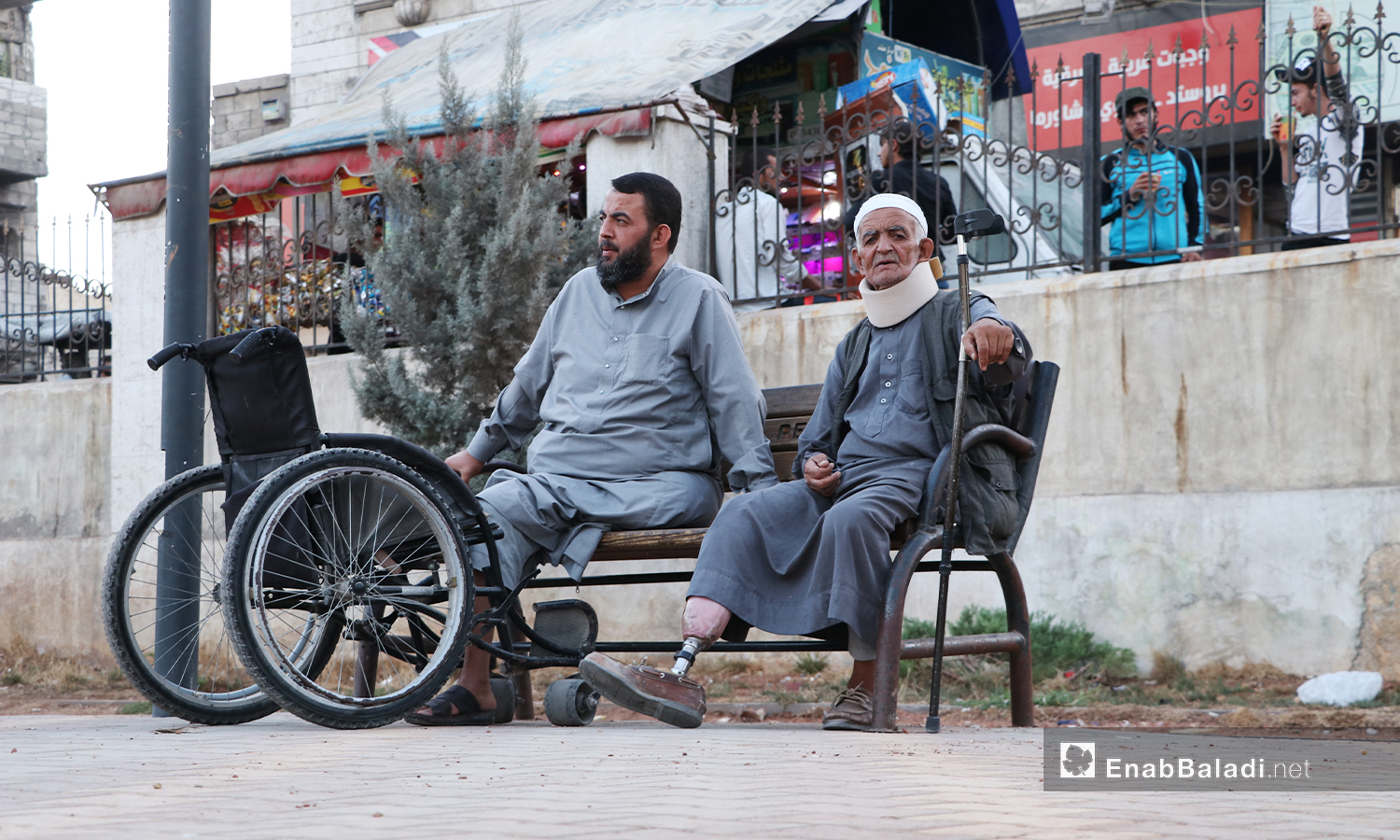 Idlib countryside – Iyad Abdel Jawad 
In Kafr Dariyan camps for internally displaced people (IDPs) in the northern Idlib countryside, fifty-year-old Abdul Rahman Baroud lay on his back inside his tent, which he had not left for a year. He laid down there, unable to move or provide his family's needs because of his disability.  
Baroud suffered a spinal cord injury that made him paralyzed five years ago. He got his injury as a result of the Syrian regime's aerial bombardment of his house in the town of Khan al-Subul of eastern Idlib countryside.
Since then, Baroud received no aid to help him live in dignity, as relief organizations did not support disabled people and left them waiting for benefactors' donations. 
Government disability cards 
Before the Syrian revolution began in 2011, disabled people had a disability card that provided them some benefits, most notably a monthly allowance.
As for Shehadeh al-Taha, his disability was not due to bombardment or genetic factors but because of a medical mistake that left him paralyzed with muscle atrophy in the right lower limb.
When al-Taha was a child, he had hyperthermia and received an intramuscular injection that led to his current disability.
The fifty-something-year-old man told Enab Baladi that he obtained his disability card in 2007. The card gave him access to many advantages, including an exemption from taxation, stamp cost, and medical expenses. The card also entitled him to get landline access and a fixed monthly allowance from the Department of Social Affairs and Labor. 
Al-Taha had the advantage of skipping long queues in all government institutions and was entitled to own an automatic taxi in installments of less than half its price. The car was exempted from taxes and customs duties as well. 
Disabled people were granted 300 free hours of Internet access every month and a license to set up a stall after registering it in government departments in any city or village. Their children were exempted from school and university tuition fees.
Al-Taha lives in a single room with his sons and daughters on the outskirts of Barisha village of northern Idlib countryside. He receives no support or assistance, not even to cover his children's tuition fees, since he left his village in the Maarrat al-Numan countryside a year ago.
Disability cards lost their effect, and the support dedicated to disabled people became weak in Idlib nowadays, Mohammed Hallaj, the director of the Syrian Response Coordination Group (SRCG) said to Enab Baladi. He pointed to the region's need for essential aid, especially food assistance. 
Some organizations limited their support to disabled people to the establishment of physical therapy and public rehabilitation centers, which is insufficient, according to Hallaj.
The vast numbers of people with war-related injuries or congenital anomalies (birth defects) have overwhelmed the region, Hallaj added.
Organizations' support bound by field and humanitarian conditions
Organizations design their projects depending on humanitarian conditions and the situation on the ground. Currently, relief efforts have become concentrated on responding to the coronavirus (COVID-19) crisis, Hallaj said. This change of focus has led to a delay in the support dedicated to disabled people, who are categorized among the top groups entitled to food assistance. As for those who receive monthly donations, no international or local entity offers them assistance.
Ataa Humanitarian Aid Association's director in Sarmada town, northern Idlib countryside, Muath Bakbash, explained to Enab Baladi the mechanism for choosing beneficiaries. He said, "People with disability, specifically the heads of households, have priority to relief assistance."
Bakbash mentioned a rise in the numbers of persons with disabilities following the repeated displacement waves in the region over the past two years. The disabilities included cases of amputations or shrapnel injuries, which cause loss of mobility and lead to partial disability, as well as those born with congenital disabilities, such as visual impairment, motor dysfunction, or paralysis.
According to Bakbash, the problem lies in the absence of a special program dedicated to disabled people. He added, Ataa Association discussed this problem in its recent meetings with the donors, but for now, the association's support is limited to its Charitable Investment Fund and financial sponsorship of social cases, paid by individual donors on a monthly basis.
High costs hinder effective assistance 
Khalidiya al-Yaseen and her son, Ahmed, who is paralyzed since birth, 35 years ago, live in a worn-out tent to the east of Kafr Aruq village in the northern countryside of Idlib. She told Enab Baladi that she obtained a disability card for her son when he was 24 years old. 
The card enabled Ahmed to receive a monthly allowance of 3000 Syrian pounds (SYP) that covered his needs of adult diapers and medication. However, his sixty-something-year-old mother cannot afford today to provide for his needs. She reached out to several charity organizations and associations that simply documented his condition without offering him support.   
The al-Hassan Prosthetic Limb Center in Idlib has fitted prostheses and provided assistive devices for paralysis patients, the center's director of public relations, Ahmed al-Dani, said to Enab Baladi.
He added, "For cases of disability, there are no accurate statistics in Idlib and its countryside, but the numbers are very high, especially the cases of war injuries of amputations and complete paralysis."
According to al-Dani, the financial support and monthly donations for people with disabilities are insufficient and do not cover all cases. The concerned centers in Idlib and its countryside are also unable to offer their services to all patients, especially in total paralysis cases, as those patients need medication, adult diapers, and physical therapy every month.
Services provided to patients, including prosthetic limbs and assistive devices for paralysis patients, are of bad quality, and only limited numbers of them are secured monthly, al-Dani said. He added that there are no free centers that provide good-quality silicone prostheses in the region, and if any, they are in very limited numbers.
The gap between provided support and patients' needs is wide, Hallaj said. He pointed out the high cost of prostheses and their unavailability in the region, which coincided with an increase in the number of war-related injuries year after year as war and military operations continue to occur, leading to a significant deficit.
The closure of borders with Turkey in 2020 as part of the preventive measures to limit the spread of COVID-19 has made it more difficult to secure the patients' needs. 
The number of disabled people in the region is nearly 200,000 out of 4.1 million people who live in northwestern Syria, according to the SRCG demographic statistics, published in August 2020.
if you think the article contain wrong information or you have additional details Send Correction