Homs: Agriculture suffers consequences of unfulfilled government promises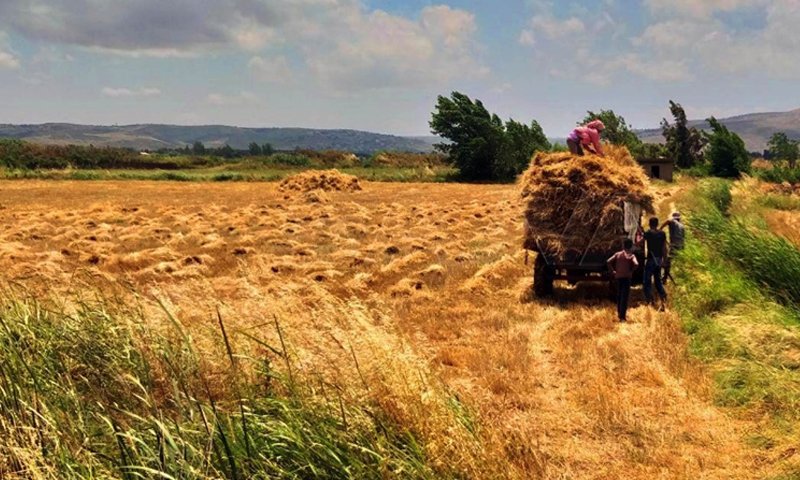 Homs- Orwah al-Mundhir
In front of the Agricultural Association's building in Talbiseh, a city north of Homs province, nearly 50 farmers stand in queues every day. They wait for government allocations of fertilizers and fuel.
In 2020, the fertilizers crisis manifested in the underproduction of different types; limited distribution of available ones; and high market prices. Accordingly, farmers grew more dependent on government subsidies.
Government officials make daily statements on supporting farmers and the agricultural sector, Abu Marwan, a fifty-something farmer, told Enab Baladi, sitting on the sidewalk opposite the association. "The Minister of Agriculture is calling farmers to cultivate all available areas, including gardens. But once farmers demanded necessary supplies, rationing started."
"Farmers can cope with rationing, but crops won't in the absence of fertilizers and pesticides," Abu Marwan added.
Only wheat is subsidized
Agricultural associations, affiliated with the Farmer Union, are distributing only a quarter of the fertilizers allocated to farmers in 2019 and types needed exclusively for the cultivation of wheat.
The farmers' shares of fuel for tractors and other agricultural machinery were also cut down by the third of the supplies delivered in 2019.
Before 2011, agricultural associations had a specific supply policy. They provided farmers with sterilized seeds for free, in return for similar quantities of these seeds when the crops are harvested. "These associations granted farmers unlimited access to fertilizers back then. Today, however, farmers are charged 500 Syrian Pounds (SYPs) for each kilo of seeds, while getting only scanty amounts of fertilizers," Khalil Ahmad, al-Rastan-based farmer, told Enab Baladi.
"I'm granted six kilos of Urea fertilizer for each acre I cultivate with wheat, instead of the 25 kilos I was allocated in 2019," Jaber, al-Rastan-based farmer, told Enab Baladi. "The distributed quantities barely cover the amounts recommended for the crop, that is 25 kilos of Urea per acre. Superphosphate is another fertilizer that the associations has not distributed at all this year."
In 2020, farmers were offered less support, at odds with government statements that became more recurrent with renewed price inflations and the bread crisis throughout Syria.
"It's necessary to provide farmers with needed supplies on time. The difficulties challenging production must also be addressed," Ahmad Ibrahim, head of the General Farmers Union, said on the Union's Facebook page on October 5.
In a meeting with the Union's Executive Office, last October, the Minister of Agriculture, Hassan Qatana, called the Union to cooperate with the Ministry of Agriculture to improve the agricultural sector, particularly regarding the distribution of supplies to farmers in line with their actual needs.
The reported government statements failed to encourage farmers to cultivate strategic crops, which usually require massive amounts of fertilizers, according to Jaber. Instead, farmers opted for cultivating crops that require fewer fertilizers, such as anise, nigella, and cumin. One acre of anise, for instance, needs only ten to 15 kilos of Urea.
Fertilizers: High prices, low quality
Fertilizers' crisis is not limited to high prices only, for there is a discrepancy between the prices set up by farmer associations and retailers. A Urea bag, 50 kilos, is sold for 18,000 SYPs (less than six USD), but farmers purchase it for 48,000 SYPs in the free market (over 16 dollars). The same applies to superphosphate. Its regulated price amounts to nine thousand SYPs, but it is sold for 24,000 SYPs by agricultural centers.
When it comes to quality, the fertilizers distributed by agricultural associations are "better" than those sold on the free market, said Adnan al-Youssef, an agricultural engineer who runs a supplies center on the Homs-Hama highway. The types available in the market are produced by the al-Rafidain Plant in the Hisiya Industrial City and are "lower" in quality than the fertilizer produced by the Homs Fertilizer Plant, which is supervised by a Russian company.
Quality is affected by fertilizers' decomposition characteristics. The al-Rafidain fertilizers take a year to decompose and turn into nutrients, while Homs plant fertilizers react faster in the soil.
Because fertilizer grants are provided only by the Homs Plant, al-Yousef said that the reduced allocations remain "unjustifiable" and can be viewed as an attempt to boost the sales of al-Rafidain Plant.
Fuel shares are also cut
Farmer associations provide monthly subsidized fuel at a price of 180 SYPs per liter to owners of tractors, generators, and agricultural machinery, allocating quantities based on the size of the machinery, and regardless of the type of crops grown.
The distributed quantities of fuel are dependent on the shares the Farmers Union is provided by the government, said a member of the Agricultural Association in the city of al-Rastan on the condition of anonymity. There is not such a thing as monthly allocations for the agricultural sector; fuel is distributed according to the number of vehicles registered with associations and their rates of fuel use.
Fuel shares have been reduced, farmer Taha said. He received 150 liters in November and only 60 liters in December. This prompted him to buy fuel at high prices. To compensate for the additional costs, Taha raised the fees for land plowing services. He is charging farmers five thousand instead of four thousand SYPs per acre.
Dropping support and soaring prices
The government is implementing fewer subsidies; as a result, the costs of production are breaking new records. To cover the extra expenses, farmers are demanding higher crop prices, except for wheat, which trading is exclusively managed by the government.
Farmers are "compelled" to raise prices when the fertilizer and fuel subsidies are cut off because they are forced to buy these supplies from the free market for twice the prices defined by the farmer associations, farmer Jaber said.
The pricing of agricultural products is not subject to "controls by the government or any consumer-related entities," Homs Ammer Rajoub, a merchant, told Enab Baladi. "Supply and demand determine the products' prices."
The Syrian pound to dollar exchange rates, as well as import costs, define grain prices, Rajoub said. It is a cycle; it starts with merchants who buy grains from farmers at a certain price, which then "slightly" increases as the amounts stored decrease.
The agriculture directorate intends to cultivate 41,982 hectares with wheat, adding 1,820 hectares to the areas cultivated under its former agricultural plans, Nazih al-Rifai, director of the Homs Agricultural Directorate, told the Syrian Arab News Agency (SANA) on December 9.
In 2020, weather conditions were favorable for the development of agriculture and led to a five-fold increase in wheat yield. However, the high input costs hinder agricultural activities and increase food insecurity, suffered by over 9.3 million persons in Syria, according to the December assessment carried out by the Food and Agriculture Organization of the United Nations (FAO).
if you think the article contain wrong information or you have additional details Send Correction