High costs of fodder damaging sheep trade in Syria's Raqqa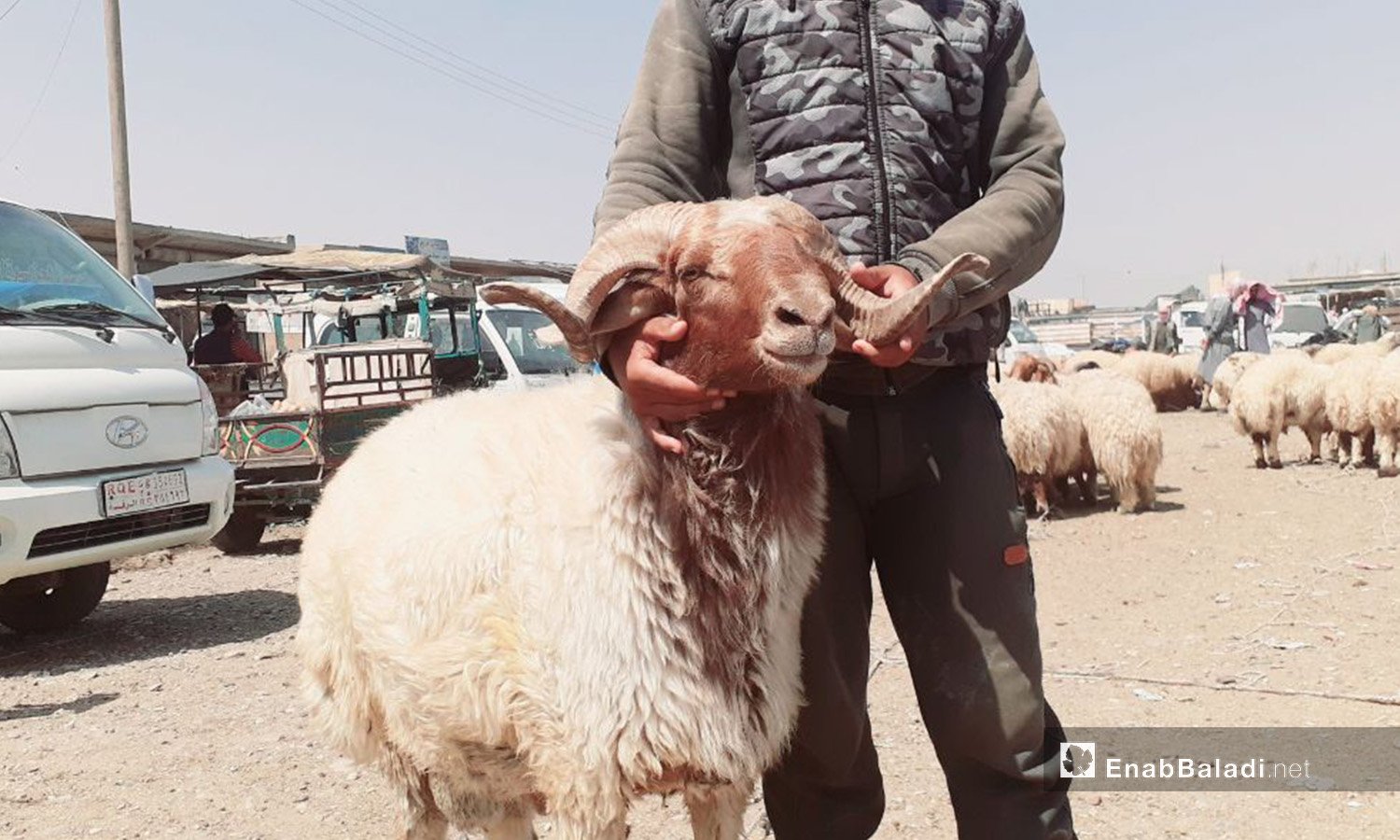 Raqqa – Hussam al-Omar
Khaled al-Radi came back disappointed from the Raqqa livestock market because he failed to sell  his sheep.
Sheep farming is the sole source of income for al-Radi and his seven-member-family. He has 70 head of cattle and basically sells milk in the Eastern Market located in Raqqa city to secure his daily bread.
From time to time, he sells a few sheep to afford the increasing costs of fodder. But he has not sold any lately. 
Al-Radi is not alone in this, for most residents in the rural areas in Raqqa depend on farming and selling cattle, milk, and dairy products to survive.
Delayed rainfalls are to blame 
ِIn the beginning of winter, there was rain, which then stopped for two months. This delay in rainfalls, accompanied by successive frost waves, adversely affected the herbaceous plants' growth that sheep graze on.
Therefore, livestock farmers were forced to depend chiefly on fodder to feed their cattle. 
Al-Radi, who lives in the village of Kasra Sheikh al-Jumah, in the southern countryside of Raqqa, used to graze his sheep in the village's desert and surrounding agricultural fields. However, as plants vanished from these pastures, he had to deal with the unaffordable "high" costs required by livestock farming.  
"Most" farmers and merchants avoid farming sheep when fodder costs are spiking, al-Radi told Enab Baladi.
He added that the cost of the fodder consumed by one head per day amounts to two thousand Syrian pounds ( SYP- 0.69 USD).
Buying and selling of sheep at the main Raqqa livestock market have stopped temporarily for numerous reasons, most notably the high costs of fodder, which doubled in recent days.
Nawaf al-Karoui is a 40-year-old man. He works as a middleman between the seller and buyers in the main livestock market.
He told Enab Baladi that the doubled prices of feedstuffs have contributed significantly to the hampered livestock trade and decrease in sheep prices in the Raqqa livestock market.
Al-Karoui addressed high prices of animal fodder and the foodstuffs monopoly in general—the barley price hit 500 SYP (0.16 USD), while it was less than 275 SYP (0.09 USD) a month ago. The bran price reached 475 SYP (0.16 USD).
Al-Karoui said that the price increase is not related to the depreciation of the Syrian pound as much as it is related to the increased demand for fodder after delayed rains.
Jaber al-Ali, an animal fodder dealer in the main livestock market, believes that the increasing cost of feedstuffs is not about monopoly as much as about adapting to high prices of most materials, given the sharp decline in the value of the Syrian pound (The SYP has come close to a record low of 3,000 pounds to the US dollar), and the high costs of renting grain storage facilities. Storing one ton of fodder costs about 20 thousand SYP (6.7 USD) per month. 
Jaber said that the sheep farmers have no idea about the increased rents of storage facilities or the cost of feed wastage during warehousing.
Some fodder gets rotten or damaged due to poor storage conditions and high moisture levels, as well as fodder bags damage caused by rodents (mice and rats). All these factors force the merchants to get rid of the damaged stored fodder, which means lost investments and higher prices. 
Measures taken by the Autonomous Administration
Khaled al-Nasser, a member of the Sheep Breeders Association in Raqqa, confirmed to Enab Baladi that the Kurdish-led Autonomous Administration of North and East Syria (AANES) has taken several measures to control the decline in the number of sheep.
The AANES established offices to protect livestock, study, and fight communicable and infectious diseases afflicting cattle. It also issued decisions to prevent the export or transport of sheep outside the region, stressing that uncomplying farmers would be held accountable. 
On 6 January, the AANES released a decision to reduce the price of fodder bran to 300 SYP (0.10 USD) in an effort to remedy the situation.
But sheep merchants see this step as "insufficient." Other official measures should be enforced, such as banning sheep export and smuggling, middleman Nawaf al-Karoui told Enab Baladi. 
Under the same decision, the AANES said it will carry out a scan of the area to determine the actual number of cattle, by its agriculture committees, in cooperation with livestock offices and livestock breeders' associations.
It is worth mentioning that so far such accurate figures on livestock resources do not exist in Raqqa or areas east of the Euphrates river. 
if you think the article contain wrong information or you have additional details Send Correction