Demolition of illegal buildings along Damascus-Aleppo international highway (M5)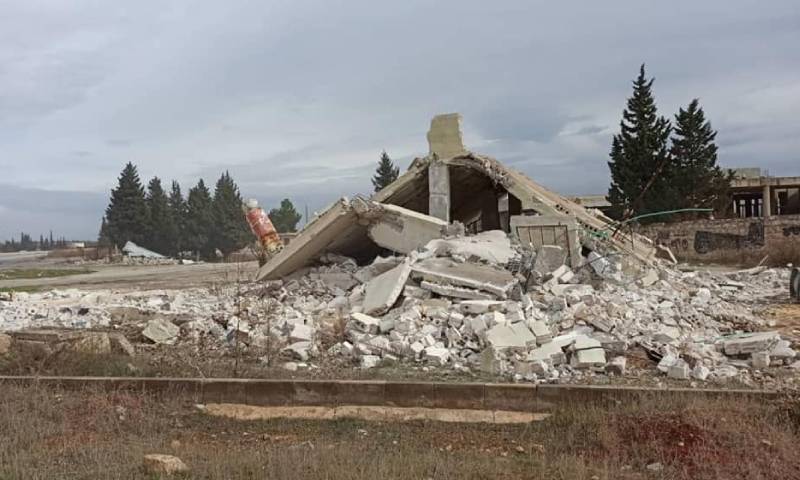 The municipality of al-Zarba town, southwest of Aleppo, has removed 36 illegally constructed structures along the international highway Damascus-Aleppo, known as the (M5).
The head of the town's council, Abdul Hamid al-Rajab, said that the illegal buildings had been removed under the provisions of Decree No. 40 of 2012 and its executive regulations.
The demolition was in accordance with the instructions of Aleppo governor, according to Aleppo governorate's media office.
The said buildings were set on public property, and sometimes on other people's private property, after the Syrian regime took control of the international highway Aleppo-Damascus (M5), al-Rajab said.
He pointed out that there will be field tours to survey and demolish such illegal structures in coordination with Aleppo governorate's relevant authorities.
The removal of structures that have been illegally constructed throughout the Syrian conflict will continue, the local pro-government al-Watan newspaper reported on 15 January.
The Syrian regime forces took full control of the M5 international highway on 11 February 2020, after controlling the al-Rashideen 4 area, west of Aleppo.
Aleppo City Council removed illegal buildings in the city in the Ansari Services Directorate's operation area on 12 January.
The council demolished buildings in residential areas in the neighborhoods of Salaheddine, al-Ameriyah, and Saif al-Dawla and issued violation reports against the offenders, as reported by the council's Facebook page.
On 20 May 2012, the president of the Syrian regime, Bashar al-Assad, issued Legislative Decree No.40 on illegal construction work.
Article 2 of the decree provides for removing illegal structures built after the date of the decree's issuance, regardless of their type or location.
According to the decree, offenders proven responsible for such violations and employees working in administrative positions who failed to remove the buildings in violation of the construction code would be sentenced to prison. 
The decree exempts old violations proven to have taken place before the decree's issuing date. However, some construction violations' date would be difficult to determine given the property owners' absence and their inability to provide evidence.
The decree's seriousness lies in the fact that it is being used as a tool by the Syrian government to remove all illegal structures, even old ones, whose date of construction remains difficult to ascertain. 
if you think the article contain wrong information or you have additional details Send Correction