Barbershops adhering to COVID-19 prevention measures attract clients in Syria's Daraa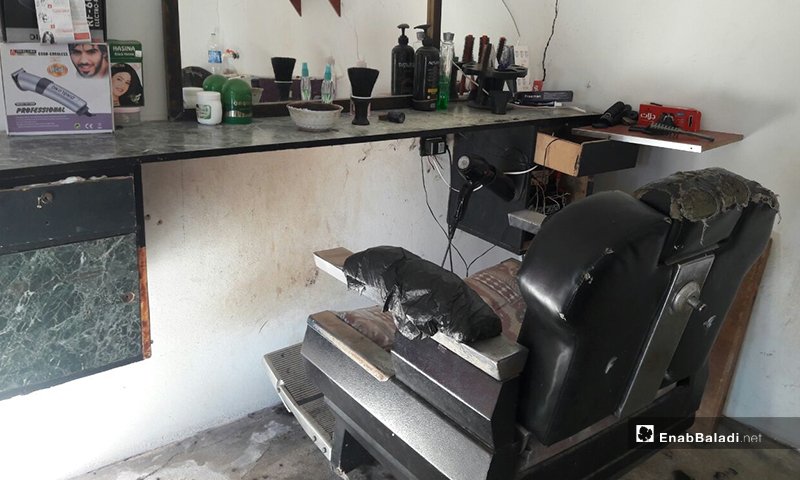 Daraa – Halim Muhammad
Nabil, who spoke on the condition of anonymity for security reasons, said that he does not feel safe to go to barbershops due to the risk of COVID-19 transmission through tools, or products.  
" I cannot get my hair cut because I am afraid of catching COVID-19," Nabil, a young man in his thirties, told Enab Baladi. 
Coronavirus infections have increased in Syria's southern province of Daraa despite the promotion of necessary preventive measures in the official departments and local councils, while the health sector continues to face formidable challenges to contain the spread of the virus. 
Clients in search of barbershops complying with precautionary measures
Nabil has been looking for a barbershop in which COVID-19 safety measures are strictly followed.
He needs a barber who wears a face mask, cleans his hand often, and disinfects chairs and tools (such as clippers and blades) before every single use. He said, "I once entered a barbershop, but I had a feeling that the barber was not sanitizing and disinfecting his haircut tools and equipment properly, in between every customer. That's why I decided to leave it." 
Nabil was scared of becoming infected with the coronavirus and then passing the infection to his family. Therefore, he thinks that the barbers are supposed to be very cautious and follow extra COVID-19 precautionary measures during work. 
Osama, a resident from Daraa, does not only ask if the barber adheres to the preventive measures but also about his health condition. He checks if one of the barber's families or relatives is infected with the virus to protect himself and his family from contracting COVID-19. 
"After I make sure that the barber has taken sufficient steps to prevent the spread of the virus in his shop, such as wearing a face mask and sanitizing his tools, I ask him about his health," Osama told Enab Baladi. 
Osama stressed that his health is number one out of everything else, and that is why he is shy about asking a barber whether he has any possible symptoms of the disease or not. 
Abu Mahmoud, who is 65 years old, decided not to go to barber's. He thinks that it is safer to have a barber cut his hair at his home even though he has to pay him twice the cost of a regular service. 
ِAbu Mahmoud, who refused to reveal his real name for security reasons, said that " my doctor told me that I am more likely to get infected with the coronavirus because I am a diabetic with a weak immune system."
Preventive measures against COVID-19
While barber Zuhair was getting the hair of his client Nabil cut, he had a small talk with him about the barbers' commitment to adhering to the precautionary measures against COVID-19. Zuhair also expressed his fear of getting infected and talked about the steps to prevent the transmission of the disease in his shop. He said that he adopted the booking system with his clients to avoid crowding inside his shop. In this way, he has enough time to keep his tools and chairs clean and disinfected.
Zuhair highlights, "after disinfecting chairs and tools, I call the client and ask him to come."
Zuhair is scared of becoming infected with the virus and transmitting it to his family and clients. Therefore, he keeps wearing his face mask and frequently sanitizes his hands to ensure his safety and clients'.
"The barbers are in close contact with their clients and more prone to get sick. Therefore, I always wear my mask and disinfect my tools after every single use."
Visiting barbers and hairdressers is precarious during the coronavirus infection, which temporarily promoted several countries to close barbershops and beauty salons. Yet, such decisions were not taken into consideration in Syria. 
The barbers' adherence to the preventive measures mitigates the increased risk of coronavirus transmission among barbers and their clients, pharmacist Ghossein El-Manizel said to Enab Baladi.
The virus is transmitted through respiratory droplets (generated by coughing, sneezing, or talking). So, if a client sneezes or coughs, transmission can occur through the droplets that touch the barber's tools and equipment, on which the virus lives for about six hours if not disinfected. 
The number of confirmed coronavirus infections in Daraa increased in the past three months. According to the Syrian regime's Ministry of Health, COVID-19 cases have reached 900 in Daraa, with more than 40 deaths from March 2020 to January 2021. 
The Syrian government has previously issued directives on the use of face masks in public institutions, public transport, commercial centers, and bakeries.
However, the health sector is "not prepared" to face this pandemic, according to a report by the Doctors for Human Rights organization (DHR), issued on 8 December 2020.
This sparked fears among the people of Daraa, but simultaneously, this motivates them to take individual and local preventive measures more seriously and comply with the decisions issued by some towns and villages in the province, such as avoid gatherings.
if you think the article contain wrong information or you have additional details Send Correction