Aleppo's security branches deploy indiscriminate tactics: arbitrary arrests, forced recruitment, and extortion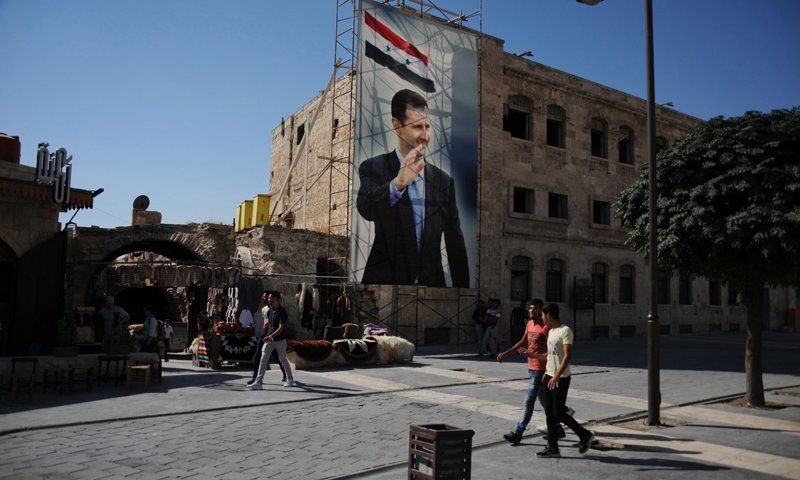 Enab Baladi – Aleppo
On the way to his work in Aleppo in mid-November 2020, Abdul Fattah was arrested by a group of armed men who stopped suddenly and emerged from a vehicle in front of him. Abdul Fattah did not know the reason for his arrest. 
The young man told Enab Baladi that he heard the armed men talk about taking large sums of money to release detainees. He added that he was put in a dark solitary cell for a few days, during which one morsel did not pass his lips.  
The state security branch arrests numerous men on charges of "posing damage to the prestige of the State." Other people are arrested because they express their dissatisfaction with deteriorating living conditions. In fact, arrest campaigns also target the former opposition members, who were previously released after paying large amounts of money and settling their situation. Additionally, civilian people whose relatives live in areas controlled by the Syrian opposition factions, northern Syria, are arrested. 
After Abdul Fattah spent several days in the detention center—he did not know the number of days—he was driven to a group room designated for interrogation. He also heard," screaming of a beaten, insulted and tortured prisoner" while he was blindfolded.
The questions posed to the young man frightened him. "How long have you been in contact with the terrorists in Idlib? The contacts on your phone belong to people living in Idlib. Besides, all of them are cooperating with the terrorists," the interrogator told Abdul Fattah, right before he started beating him.
The intimidation did not take long. After the detainee was transferred to another room, and his eyes were still blindfolded, he heard a new voice telling him, "You may die here. No one will ever know your fate, but you can simply pay us and leave." The speaker added, as Abdul Fattah recalls, "If you cannot pay us, you can stay here as our guest for a few days—of course, if you survive the torture."
Abdul Fattah asked the security elements to contact his father to obtain money in exchange for his release before being taken to a new room, which he shared with 76 other detainees. 
The charges of the inmates of the so-called state security branch varied: some were detained without charges, while others were accused of having collaborated with the opposition factions in Idlib, despite a lack of evidence. Almost all the detainees were subjected to torture in order to extract and sign forced confessions. Many people were arrested on charges of using money other than the Syrian pound, carrying out money transfers, and conducting illegal currency exchange transactions. 
"All of them were given the option to be released from the prison in exchange for large sums of money (some of which amounted to about 100 million Syrian Pounds- 35,000 USD according to the exchange rate during that period), Abdul Fattah said.
On 2 December 2020, Abdul Fattah was released after his father paid 30 million SYP (more than ten thousand USD)to the state security branch.  
Fattah's father managed to negotiate with the state security branch members, who asked for 50 million SYP (17,301 USD) at first. He told Enab Baladi, "I asked them for proof that my son is alive. Then, they made him talk to me and ask me to give the money."
The father gave the money at dawn near the "Military Academy" to masked men riding in a black "tinted" car, with a poster of Bashar al-Assad on its window, Fattah told Enab Baladi. He pointed out that the security elements threatened his son with his life if he spoke about what happened to him.
Arrest for recruiting in "Air Force Intelligence"
The Air Force Intelligence (AFI) Branch seeks to forcibly recruit young men within its ranks by arresting young men. Thus, the young men are forced to choose either to join the AFI ranks or to pay large sums of money for their release.
Young people in the city of Aleppo generally refrain from joining the ranks of the security branches. They fear that they are likely to be targeted by warring parties. Furthermore, their families who prefer to remain civilians and refuse any kind of relationship with the Syrian regime will disown them.
Mahmoud was arrested while he was going to buy food in the al-Shaar neighborhood at the beginning of October 2020. Mahmoud was surprised that even though he completed the mandatory and reserve military service, he got arrested, as he told Enab Baladi.
During an arrest campaign carried out by Aleppo's AFI branch, Mahmoud was arrested along with nine others. The AFI agents put them in one car and took them to the branch. After he arrived, they forced him to undress completely for inspection, then put him in a solitary cell for hours. He said, "I heard the sound of the cell door opening. They put a blindfold over my eyes and took me to another room. I stood for a long time blindfolded until I fainted due to hunger and thirst."
Mahmoud woke up feeling the water drops sprayed on his face; after a period of time, he did not know how much it lasted. "They gave me a loaf of crusty bread and an undercooked boiled potato. While I was eating, the cell door was opened. They tied me up and took me to an interrogation room," Mahmoud added. 
"And here, the AFI agents showered me with questions, such as 'Why didn't you join us after you were discharged from the military, and why do you blame the competent authorities for the current situation when you spoke to others? Why do you tend more to support the terrorists?…etc.'"
Mahmoud, who worked as a tailor after finishing his compulsory military service, pulled himself together and asked, "Whom should I join?". Here, the AFI agents hit him again and again until he lost consciousness. They also threatened to kill him in case he repeated the question.
Four days later, Mahmoud regained his consciousness, according to what the detainees in the cell told him. 
After several days, the interrogators called him again, but this time to offer him two options: "Either you have to work with us or, if you want to be released, you must contact your family to give us 15 million SYP (5,190 USD)" Three days later, he was released after his family gave them the money. 
Extortion of gas stations by Political Security
The Political Security (PS) branch also targets gas station owners and attendants to obtain money and fuel. 
Firas, a gas station owner, told Enab Baladi that the PS agents blackmailed him. At the end of the working day, on 20 December 2020, Firas was arrested and taken to the branch, where he was inspected and robbed. The PS agents took 356 thousand SYP (around 130 USD) found in Firas's pocket. Then, he was offered the option directly: "Payment of two million SYP( about 698 USD) for release."
Firas promised the PS agents to give them the required money in the morning, which happened after his immediate release. 
"I gave them the money, and then I went to work. If I did not do this, they would arrest me. Besides, they would not be satisfied with the amount of money they took from me."
The PS elements do not pay for the petrol and diesel they obtain from the fuel stations, the gas station employee said. They also bypass the drivers waiting in line to fill their cars with 20 liters of fuel every two days. 
Money transfer services and foreign exchange bureaus among the most targeted 
The security branches take turns arresting the owners of money transfer agencies and foreign exchange bureaus, with the intent of blackmailing them. Aasim, a worker at a foreign exchange bureau, told Enab Baladi that the security branches consider the workers "an expensive commodity." He pointed out that those who work in money transfer companies and foreign exchange bureaus have been repeatedly arrested.
Aasim added, "I was arrested more than once, intermittently. I had been held for two weeks in the PS branch in May 2020. I paid 17 million SYP (5,882 USD) to get out. In September 2020, I was arrested again by the Military Security (MS) branch. The MS agents requested 100 million SYP ( around 34,602 USD). However, after two months, they settled for 70 million SYP (24, 221 USD)."
The security branches share control over the city of Aleppo. The state security branch takes over the western section, the AFI branch controls the eastern section, the MS branch takes the southern section, and the PS branch controls the northern section.
According to the latest Syrian Network for Human Rights statistics, more than 148,000 people had been detained by the controlling forces in Syria from March 2011 until August 2020. In other words, more than 88 percent of detainees are held by the Syrian regime forces.
if you think the article contain wrong information or you have additional details Send Correction