1,200 displaced Yarmouk Camp residents wish to return home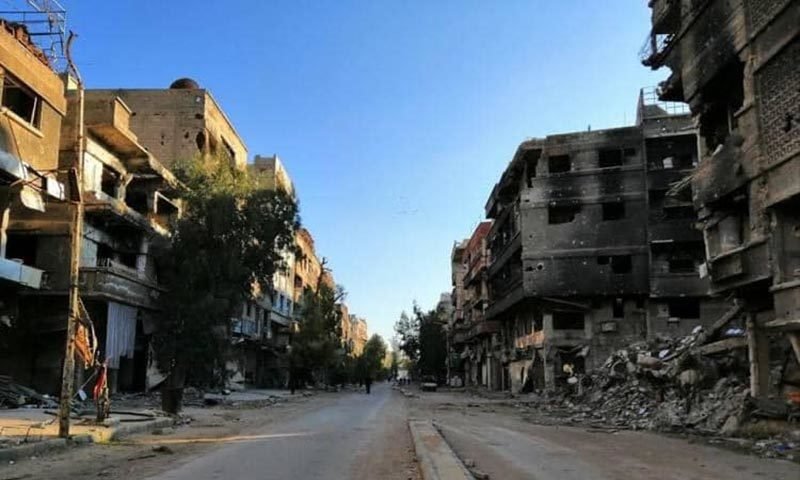 Damascus Provincial Directorate has announced the number of displaced persons to return to Yarmouk  Camp after it started receiving return applications on 10 November 2020.
Return applications were filed by 1,200 former residents of the camp, Melody FM reported on 6 January, quoting Samir Jazaerli, a member of the Executive Office of the Damascus Provincial Directorate.
Only 500 applicants were granted access into the neighborhood since their applications met the three requisites set up by the directorate —namely, the safety of civilian structures; the availability of ownership proof; and the ability to obtain necessary security permits, Jazaerli said.
An additional 400 families returned to their homes in the Yarmouk neighborhood before the process was officially started on 10 November 2020, he added.
Water is restored, and sewage systems are renovated in most of the neighborhood's streets, Jazaerli said, addressing services in the camp. However, power remains cut, with the state studying budget plans to reoperate power networks in early 2021.
The displaced residents of Yarmouk camp planning to return home are burdened with slow enforcement of return decisions and the complicated conditions stipulated by the Damascus Directorate, which they called "insuperable," particularly as they threaten to deprive a large segment of families of their right to return.
Residents are worried over further restrictions because the Damascus Directorate stated that it will accept only certified title deeds as proof of ownership, while it used to recognize copies of these deeds earlier on, Shatat Press reported, quoting local sources, on 28 November 2020.
Accompanied by a delegation of the United Nations Office for the Coordination of Humanitarian Affairs (OCHA) and the World Food Programme, the UN Resident Coordinator, Imran Riza, and the member of the Executive Office of the Damascus Provincial Directorate, Samir Jazaerli, made a field visit to the Yarmouk Camp, south the capital Damascus, on 7 December 2020.
The delegate visited the camp to assess the overall situation there, particularly the facilities of the United Nations Relief and Works Agency for Palestine Refugees (UNRWA), as people started to return to their homes, the Action Group for Palestinians of Syria reported on  7 December 2020.
if you think the article contain wrong information or you have additional details Send Correction