UN delegation visits Yarmouk camp and promises to offer necessary support for residents' return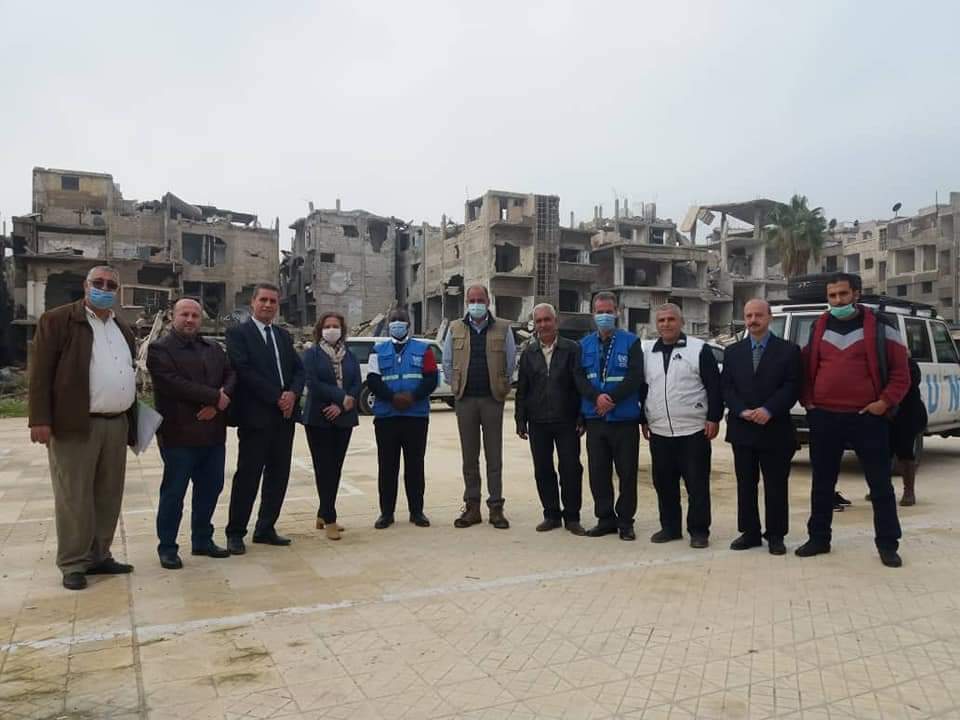 The United Nations (UN) Resident Coordinator and Humanitarian Coordinator for Syria, Imran Riza, accompanied by a delegation from the UN Office for the Coordination of Humanitarian Affairs (OCHA) and the Food and Agriculture Organization (FAO), along with the member of the Executive Office of Damascus governorate Samir Jazairli inspected the Yarmouk camp's conditions, south of the Syrian capital Damascus.  
On 7 December, the Action Group for the Palestinians of Syria (AGPS) cited its reporter saying that the visit was designated to stand on the conditions of the Yarmouk camp, mainly the facilities of the United Nations Relief and Works Agency for Palestine Refugees in the Near East (UNRWA) in the camp, as some camp's residents started returning to their houses.
The reporter added that the visit was focused on the conditions of UNRWA schools in the camp area, whose rehabilitation became an urgent demand for the residents, wishing to return to their homes.
The UN official confirmed that necessary support for the rehabilitation of the camp's schools would be provided as soon as possible for students to join their classes and continue their education.
He also expressed his happiness at the camp people's great interest in educating their children, which is reflected in their persistent demands to put schools back in service as soon as possible.
On his part, Jazairli promised to operate buses to transfer families from and to the camp within the coming days.
Anwar Abdul Hadi, the Director of the Political Department of the Palestine Liberation Organization (PLO), discussed with Riza on 6 December the conditions of Palestinian refugees in Syria and ways to enhance cooperation and coordination between the two sides regarding the return of the residents of the Yarmouk camp.
Abdul Hadi pointed out that all concerned parties should work together, especially the UNRWA and the Red Cross, to help facilitate people's return to their repairable houses,
On 1 January, Damascus governor Adel al-Olabi said to the pro-government al-Watan newspaper that the governorate is currently preparing inspecting and charting reports to assess Damascus urban reality and its surrounding areas, including the Yarmouk. The governorate is also studying urgent solutions to rehabilitate those areas, al-Olabi added.
He pointed out that the governorate assigned the General Company for Engineering Studies to conduct a regulatory and technical study for the Yarmouk area and perform a full assessment of its regulatory plan as it is a development area with no random housing.
The Executive Office in Damascus governorate set three conditions for the Yarmouk camp's residents to return to their homes: "structural safety, proof of ownership, and necessary permits," according to the al-Watan newspaper.   
if you think the article contain wrong information or you have additional details Send Correction