Raqqa's olive market shaken with high costs of production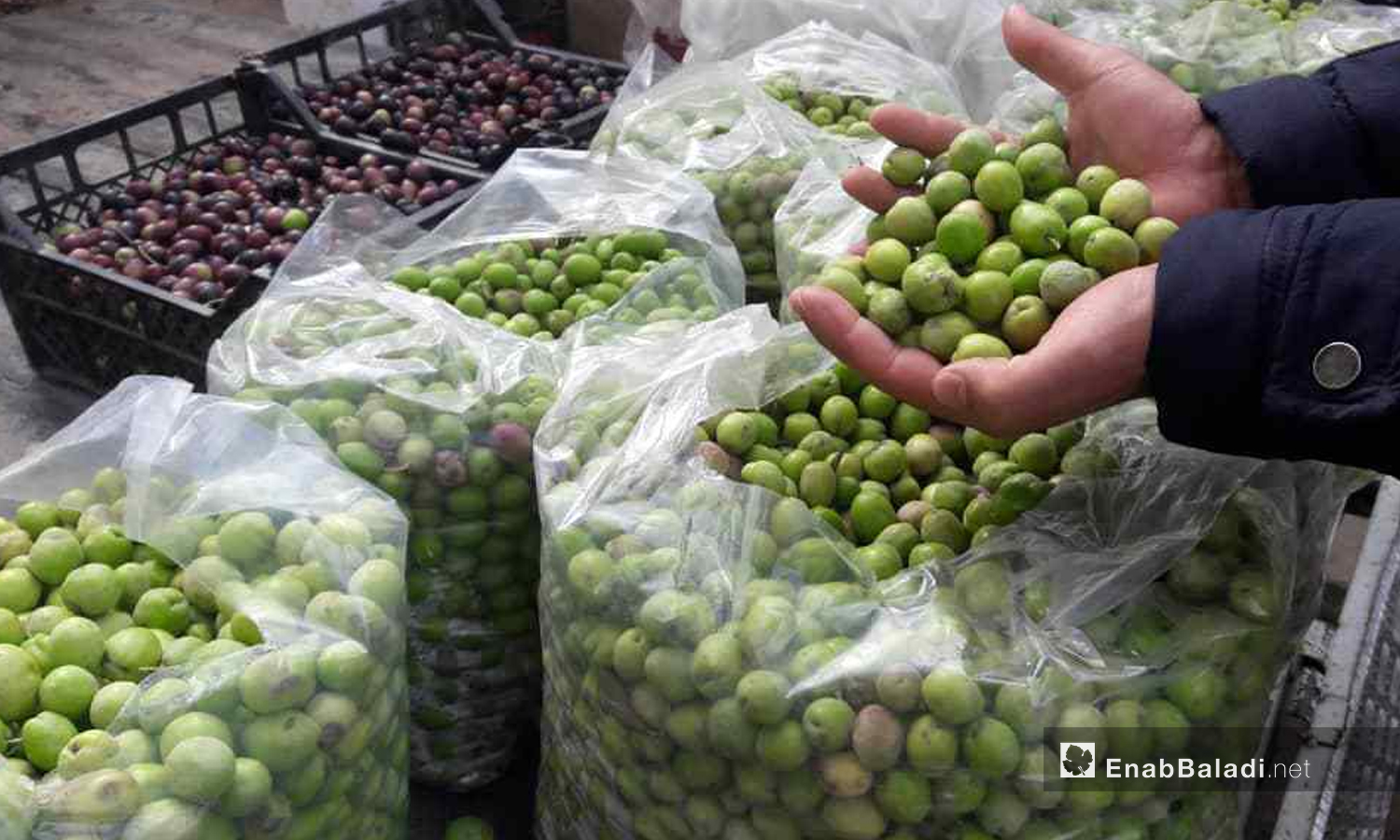 Raqqa—Hussam al-Omar
With the farmers' pre-war increased interest in the cultivation of olive, Raqqa province achieved self-sufficiency. Today, however, the farmers are unable to sustain this state of plentifulness, challenged by the high costs of olive cultivation, harvesting, and pressing. 
At one point, there were over a million and 89,000 olive trees across the province, mostly depending on the irrigation projects initiated in the rural areas near the Euphrates River.
In addition to olive, farmers planted fruit trees, which covered the demands of Raqqa's local market, merchant Salal al-Hajer told Enab Baladi. The crop surplus was then exported to other provinces and cities, including al-Hasakah and al-Qamishli.
But this abundance did not last long, al-Hajer added.
High costs, low productivity
Many farmers in Raqqa complain about the costly olive harvest process this year caused by the high wages they are paying to workers, while the value of the Syrian Pound (SYP) fell sharply to its lowest exchange rate against the U.S. dollar.
Olive sale prices are incompatible with the cultivation costs, farmer Abdulghafour al-Ali told Enab Baladi. He owns a piece of land with 300 olive trees in Sahlabiyeh, a village in the western rural parts of Raqqa.
Olive sale prices vary according to type: Al-Khashbi is sold for 500 SYP per kilo, while al-Nibali is sold for 600 SYP. The highest market price, however, is reserved for al-Zayati, that is smaller in size, but richer with oil. Al-Zyati's price ranges between 100 and 1200 SYP per kilo. Workers, for their part, are paid 65 SYP for each kilo they collect.
"It's low," Abdulghafour described the olive market price, comparing the amount of money invested in the cultivation process to the income he makes.
Olive oil production also declined this year, Abdulghafour said. Farmers, who resorted to olive oil mills, were shocked with the oil production that fell from 20 percent to 13 percent this year. To put this in perspective, every eight kilos of olive produced one kilo of oil, while it took only five kilos to produce one kilo of oil last year.
Two factors affect productivity: temperature and rain, Abdelghafour said, attributing the decline in productivity to late rains and the high temperature that persisted till harvest time.
Olive mills double their prices
Responding to the declining productivity, owners of olive mills doubled the fees for their services. They charged farmers 65 SYP per kilo, instead of the 20 SYP they requested last year.
One olive mill overseer in Raqqa, Saleh al-Uqla, listed the reasons that led to the said increase in prices, as including the high wages of workers, which rose from 200 SYP last year to 700 SYP per hour this year; and the extravagant prices of fuel and spare parts, which are bought in the dollar since they are mostly imported.
The Agriculture and Irrigation Committee, affiliated with Raqqa Civil Council, provides farmers only with fuel at a subsidized price, at a rate of 100 SYP per liter, to operate the water pumps and irrigate trees with groundwater. It also provides them with small amounts of pesticides and fertilizers, after they are granted a cultivation authorization by the committee.
With the "limited" resources it has, the committee seeks to meet the farmers' needs. But still, it cannot cover the existing gap, said Daham al-Najm, a member of the Agriculture and Irrigation Committee.
In the past two decades, farmers were attempting to change Raqqa's agricultural reality to cope with the soaring costs of the cultivation of seasonal crops, such as wheat and cotton, and the lacking water resources in the areas where irrigation projects were not initiated at all or stopped due to groundwater depletion as the Euphrates River's levels of water went lower, which was also to be a site for the Turkish government's several planned dam projects.
if you think the article contain wrong information or you have additional details Send Correction