Illiteracy on rise among children in informal displacement camps in Syria's Raqqa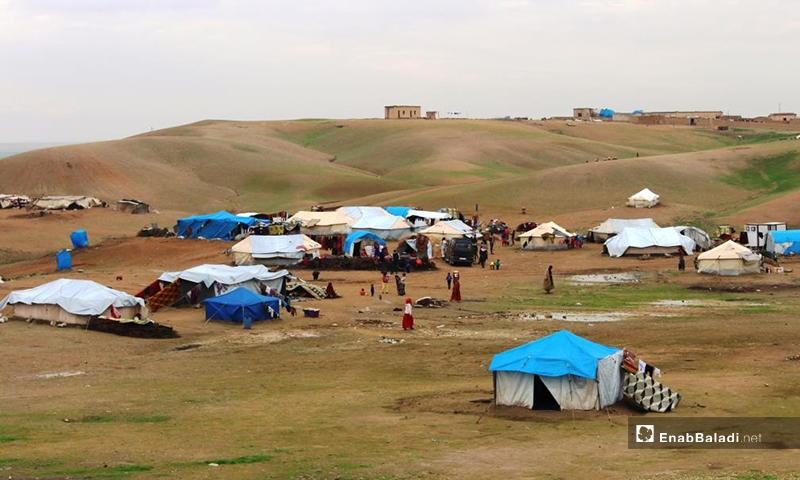 Raqqa – Hussam Al-Omar
Eight-year-old Fares collected a set of old-discarded books and notebooks, flipping through them with his small hands while painfully looking at the students returning from the nearby school.
In an informal displacement camp on the outskirts of Kasrat village in the southern countryside of Raqqa, Fares lives with his five siblings and parents. None of them have gone to school before. Their parents do not plan to send them to school.
Fares has spent six years living on the move, dwelling in different inadequate displacement camps. His family was forced to flee their home in the village of al-Hamra in the eastern Hama countryside, which fell under the Syrian regime forces' control in 2014. 
The camp in which the family resides now bears no name because it is not run by any administrative body, and most of its tents are made of leftover fabrics or agricultural jute bags. 
The closest school to the camp, in the village of Ratla, is not overcrowded. Yet, the camp residents do not see the need to educate their children and are unwilling to send them to school. 
Parents' decision
Muhammad al-Khalidi, Fares's father, depends on the daily-waged work in agriculture to meet his family's needs. 
Al-Khalidi, who is 42 years old, talked to Enab Baladi about the reason for not sending his children to school. He said that the family has too many financial burdens. Al-Khalidi hardly provides for Fares and his five siblings, whose ages range from one to ten years old. He indicated that all his children are still too young, and he needs to take care of his children's basic needs, including providing food, clothing, and everything else. 
He elaborated that sending Fares and his siblings to school means additional expenses; he has to buy his six children school notebooks and stationery supplies, which are costly.  Fares went to school, and his siblings would want to go too, now that three of his children are of school age. 
"Right now, I am taking two of my kids with me to work," Al-Khalidi added, referring to the need to supplement his low wages.
Fares's father pointed out that although there are several humanitarian aid organizations in the area, they only provide them with some food relief items that are barely enough for a month. Yet, they are distributed only every six months. 
Atallah al-Rabee, a teacher displaced from the eastern countryside of Homs, told Enab Baladi that he tried many times to set up a learning space in the camp of al-Jarbou, north of Raqqa, in which he currently resides. However, he encountered numerous physical and mental obstacles. 
The first obstacle seems to be that "the children's families do not want their children to have access to education," according to al-Rabee. He added that most families send their children to work in the farms and fields adjacent to those camps to obtain a financial return, even if it is too small."
A child worker's daily wage ranges between 500 and 1,500 Syrian Pounds (SYP-0.17 and 0.5 USD). The wages vary depending on the following factors: the child's age and ability to handle the hard work. 
Some displaced families in al-Jarbou camp stressed that "they had to" send their children to work due to the adults' scarce income sources, widespread unemployment, and a lack of humanitarian aid, which is only given to the majority of the camps' residents once or twice a year. 
Camp residents aware of educational crisis 
Fares's father, al-Khalidi, does not think that child labor is good because children are working beyond their physical capabilities; still, "we had to send them to work" mainly due to poverty. 
He said that the camps' residents live in poverty due to their displacement and are trying to adapt to the new reality that the war has forced them to. 
Even though al-Khalidi is not sure about Fares and his siblings' future, the same experience is common for many Syrian people, as he put it. He indicated that illiteracy is not the worst thing that has happened to the Syrian. 
Atallah al-Rabee fails, at every attempt, to convince the families of the children in the camp of the alarming magnitude of the "plight of illiteracy " among their children. They always justify it with the general suffering (war and displacement) they are experiencing.
Field schools set up by relief organizations can be an alternative solution for eradicating illiteracy among displaced children, according to al-Rabee. Thus, the number of illiterate children "who lost their childhood" will be decreased, according to al-Rabee's estimate. 
The people of al-Jarbou camp did not deny that they are aware of the danger of illiteracy and the importance of education. Yet, they are all waiting for the unknown "future" which "may have better days" for their children.
Since the Syrian regime lost its control over Raqqa in 2013, random camps have been established in the area, and the experience of displacement began because displacement is a safe haven from arrest and an escape from military checkpoints and security campaigns.
Nearly 30,000 people live in more than 30 camps scattered in the province of Raqqa, as estimated by a member of the Social Affairs and Labor Committee of the Raqqa Civil Council. This committee deals with camp affairs and provides aid in coordination with relief and humanitarian organizations.
The committee member, who spoke with Enab Baladi on condition of anonymity, attributes the problem of illiteracy in the camps to the "limited material capabilities" of the Kurdish-led Autonomous Administration institutions in the region. This has led to a lack of schools, social services, and infrastructure. 
The percentage of children in child labor among displaced households in north-eastern Syria reaches 83 percent, according to the estimates of the REACH initiative.
Education services in the displaced communities are limited to 3 percent of the population. Education has seen a decline compared with the demand for food, job opportunities, health, sanitation, and shelter.
According to the latest reports of the United Nations Children's Fund (UNICEF), 2.5 million children are not receiving education in Syria, and seven million children and teachers need education services.
if you think the article contain wrong information or you have additional details Send Correction