Dramatic increase in ampere prices drowns Eastern Aleppo in darkness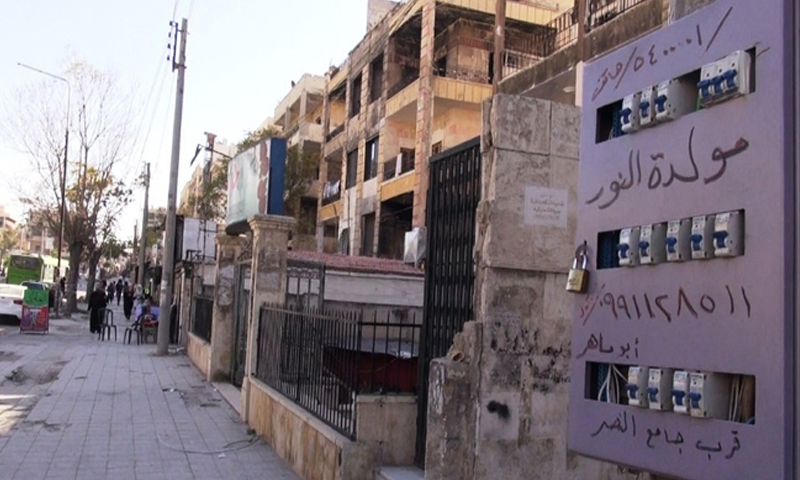 It has been five years since the Syrian regime forces have regained control over Eastern Aleppo. But the electricity sector still fails to cover the residents' needs most of the time; power cuts drown the area in darkness and drive people to stay indoors at night.
While infrastructure to operate government-run power units is lacking, alternatives are also becoming useless because amperes are too expensive for people to buy.
The area's residents stopped subscribing to the vast generators' services, which turned the ampere from a unit for the measurement of power intensity, into a unit for consumer billing.
As the price of amperes rose to nearly 4000 Syrian Pounds (SYP=1.5 USD), people resorted to outdated means for lighting, including kerosene lamps. Amperes were replacing the absent government power services, that people get for barely an hour and a half a day.
Power, fuel, amperes
Ampere prices are defined in keeping with fuel prices, needed to operate power generators, Abu Ibrahim, an owner of such a generator in the Tariq al-Bab neighborhood, told Enab Baladi. One barrel of mazout/fuel oil contains 200 liters and costs 270,000 SYP (98 USD) when purchased at official outlets. Sometimes a barrel is sold for 240,000 SYP (87 USD). "There isn't a standard price for mazout," Abu Ibrahim added.
Generators are often operated from 4:30 pm to 11:30 pm, consuming nearly 120 liters of fuel. "We use the rest of the barrel's contents the next day," Abu Ibrahim said.
In Tariq al-Bab, an ampere is sold for 4,5000 SYP per week, accordingly many of the neighborhood's residents unsubscribed; others cut their use of amperes from two to one to cope with the high prices, to which are added the extra fees of generator maintenance in case of malfunctions.
The price of amperes differs from one generator owner to the other even within the same neighborhood, Mahmoud said, a resident of Tariq al-Bab neighborhood. Some owners offer the services of their generators for 5000 SYP per ampere; others do it for 4000 SYP.
Since it took over the area, the regime government repeatedly promised residents that it will soon resume providing power services. The power towers were restored, but the electrical wiring has not been done yet.
The government-run Aleppo Power Company rehabilitated power towers in the neighborhoods of al-Bab, al-Muyaser, and al-Jazmati, all located near the Aleppo International Airport.
At night, the neighborhood's streets get abandoned, even though a few house owners who have subscribed to the generator services attempt to provide street lighting by keeping one bulb on. However, the light from the bulb is capable of keeping only a few meters lit.
The residents of eastern Aleppo have constantly appealed to authorities to regulate the prices of amperes, which are so far controlled by individual owners of power generators. Residents also demanded that the regime's officials assigned monitoring the service report some of these owners because a standard price has not been set up or enforced in the market.
Extensive power cuts left people no other choice but subscribing to generator services, "which cost them beyond their income," said Ahmad, a resident of al-Jazmati neighborhood, knowing that amperes can barely cover the residents' basic needs of lighting and operating a TV.
These power cuts are attributed by regime officials to excessive pressure that is rendering power units out of service. Simultaneously, there is an eight-hour power rationing program, with people getting power for a maximum of 2 hours a day within the city's western neighborhoods and downtown.
if you think the article contain wrong information or you have additional details Send Correction