Stories of women face gender discrimination in local councils of northern countryside of Aleppo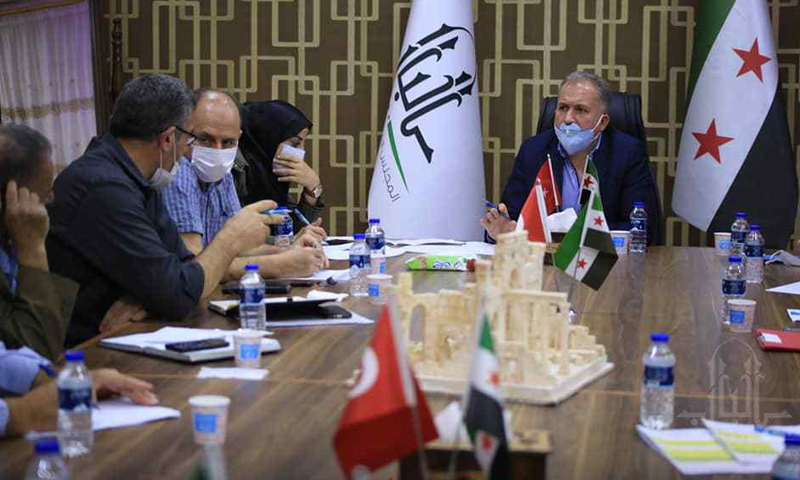 Enab Baladi – Aleppo Countryside
Sanaa al-Jasem burst into tears when she first heard the insult. Sanaa found no way to complain except on her mother's lap. False accusations and insulting comments such as " She has no honor or dignity" were spread among people when she became a member of the local council in the town of Qabasin along with another woman. "In the beginning, they refused the presence of female members in the council, arguing that women can do or offer nothing because male members themselves, with mustaches on their faces and positions, could not be efficient at work. So, people wondered if we, women, can do something to change laws and lives for the better. We, female council members, were harshly scrutinized and criticized based on gender when we were assigned," Sanaa al-Jasem, the 30-year-old woman, told Enab Baladi.
In the northern countryside of Aleppo, which fell under Turkish administration, after the defeat of the so-called "Islamic State" group (IS) three years ago, and the "Syrian Democratic Forces" (SDF) two years ago, cities and towns reconstituted their local councils allocating one or two seats for women. Women are encouraged to run for political office or participate in local councils to "break the customs and traditions" of conservative societies.
What will women do?
Sanaa al-Jasem, a graduate of French literature, responded to Qabasin's local council's call to apply for a candidate membership in the council in February of 2018.
Even though al-Jasem knows well the deprecated outlook of her rural community for public women's participation, she was wounded by insults, without being able to stop them.
 "When you work to develop yourself to assume the responsibility that was entrusted to you, you will be able to change people's perception of you," said confidently the council member in charge of the Chamber of Industry and Commerce, the Licensing Office, and the Complaints Office.
In the Syrian rural communities, women are labeled with failures, "shame," and "sin" regardless of their competencies and skills. When external support is granted to local councils, organizations, institutions in areas outside the control of the Syrian regime for providing opportunities for women, in this case, another charge is added; female actors are viewed as "ineligible."
Al-Jasem set her sights on success in her mission and worked to "develop her capabilities" by taking part in courses such as courses for "development skills and project management" and  "systems of government and constitutions," as she said to Enab Baladi.
She added, "I must nurture the community with which I am in contact. My community needs an administration that bears its responsibility and runs its affairs."
With volunteer activities, al-Jasem brings together a team made of displaced people and residents of her town, helping them through certain programs to prove their worth and contribute to decision-making. She is also involved in the "protection network" that helps the "most vulnerable groups" in the region.
Nothing prevents women from assuming the highest positions as long as they possess competence and skills, according to al-Jasem, noting that the high position means that it requires higher qualitative standards.
 "When a woman develops her skills, she will be able to assume any position richly, and she will gain the respect of society, especially the opposite sex."
Al-Jasem does not think that changing the concepts of society is something easy, but she saw a change in her hometown between the first session in which she participated and the second session that experienced "a considerable turnout of women voters."
Al-Jasem succeeded in holding a council member's position for another two years in what she considered a "harvest" of her effort.
Women face challenges… first by IS and now by society 
When Kawthar's name was suggested by acclamation to participate in the local council in the city of al-Bab, the 24-year-old girl had not previously worked in the administrative field.
Kawthar Qashqoush studied Sharia in Aleppo before participating in demonstrations and being persecuted by the Syrian regime in 2013. 
Qashqoush contributed to spreading education in her city before the IS group's entry. Then, she started documenting human rights violations committed by the IS through videos and photos. 
Qashqoush returned to education after the IS's defeat. However, nominating her name when the local council was formed directed her to the legal office. "We all know the stereotype of the conservative society in al-Bab, which refuses female participation in government institutions. I consulted my family, and they did not object to me, so I agreed," Qashqoush spoke with Enab Baladi.
"Breaking the barrier" is the first task of the female participants in the local councils because confronting customs, traditions, and norms comes within the package of running for the position. "We have a very negative image of women that they are only suitable for cooking, being wives, and doing household chores," Qashqoush said with disapproval.
Qashqoush thinks that the revolution imposed the active contribution of women because society has become in need of her to support her family, be the breeder, and assume new responsibilities, which were not available before the war damages, from having to work and prove her personality in an environment forced to change its view of female participation.
Nothing can prevent women from filling leadership roles if they are well-qualified and experienced, Qashqoush highlighted. 
Qashqoush added she has the ambition to develop herself, which is regarded as "a challenge."
She wants to raise the level of women economically, politically, and socially while working in an educational and guiding way to support all who have the ambition to make advancements.
If society is not merciful, do women have to withdraw?
Last October, the first elections were held in the northern countryside of Aleppo to appoint new members of the local council in the town of Tel Aar; this is a new mechanism; the Turkish administration did not give certain nominations and appointments as it used to do in the previous years; Ten candidates came to convince the residents to select them as their representative in the council, the only female participant withdrew before the start of the elections due to "customs and traditions." The head of monitoring and evaluation at the Local Councils Unit, Asmaa al-Mahmoud, told Enab Baladi.
According to al-Mahmoud, women's contribution is "active" in Aleppo's northern countryside, although their participation is limited to 10 percent of local councils' total members. Women are limited to work either in the "Women's Bureau" or " Legal office."  
She added, "Women are exposed to bullying and social danger, but they continue working despite everything because they have what they want to deliver and want to build their entity in public and political affairs."
Women can increase their participation in decision-making if additional awareness sessions are conducted to reduce gender inequality in the Syrian community, and accept women's political participation and empower women to take on leadership positions. Moreover, raising-awareness sessions for women to accept the role of women in local councils and encourage them to apply for local council membership, as told by Asmaa al-Mahmoud, the twenty-year-old girl, who indicated that many competent women do not think of being a part of the community work because of "taboos," and societal bans.
Kawthar Qashqoush did not blame the woman who withdrew from the Tal Aar elections, considering that society needs to raise awareness of women's participation, either through the media outlets or through training courses.
However, Sanaa al-Jasem placed the blame on the woman who withdrew, because if she wanted to change the society's view, she must challenge it, noting that reaching the nomination stage means that she has met eligibility criteria that allow her participation, "but she lacked the support of her family and close friends," as she said. 
Al-Jasem concluded that her mother's constant support has strengthened her to continue working throughout the previous three years. The mother of al-Jasem underlines her support, saying that "I will support you; I am just like a mountain that protects you. Do not be afraid. You are my daughter, and I believe in you. So, take the leap."
if you think the article contain wrong information or you have additional details Send Correction