New regulatory plan for "Green City" project in Ma'arouna, north of Damascus (map)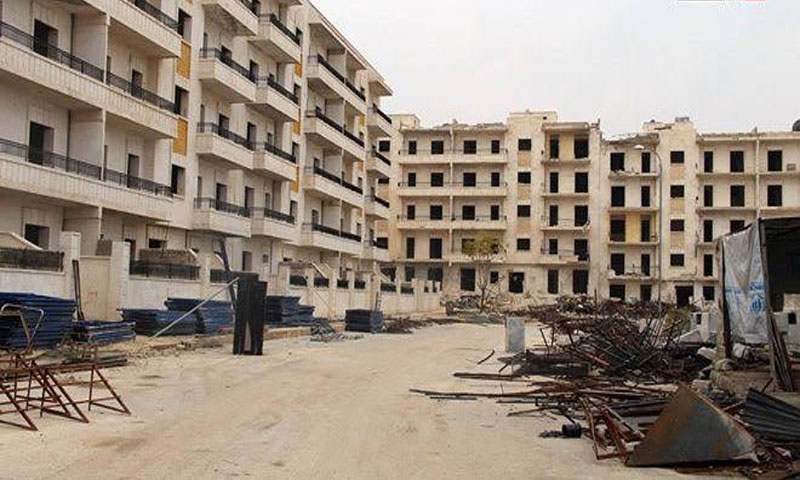 The General Establishment of Housing of the Syrian regime government has announced the "Green City" project's regulatory plan in Ma'arouna town within the "State Program for Housing" in Rif Dimashq province.
The "Building Syria" website on the reconstruction of services and infrastructure in Syria mentioned on 15 November that people wishing to object to the plan could do so within a month from the date of the announcement.
According to Syria's Ministry of Public Works and Housing, the project lies 16 kilometers north-east of Damascus city center and covers an area of 600 hectares (6,000,000 square meters).
The project is surrounded by Ma'arouna town and the Northern Ring Road from the north, the Damascus-Homs highway from the south, and the al-Assad suburb in Harasta city from the west.
The proposed plan includes about 25 thousand housing units with a capacity of 125 thousand people, including commercial markets, schools, health, cultural and entertainment centers and places of worship, and areas dedicated to commercial and tourist investment projects.
The designing process will consider some of the elements of green architecture in the project's buildings, such as solar water heating and thermal insulation.
The General Establishment of Housing has contracted with the Military Housing Establishment to prepare the regulatory and detailed studies of the "Green City" project since 2013, as the project's director, Engineer Qusay Naameh, explained in statements to the Al-Thawra newspaper last March. 
Naameh indicated that the percentage of completion in implementing the main roads reached about 40 percent.
Many residents objected to the delay of the project in the delivery of houses from 2017 to date.
The Syrian economy is witnessing a significant deterioration for several factors, the most prominent of which are the economic sanctions and the devaluation of the Syrian pound, which affected the suggested housing projects and the living reality of citizens in Syria, where poverty reached 90 percent according to United Nations (UN) reports.
if you think the article contain wrong information or you have additional details Send Correction