In search of stability… Syrian people make a dramatic career shift in Turkey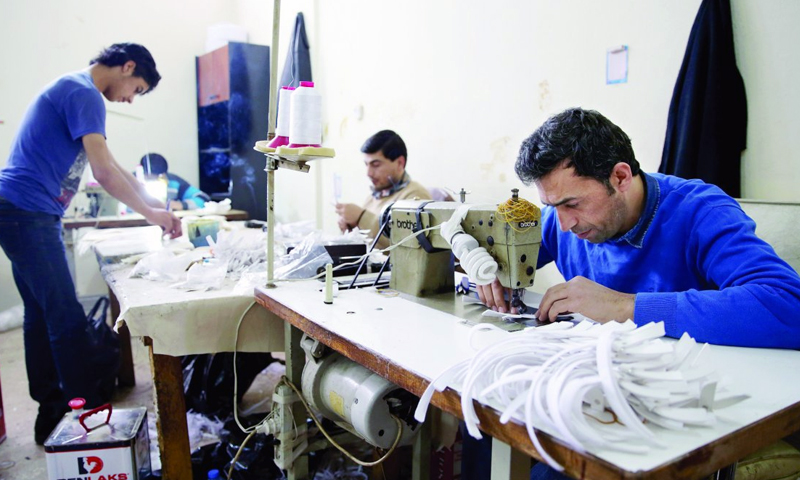 Enab Baladi – Zeinab Masri
Mahmoud Usta has worked in the trade of electrical and sanitary appliances for years in Syria. He used to have many shops in the main markets in his city, Ariha, northwest of the country. Besides, he holds a high school diploma that qualifies him to work in the electricity field. Nonetheless, Usta prefers to introduce himself as a plumber and natural gas technician in Turkey's largest city, Istanbul.
 Mahmoud Usta sought refuge in Turkey after the outbreak of fighting in his city, Ariha. Usta experienced multiple internal displacements to neighboring cities due to which he lost his job, shops, and goods. Moreover, he could not reopen his own business after several failed attempts due to displacement. 
"I was very financially comfortable in the past because of my work in trade," Usta told Enab Baladi, describing his living conditions before arriving in Istanbul with his family consisting of his wife and three children and starting a journey looking for work in his area of specialization.
" I had no luck finding a job in my previous area of work or study. To be able to pay the rent of my house and feed my children, I had to look for another job," Mahmoud Usta added. 
Usta pointed out that the starting point in his current work was when he met with "a Turkish craftsman, who works in gas maintenance and installation services as well as plumbing services, and his partner who works in repairing gas combination (or combi) boilers (Combi boilers are essentially high-efficiency water heater and central heating units).
After they taught Usta the sanitary plumbing installation and combi boilers repair principles, he surpassed them and became "a first-class sanitation technician," as he put it. To become a "master craftsman," Usta attended an educational course in Turkish vocational education centers and obtained a master craftsman certificate, known as "the Ustalık Belgesi."
"Ustalık Belgesi" (master craftsman certificate) is a certificate granted by the Turkish Ministry of National Education to craftsmen under certain conditions.
According to the Turkish Vocational Education Law No. "3308", the master craftsman certificate is the certificate of vocational aptitude, given to people who use information and craft skills in producing goods and services in accordance with acceptable standards in business life, and they can solve problems that they may encounter during production.
Like "Mahmoud Usta," several Syrian people in Turkey face many difficulties when looking for work that suits their abilities or their field of academic specialization; They encounter difficulties in obtaining legal status, official personal documents, work permits, government licenses, and equivalency certificate if any.
 Challenges also include a language barrier and a lack of job opportunities in certain fields in which foreigners are allowed to work, which forces many Syrian people to completely change their career and work in other fields or work in their specialization but illegally. 
Work permits
The Turkish authorities provided Syrian refugees in Turkey "temporary protection" and granted most of them a temporary protection ID card (kimlik). 
A Syrian refugee under "temporary protection" has the right to work in Turkey. Besides, there are various types of work permits that can be applied for, but the most common ones are wage employment and self-employment, according to the United Nations High Commissioner for Refugees (UNHCR).
To access the Turkish labor market and find job opportunities, the UNHCR recommends that Syrians can get registered in the Turkish Employment Agency "İŞKUR," or with UNHCR partners that provide counseling on available opportunities.
According to the UNHCR, Syrian beneficiaries of Temporary Protection (TP) can apply for work permits six months after the completion of their TP registration procedures and obtaining their TPID cards (with a number starting with 99).
The application must be submitted in the Turkish state in which they reside, and they must not have previously obtained a work permit. 
If the Syrian citizen is self-employed or wishes to be self-employed, he needs to have a legal enterprise in Turkey that is established and registered according to the Turkish Commercial Code.  
Syrian refugees with work permits in Turkey amounted to 16,783, according to the data of the  Directorate General of Migration Management (DGMM) for the year 2018, while the statistics of this year do not illustrate the number of Syrian refugees with a work permit. 
In fact, a large part of Syrians works without permits, which makes them vulnerable to extortion and control by employers, the director of the Social Security Institution in Istanbul, Murat Göktaş, said in October 2019 that giving permits to work in fields in which anyone can work, affects Employment policy in Turkey, indicating that there are specific criteria for granting work permits to foreigners, according to international law.
According to Göktaş's statements, the unemployment rate has increased among the "uneducated middle class" in recent years due to the work of many foreigners in Turkey, indicating that unemployment has not increased among university youth.
Getting a government job is too hard
According to a study entitled "Syrian Refugees in the Turkish Labor Market" conducted by the International Labor Organization (ILO) office in Turkey on 9 February, the labor market experience for Syrian refugees is volatile, with frequent job changes.
According to the Turkish Ministry of Family, Labor, and Social Services, some occupations and professions are prohibited to foreigners and can only be performed by Turkish citizens. 
Foreigners cannot perform the following professional occupations: Dentistry, nursing, pharmacy, veterinary, lawyer (Judge, public prosecutor), notary, security staff, the exportation of fish, abalone, mussel, sponge, pearl, and coral, diving, maritime pilotage, captainship, engineering, and mariner on ships, within the territorial waters and tourist guiding. 
President Recep Tayyip Erdoğan called, in a speech during a seminar held by Bilkent University in December 2019, for Syrian citizens with Turkish citizenship to enter and work in Turkish institutions, revealing the number of Syrians who obtained Turkish citizenship, which amounted to 110,000 Syrians.
Regarding the reasons for granting Syrians citizenship, Erdoğan said, "I do not want these people to live illegally in my country, so let them take citizenship and enter and work in institutions easily. Among these Syrians are people with expertise, including doctors, engineers, and human rights workers.
To be able to work as a civil servant in a Turkish public institution, a person must pass the civil service recruitment exam, known as the KPSS exam, an abbreviation for Kamu Personeli Seçme Sınavı.
The KPSS exam includes questions about general culture and knowledge, a capacity assessment, and specialized questions according to the applicant's academic specialization.
Foreigners, including Syrians, cannot take the exam, as it is only intended for Turkish citizens. A person should master the Turkish language in order to be able to solve the questions and pass the KPSS exam, and he should have a certificate of equivalence. 
if you think the article contain wrong information or you have additional details Send Correction