In COVID-hit Homs, inadequate health care services and experimental treatments to save patients' lives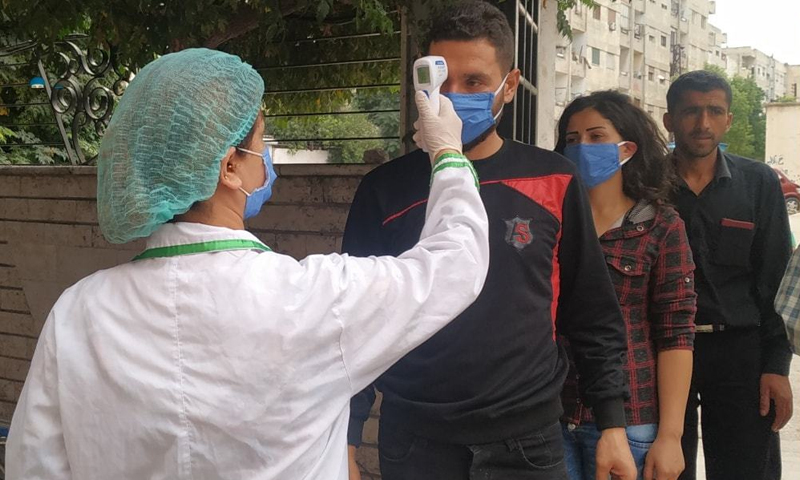 Homs – Orwa al-Mundhir
Since the beginning of the month (November), death announcements from mosque minarets via loudspeaker have become a habit; it is like starting the day with a cup of coffee," Mamoun said, looking at his neighbor's closed shop and feeling sorry for the situation in the battered western Syrian city of Homs amidst the coronavirus pandemic which is uncontrolled by government measures or social awareness. 
A neighbor of Mamoun died of health complications related to the coronavirus disease. Besides, social media pages are filled with death notices, sixty-year-old Mamoun told Enab Baladi. 
The number of people infected with the novel coronavirus (COVID-19) in Homs, according to the figures of the Syrian regime's Ministry of Health, has not exceeded a thousand and a few tens, including less than a hundred dead. However, the population believes that the disease caused much higher numbers of deaths. 
Most of the city's hospitals closed their doors in the face of patients. They apologized for not receiving cases that need much healthcare and monitoring, thus forcing patients to resort to private healthcare clinics and follow-up treatment of any illness at home under the supervision of a doctor and a nurse, not to mention paying hundreds of thousands of Syrian pounds for experimental medications that have not proven useful.
Health services are under pressure
The city of Homs was systematically destroyed during the war years, which caused significant material losses in the health system; both government and private hospitals were severely destroyed. This was reflected in the health system's weakness in the governorate in general and acute shortages of ICU beds. 
Kamal al-Khaled, a respiratory physician in Homs, described to Enab Baladi that private and public hospitals are in a state of "complete paralysis,"  noting that some hospitals refused to receive COVID-19 patients after their beds became full. 
The doctor added that the governorate's largest hospital ( known as the National Hospital) was out of service during the war years after it was completely destroyed. The governorate lost more than 800 beds and ten intensive care beds.
Al-Khaled added that Homs' largest hospital, National Hospital, was out of service during the war years after it was completely destroyed. The governorate lost more than 800 beds and ten ICU beds. 
Each hospital is forced to leave one empty bed for "exceptional" cases, putting pressure on the hospital administration to receive a VIP patient through the security branches, "the Baath" branches, or the medical staff's relations.
 According to al-Khaled, the Health Directorate is "completely helpless in the face of the unprecedented magnitude of the disaster."
Medical emergency solutions .. Prevention is not included
With hospitals closed their doors to them, the rooms of many patients' homes have been transformed into isolation rooms where patients reside under the supervision of a doctor and nurses, with their families finding alternative solutions to secure the "competitor" and the "last" treatment.
After hospitals closed their doors, the rooms of many patients' homes have been turned into isolation units in which patients reside under the supervision of a doctor and a nurse. Meanwhile, the patients' families try to find alternative solutions such as buying "ventilators " and other "medications."
Anwar, a young man who works in transporting goods in al-Rastan, was forced to resort to refrigerator maintenance shops or blacksmiths to obtain an oxygen tank cylinder, which his father, a patient infected with COVID-19, needs because he is not able to breathe on his own. 
In fact, the "Red Crescent" division provided a respirator to the COVID-19 patient, who was not received by hospitals. Thus, the task of providing oxygen was left to his son, according to what he told Enab Baladi, refusing to publish his full name for security reasons.
An oxygen tank cylinder costs between 40 and 45 thousand Syrian Pounds (SYP- around 14 and 16 USD). Sometimes some pharmacies provide an oxygen tank cylinder for free when distributed by donors from the city. 
A pharmacist in Talbiseh city, who asked not to be named, told Enab Baladi that he has connections with some wealthy people in the city, who provided him with oxygen tank cylinders. In turn, he provided them to patients for free, after they are filled with oxygen in a factory located in the industrial city of Hisyah.
The residents of Homs are trying hard to implement preventive measures against the coronavirus disease. However, with overcrowding and long lines in front of bakeries, bread distribution centers, "Syrian Trade centers" to distribute rice and sugar, not to mention overcrowding in public transport, universities, and government schools, people have become unable to adhere to the coronavirus preventive measures. 
Some patients' health is deteriorating severely, which prompted their families to try all possible treatment means, including an injection, costing 300,000 SYP (108 USD), which offers little hope for survival.
A doctor supervising the intensive care units in a private hospital in the city told Enab Baladi that he is offering the wealthy families of patients the opportunity to try an injection on their dying members.
The doctor, who requested anonymity for security reasons, used the Iranian-made injection called "Remdesivir 100" to treat 37 patients so far, but it has only saved three of them. 
The patient's families are offered the choice regarding the use of the injection with its discouraging results. Yet, they accept the offer if they can afford its price. 
When using the drug, which is a combination of an antiviral, every patient needs two injections per day until he is cured. "This medicine is used in therapeutic protocols in most countries of the world, but not of Iranian manufacturing," the doctor said, noting that the medicine is only available in specific pharmacies in the city.
Despite the state of "fear" that the people of Homs suffer from the coronavirus, they do not think that there would be an improvement in health conditions soon. They are awaiting news of finding a suitable vaccine for the virus that has swept the world since the beginning of this year, hoping that it will contain this unstoppable pandemic. 
if you think the article contain wrong information or you have additional details Send Correction