Damascus's Directorate of Planning reveals single obstacle to residents' return to Yarmouk camp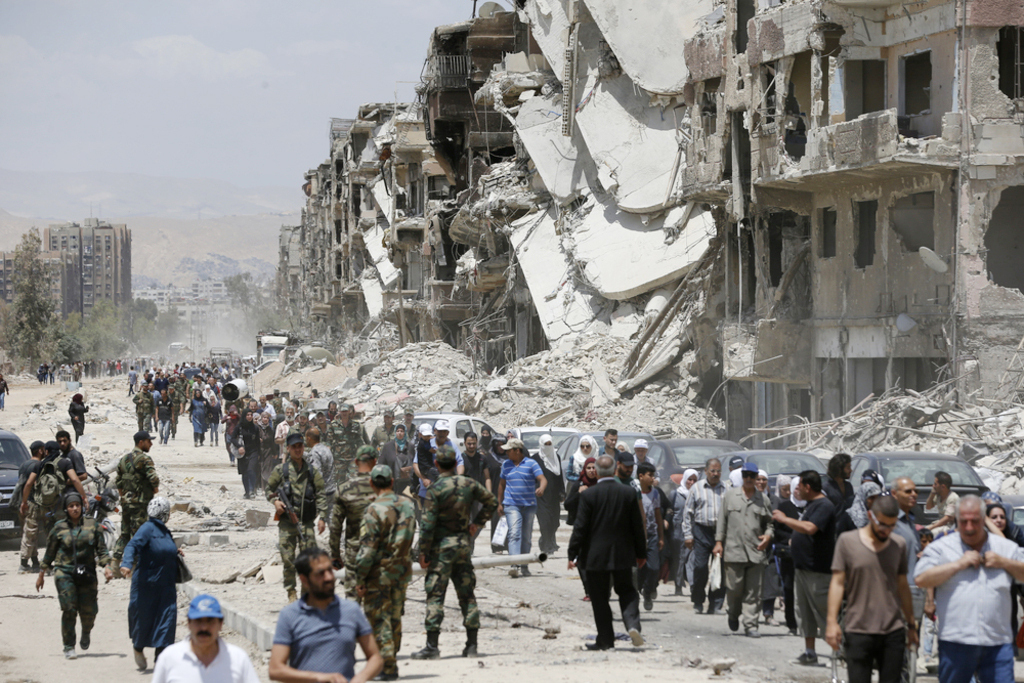 The "General Authority for Palestinian Arab Refugees" (GAPAR) in Syria has revealed that the Yarmouk camp residents' return to the camp is imminent.
The director of planning and implementation in Damascus governorate, Abdul Fattah Iasso, spoke on 30 October about a single obstacle to the return of the residents to the camp, namely, securing the dilapidated buildings and the safety of the residential buildings' membrane system "for the safety of the residents," according to what was reported by the local radio station "Melody FM."
Iasso pointed out that the Damascus Governorate Council and the Executive and Planning Office are receiving residents and reviewing real estate papers and property ownership documents as preliminary measures.
Engineers and the "General Company for Engineering Studies and Consultations" would be assigned to ensure the buildings' safety in addition to the existence of a construction plan in place for all districts, Iasso added.
Member of the Executive Office of Damascus governorate, Samir Jazairli, said on 5 October that the governorate "is working to facilitate the residents' return, who have been forcibly displaced by terrorism, to the Yarmouk camp under three conditions. The conditions included structural safety, proof of ownership, and required approvals," according to al-Watan newspaper.
Jazairli added that the announcement comes to "resolve the leaked claims and ensure accuracy of the information," after the end of the committee's meeting responsible for the return issue of the Yarmouk camp residents.
He pointed out that the number of objections has reached 2,900 up to the suspension decision of the second regulatory plan of the Yarmouk Camp, which was put for "urban architectural reasons, and has no political purposes whatsoever."
The "Action Group for the Palestinians of Syria (AGPS)" announced on 30 September that 50 Palestinian families had submitted their property legal papers to the Syrian security barrier at the 30th Street entrance in the Yarmouk camp to secure accommodation permits in the camp.
The AGPS added that a month after submitting the necessary papers, the families should expect a call from the military security branch in the al-Adawi area in Damascus to receive the security clearance allowing their return to their properties in the camp, provided that the residents meet the required criteria set by the security apparatus.
As for the Yarmouk camp residents, they continue to demand a return to their properties to end their living and economic sufferings.
The Yarmouk camp currently hosts between 100 and 150 families, some of whom experienced the camp siege and lived there from 2013 to 2018. While the other part is the families of the Palestinian factions, who fought alongside the Syrian regime.
if you think the article contain wrong information or you have additional details Send Correction