Appeals to Turkey to open its border for Aleppo countryside's patients seeking medical treatment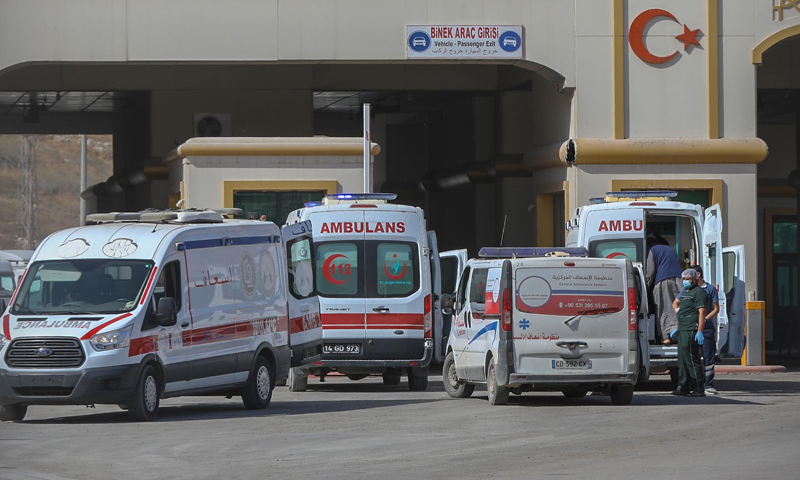 Aleppo Countryside- Abdul al-Salam Majaan
"Untreated, Nour al-Sham will face several challenges in life,"  with these words, Ahmad al-Hassan began talking about the condition of his infant daughter, who has suffered from severe constant pain for five months due to the lack of infallible cure."
The residents of north-western Syria suffer a shortage of medical services, which left their well-being subject to the Turkish side's decision (whether to accept the entry of Syrian patients into their land to obtain treatment or not).
The novel coronavirus (COVID-19) infection and admission requirements are among the biggest obstacles to their entry to Turkey.
Turkey only receives patients with critical conditions and cancer. In contrast, patients with debilitating diseases find no way to treatment except through appeals and support campaigns that spread on social media to make their voices heard.
Is there any response to call?
Nour al-Sham's case does not meet the conditions necessary to pass through the "Bab al-Hawa" crossing to receive treatment on the Turkish side. However, her father did not lose hope as he submitted his appeals to treat his daughter from "meningocele" (a type of spinal cord paralysis).
The majority of "non-emergency" cases currently received are cancer patients, by 95 percent. The remaining entry permits go for the incurable diseases that threaten the patient's life, such as heart diseases and liver diseases, as Mazen Alloush, director of the Public Relations and Media Office at the crossing, told Enab Baladi. 
Patients with the most severe emergencies can cross into Turkey for live-saving treatment 24 hours a day. There is no predetermined number for patients entering Turkey to be treated; these emergency cases include traffic accidents, war injuries, and burns. The Turkish side does not allow other cases to cross the border and does not always allow the passage of patient escorts. The crossing administration tracks sick cases that enter without patient escorts and provides them with medicines, means of transportation, and medical translators.
COVID-19 has disrupted Turkey's reception of health cases from northwestern Syria; the Syrian-Turkish borders have been closed several times since last March, and the number of patients with serious illnesses allowed to pass the border declined from 30 to 15 patients a day even though many patients uncomplying with Turkey's specific conditions need to receive treatment urgently in Turkey, according to Alloush.
Alloush stressed that all patients who cross the border really deserved to get access to Turkey's medical services. 
Nour al-Sham's condition is getting worse day after day. After her father al-Hassan took her to many doctors in the region, he found out that the medical services given to his daughter were limited to pain relief medicines.
Nour al-Sham actually needs to undergo surgery to get her health status stabilized.
Therefore, he appealed upon the Turkish authorities to provide his daughter with treatment in Turkey, highlighting that a few patients were allowed to obtain treatment in Turkey after social media sites buzzed with their suffering. 
Media activist, Abdul Qadir Muhammad, confirmed to Enab Baladi that the entry of Syrian patients with chronic and critical cases into Turkey used to be "easy" in the past. Still, every day it just gets "too complicated" due to what he called "exploitation" of some people for the situation by entering some people with no need to treat the Turkish lands. 
Muhammad added that social media sites receive on a daily basis many humanitarian appeals by patients, and they often get approval to enter the Turkish lands, but not all needy cases get the spotlight they deserve.
What are the medical services missing in northwestern Syria?
Medical facilities in northwestern Syria have the equipment to treat only four types of cancer and tumors, with their lack of capacity to carry out "major" surgeries, the head of the primary health care department in Idlib's health directorate, Dr. Anas al-Daghim said.
What public medical facilities lack, most of it is available in "expensive" private facilities, al-Daghim told Enab Baladi, indicating that some patients tend to seek financial aid for obtaining treatment in private facilities even if treatment is available in public hospitals.
"There is no difference between the two (public and private hospitals), but this is how people think," al-Daghim told Enab Baladi.
He added that associations, organizations, and voluntary public and private contributions often pay for patients' treatment.
Muhammad Hallaj, director of Syria's Response Coordination Group (SRCG), told Enab Baladi that the lack of treatment for chronic diseases is not a new issue. There is a general weakness in the medical sector; health centers and points have been repeatedly targeted during the military campaigns carried out by the Syrian regime and its allies on the region. 
The healthcare facilities and points suffer a lack of medical equipment and high drug prices, which have left them unable to provide their chronic disease patients with free treatment.
According to an assessment issued by the REACH Initiative on 20 October on the humanitarian needs in northwestern Syria, the majority of the health problems that the population suffers from are chronic diseases, with a rate of 79 percent, followed by severe diseases that affect children under the age of five by 64 percent. 
if you think the article contain wrong information or you have additional details Send Correction