Syria's Arnaut… Integration into Syrian society and preservation of Albanian identity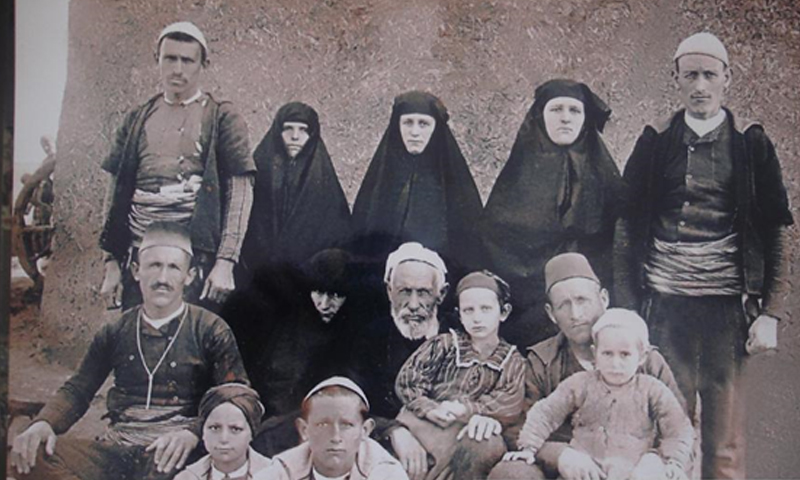 Enab Baladi – Zeinab Masri
Ayman Dawood's great grandfather escaped the war with Serbia, headed to Syria, and settled there. Despite not knowing his mother tongue, being a third-generation of a family born in Damascus of Albanian origin, Dawood feels connected to his country of origin, Albania, as he chose it as place of origin in his personal information on the social networking sites.
Dawood told Enab Baladi, "I feel like I belong to Syria and Albania alike." The 20-something-years-old young man attributed his feeling for being a mix of two different races, as his mother is Syrian, and his father is Albanian.
The Republic of Albania is one of the states of the Balkan region of south-eastern Europe. Albania is situated between Montenegro to the northwest, Kosovo to the northeast, the Republic of Macedonia to the east, and Greece to the south and the southeast.
Moreover, "Arnaut" or "Arnavud" are Turkish ethnonyms used to denote people who came from Albania to Turkey during the Ottoman era.
When the Ottomans ruled the Levant region, many of these "Arnauts" or Albanians emigrated to the Arab states, some of which settled in Syria and kept referring to themselves as "Arnaut."
Few Albanian traditions in Syria
Dawood's family has largely integrated with the Syrian society, and the family has maintained only few Albanian customs.
The Albanian customs are essentially "Islamic customs," which is why they are not different from that of Syrians, according to what Dawood said to Enab Baladi.
Dawood's grandmother speaks the Albanian language fluently, unlike his grandfather, who speaks the Albanian language but is not fluent.
The learning of the Albanian language stopped at the grandparents because their attempts to transfer it to their grandchildren failed, and their grandchildren, in turn, did not try to learn the language.
Dawood pointed out that his grandmother still maintains some Albanian traditions, such as preparing some Albanian meals in family gatherings, most notably the "pite."
The "pite" is a kind of pie made up of 14-layer filo pastry sheets, spread in a pan and stuffed with meat, cheese, or eggs.
Another traditional Albanian dish made by Dawood's grandmother is the "speca," which is made of yogurt, garlic, and fried peppers.
The same traditions are also kept by Mohammed Arnaut's family, who is of Albanian origin and was born in the Syrian capital, Damascus.
Arnaut is the third generation of an Albanian family. He told Enab Baladi that his great grandfather wanted to immigrate to Turkey; however, he changed his mind and came to Syria driven by "religious reasons," as people used to refer to Damascus as "Sham Sharif," meaning (Noble Damascus).
Arnaut's family was part of a group of Albanian immigrants who settled in Aleppo, the Arnaut Street in the al-Qadam neighborhood and the al-Diwaniyah and al-Muhajireen in Damascus.
"Unfortunately, we do not speak Albanian at our house, and personally, I only know two words from the language," Arnaut said.
He added that the Albanian language is disappearing generation after generation; nevertheless, the language's disappearance does not affect the desire of the majority of the Syrian Albanians to return to their country of origin.
Arnaut said, "we feel a sense of belonging and longing to Kosovo, to date."
According to Arnaut, Syrian Albanians have no problem marrying someone from outside their families and their origin. For example, his mother is a Damascene who married a Syrian Albanian man.
He added, Syrian and Albanian traditions merged thanks to the Albanian integration within the Syrian society.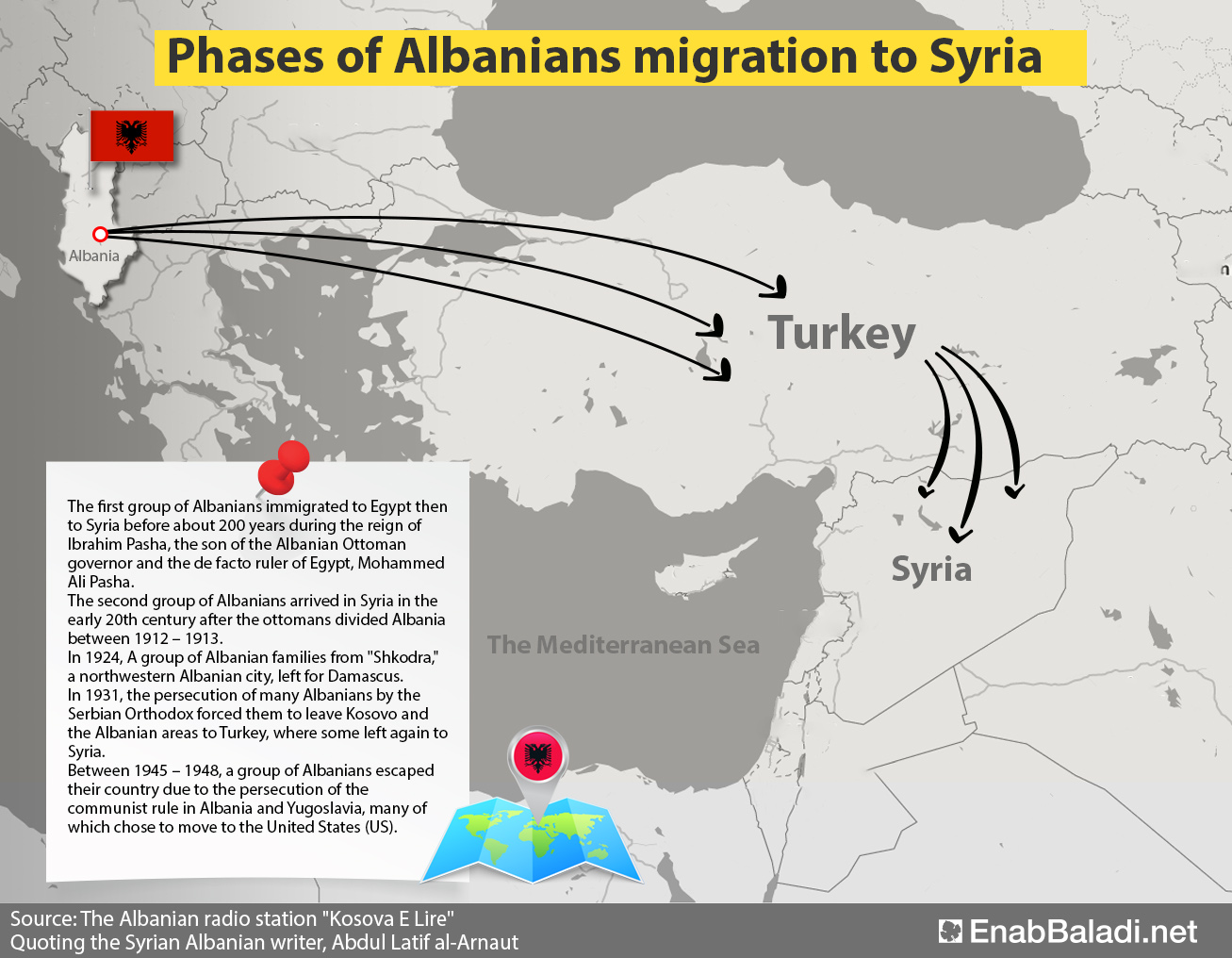 The profession of repairing watches
The Albanians in Damascus are known for working in the profession of repairing watches, according to Arnaut, who said that the "Casio" watches' agent in Damascus is of Albanian origin.
Arnaut, a university student, inherited this profession from his grandfather and uncle who work in the same field.
Although there is no specific reason why this profession is linked to Syrian Albanians, Mohammed thinks that repairing watches is a profession that does not require big place, financially profitable, and easy for starting a private business.
Albanians arrival to Syria
Albanian immigration towards Syria began about 200 years ago, under the reign of Ibrahim Pasha, son of the Albanian ruler of Egypt, Mohammed Ali Pasha, when Albanian soldiers did not return with their army to Egypt and settled in Syria.
Back then, between 100 and 200 Albanian families moved from Egypt to Syria. These people were the first group of Albanians to settle in Syria, according to the Syrian Albanian writer Abdul Latif al-Arnaut.
During a lecture at the "Albanian Institute of Islamic Thought and Civilization," quoted by the Albanian radio station "Kosova E Lire," the writer said that most Albanians in Syria had preserved the Albanian language and traditions.
He added, on the other hand, some "failed" to preserve the Albanian language and titles due to mingling with local people, yet they did not forget their Albanian origin, and they cherish it to date.
According to the writer, the second group of Albanians arrived in Syria in the early 20th century after the ottomans divided Albania between 1912 – 1913.
In 1931, the persecution of many Albanians by the Serbian Orthodox forced them to leave Kosovo and the Albanian areas to Turkey, where some left again to Syria.
In 1924, A group of Albanian families from "Shkodra," a northwestern Albanian city, left for Damascus.
Many Albanians left their lands for fear on their faith and morals.
Between 1945 – 1948, a group of Albanians escaped their country due to the persecution of the communist rule in Albania and Yugoslavia, many of which chose to move to the United States (US), according to the writer.
Moreover, Damascus city has Albanian neighborhoods from the beginning of the 20th century, most prominent of which, the al-Diwaniyah neighborhood, which has the Arnaut Mosque, built by Wehbe Suleiman Javucci, who is descended from the Albanian city of "Shkodra," in addition to the al-Qadam neighborhood, southern Damascus.
The Albanian people proved themselves in many aspects of society from culture, literature, economics, politics, and military.
Many Albanian names reached fame in different fields, according to the Albanian radio station "Radio Islame."
if you think the article contain wrong information or you have additional details Send Correction