Residents of Damascus suffer difficult access to bread: limited quotas and long bread lines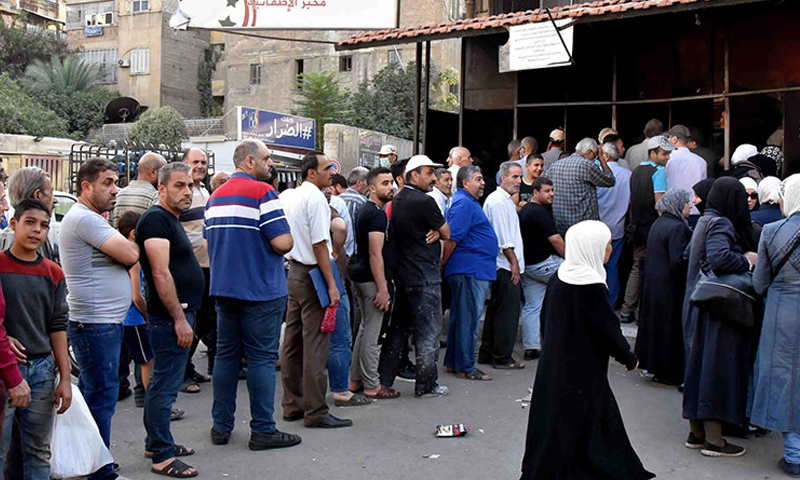 Enab Baladi – Khawla Hefzy 
"My first husband, who died years ago, did not know that when he did not apply for the smart card designated to receive subsidized bread, his two children would be denied of their bread ration. As a result, I have to distribute my new husband's rations of bread between my two fatherless children and my new two children."
Bodour al-Zaini, the 39-year-old- resident of Damascus, narrates her story of suffering with providing bread on a daily basis for her two children and complains about the limited quantities of bread distributed through "the new rationing system," adopted by the Syrian government since 19 September.
Families in Syria depend mainly on bread in all their daily meals, but the lack of bread distributed in Damascus through the bread rationing system, which was imposed, with the beginning of the new school year, has cast a shadow over the residents of the capital. Families with school-aged children mainly complain about the limited rations of bread. 
Bread rationing system 
On 19 September, the Syrian regime's Ministry of Internal Trade and Consumer Protection began distributing subsidized bread to citizens via the "smart cards" in bakeries of Damascus, Rif Dimashq, and Latakia, following a rationing system.
According to the new rationing system for subsidized bread distribution, a family consisting of one or two members gets one batch of bread, a family of three or four-members obtains two bread batches, and a family of five or six members gets three batches. Seven or more members get four batches. Each bread batch includes seven loaves.
Muhammad Sultan (a pseudonym for security reasons), a father of five children and an employee at the transportation Directorate, told Enab Baladi, "I am an employee who has to bring sandwiches with him to work on a daily basis. Besides, my children need school sandwiches. Thus, we can get to dinner with only a few loaves of bread."
 Forty-something-year-old Sultan elaborated, "We were exhausted from thinking about the limited bread allocations; their lack increased our pain and confusion. Thus, the visit of the guests became a great burden after the reduction in the allocations of subsidized bread, the material that supports us in our meals."
Sultan paused for a while before adding with pain, "Even a loaf of bread has become hard-worn."
The Syrian regime's Ministry of Trade does not allow bakeries to sell bread outside of the "smart card system," except for 5 percent of the sales of a bakery for special cases. Special cases include those who do not have smart cards and need one bundle of bread per day, such as university students or employees in other governorates, or others, according to tables that include name, national number, and phone number.
Waiting lines become a daily ritual
Families in regime-controlled areas line up for hours to buy subsidized necessities such as bread and fuel. Mrs. Manal Hajjo, one of those experiencing harsh life every day in a line that can stretch for hundreds of meters, and she may stand for hours before she reaches the line front. Since her husband's death, the Damascene woman used to stand for hours on the bread line to get subsidized bread for 50 Syrian pounds (one SYP equals 2,320 USD) per bundle.
Forty-something-year-old Hajjo holds her trolley and chair every morning to join the long line at the bakery, dragging with her the disappointments and the joint pain that has been accompanying her for years. She said, "I cannot buy tourist bread—bread fortified with milk and sugar— because of its high price. The price of one bundle is 500 SYP."
She added, "The faces of those standing on the queue have become familiar, and we have become friends. We check those people who miss attending this ritual and morning shift." She added, "whoever gets his bread and leaves, we start to congratulate him as if he wins the lottery; you can see the happy face of everyone leaving the queue after getting bread."
Until the date of publishing this report, the Syrian capital, Damascus, sees queues for all subsidized supplies, including bread lines, which have not decreased despite warnings from gatherings due to the spread of the novel coronavirus (COVID-19).
Social media sites and official newspapers were littered with pictures of crowding at state-owned bakeries to obtain subsidized bread.
Disruption of Rif Dimashq's bakeries driving its residents to the capital
Dima al-Khaled goes to the bakery of Bab Touma bakery in the Syrian capital, Damascus, every morning to get a bundle of "fresh" bread, as she told Enab Baladi.
She added, "I leave home each morning at seven o'clock until I reach the Bab Touma bakery. The bread available in our area cannot be eaten, and the bakery in Ain Tarma does not provide good quality bread."
Besides, some bakeries stopped functioning in some areas in Rif Dimashq, which rendered many people to buy bread from Damascus's bakeries. 
 This was confirmed by the government newspaper Tishreen. It published a video report that showed that many bakeries were out of service in Rif Dimashq, such as the bakeries of "Sidi Makdad" and "Sabina."
Syrian government justifies long bread queues
On 15 September, the Director-General of the Syrian Bakeries, Ziad Hazza, announced that the situation of bread is "improving," denying that there is a shortage of flour, yeast, and fuel. 
He said that all of them are ensured to meet the country's needs, and the bread distribution takes place fairly despite economic sanctions, according to the pro-government local newspaper al-Watan.
Hazaa attributed the extreme overcrowding at the bakeries to "the increasing demand for bread in recent times."
On 13 April, the former Minister of Internal Trade and Consumer Protection, Atef al-Naddaf, made promises to follow a new mechanism for bread distribution after complaints were received from citizens talking about the decrease in the rations of subsidized bread. 
Al-Naddaf promised at the time to study to make the amount of bread sold through the "smart card system" open to each family according to their daily needs, instead of determining it according to the number of family members.
However, the new "rationing" system reduced the rations distributed to citizens instead of increasing them; contrary to all government promises; a loaf of bread would not be affected.
The current average monthly income for a Syrian citizen is about 150,000 SYP (64.6 USD), the minimum salary is 20,300 SYP (8.7), and the maximum is 663,000 SYP (285.7 USD), according to statistics published by Salary Explorer, a salary comparison and career resources website. 
According to UN estimates of humanitarian needs in Syria for the year 2019, 83 percent of Syrian people live below the poverty line, and 11.7 million Syrians need some form of assistance, including food, health care, and shelter.
Warning of a dramatic rise in poverty levels in Syria
The United Nations World Food Program (WFP) has warned that the number of people suffering from food insecurity in Syria will rise if "urgent assistance" is not provided.
On 31 August, the WFP estimated, through its official Twitter account, that 9.3 million people in Syria are now food insecure, left without urgent assistance. He added that more than 2.2 million people are pushed to the brink of starvation and poverty.
He pointed out that the prices of foodstuffs in Syria have hit "record levels," while the aid provided by the WFP is "crucial to helping families who have nothing left after years of conflict."
The poverty level is defined as the lowest level of income required to provide a decent living standard.
Tenders for wheat procurement 
The Syrian government resorts to cover its needs of wheat by importing it. On 12 August, the General Establishment for Cereal Processing and Trade in Syria issued a new tender to purchase 200 thousand tons of soft wheat flour for the bread-making industry.
According to Reuters, the tender included the European Union and the Black Sea region, and the deadline for submitting quotations was set on 9 September.
The Syrian General Establishment for Cereal Processing and Trade issued a separate tender to purchase the same quantity from Russia, and the last date for submitting offers was on 14 September. The Establishment stipulated in both tenders that quotations and payment shall be exclusively in US dollars. 
It stipulated that the requested shipments shall be scheduled to arrive within 60 days from the date of confirming the order, in addition to paying a "temporary deposit" amounting to six US dollars per ton offered (or their euro equivalent) according to the price bulletin issued by the Central Bank of Syria.
This is the second time that the Syrian General Establishment for Cereal Processing and Trade (GECPT) raised a tender for wheat purchasing within two months. At the end of last June, the Syrian government announced a tender for the purchase of wheat from Russia in the same quantity.
The Syrian government secures wheat through two methods; the Syrian government buys wheat from farmers, as it raised the purchase price of wheat from 400 to 425 SYP (0.17 to 0.18 USD). 
The second method the government resorted to is signing several contracts with Russia to import wheat, some of which were in the form of aid. 
Youssef Qassem, Director General of the Syrian Foundation for Grain, explained that Syria imported from Russia, during the year 2019, one million and 200 thousand tons of wheat, which is of entirely Russian origin, with a value of 310 million US dollars.
if you think the article contain wrong information or you have additional details Send Correction