Public auction to invest olive groves in Mhardeh area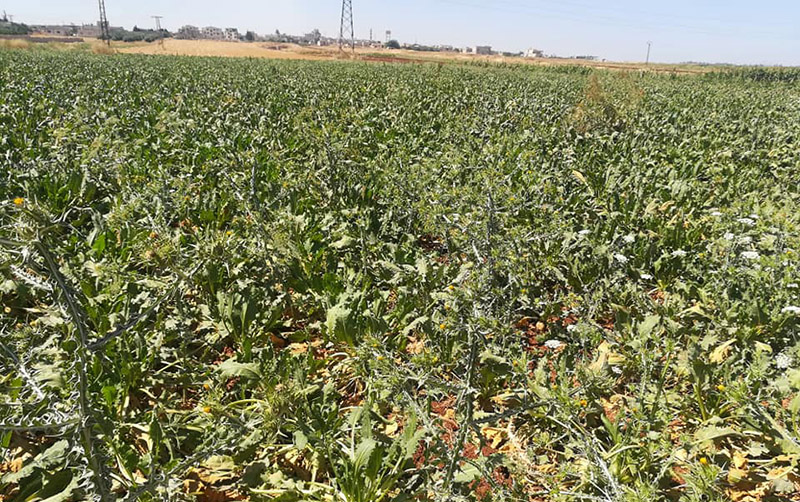 The "Asset Management Committee" of the Head of the Military and Security Commission in Hama governorate has announced an auction to ensure the investment of olive groves or uncultivated lands for one season (2020) in Mhardeh area. These lands are owned by people residing in areas under the control of the Syrian opposition factions.
The auction will be held to invest the lands in the Mhardeh area, including the towns of Kafr Hood, Kafr Zita, al-Sayyad, al-Arbaeen, al-Hamamyat, al-Zaka, Halfaya, Tal Malah, al-Jalmah, al-Shaykh Hadid, al-Safsafiyah, al-Tremseh, Shaizar, Jdeiydeh, al-Jabeen, Majdal, and al-Zalakiyat in the cultural center of Mhardeh city on 19 October, according to what was published by the official "Facebook" page of the "Peasant's Union of Hama Governorate" on 14 October.
Most farmers cannot reach their farmlands in the countryside of Hama and Idlib after the Syrian regime's control of the area or due to its closeness to the regime's checkpoints.
Meanwhile, the committee did not clarify the conditions for applying to the auction or any other details.
On 21 July, the same committee announced an auction for the investment of pistachio farmlands owned by people residing in areas held by the Syrian opposition factions in the Syrian north.
The committee stipulated the conditions for citizens applying to the auction for the investment of one agricultural season in the cities and towns of Mhardeh, al-Lataminah, Latmin, Kafr Zita, and al-Zaka north-western Hama city.
The conditions included that the applicant must not have been banned from participating in auctions or contracting with public entities nor under provisional or execution seizure of assets by state authorities.
The committee also stated that accepted applicants must not be members of the executive offices of the province's local administration, convicted of a felony or an offense, or have inflicted previous damage to lands.
 Public auction
The properties and shops are offered for public auction after their seizure due to their owners' failure to pay their financial obligations under the provisions of the Syrian Civil Procedure Code.
The foreclosure of the Military Housing Establishment's properties might also be due to their ownership by dissident officers from the al-Assad regime's army; therefore, they were auctioned for sale.
Moreover, a property cannot be sold in the public auction unless registered in the cadastre, according to the governing provisions of the Land Registry of Law No. 188 of 1926.
if you think the article contain wrong information or you have additional details Send Correction