"Makdous" preparation affected by price increase in Daraa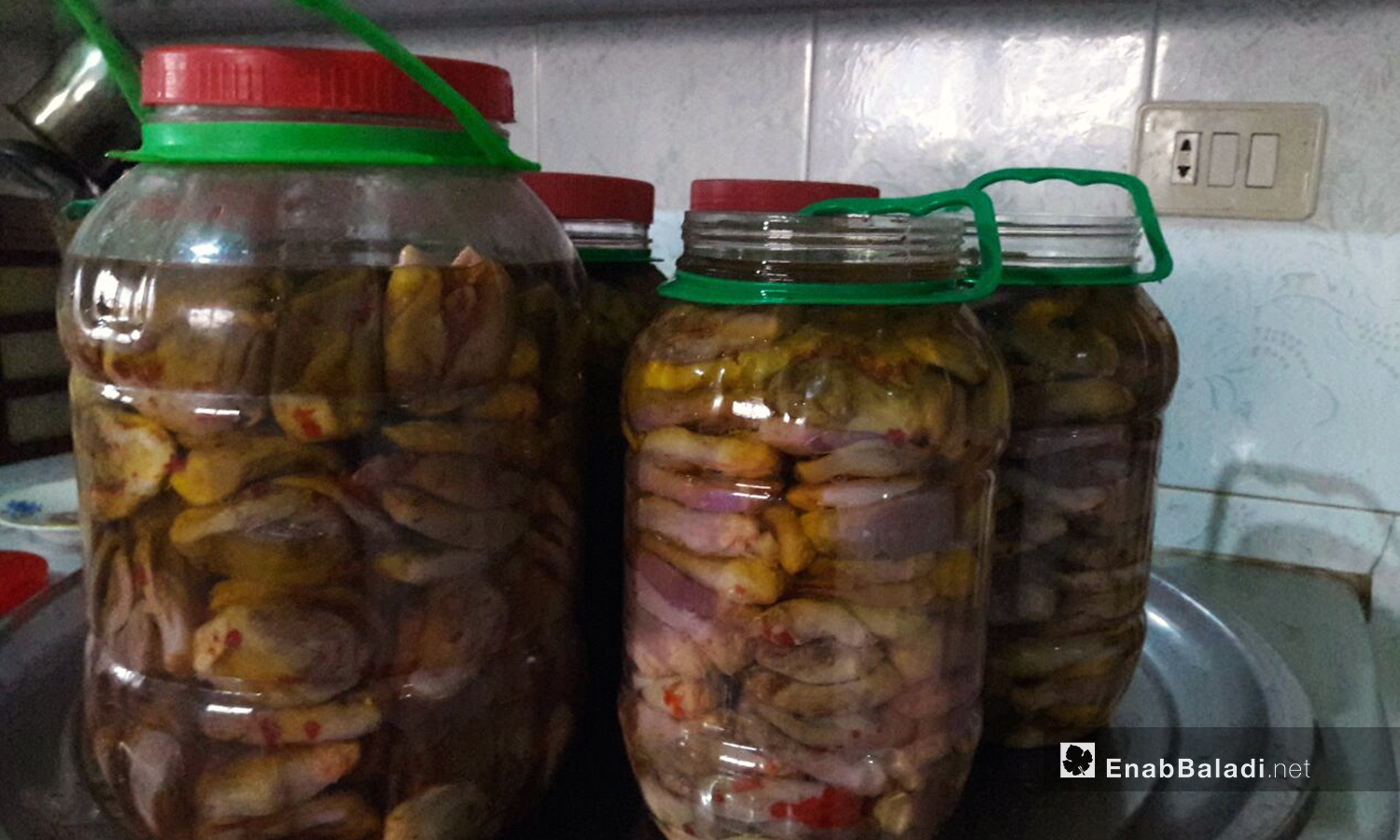 Enab Baladi – Halim Muhammad
Piles of baby eggplants shortly boiled, salted, and stuffed with walnut and sun-dried red pepper then immersed in olive oil. This "Makdous" or (Magdoos) recipe is a staple dish made for the whole year by almost every Syrian house for decades. However, this year, Makdous is prepared in limited quantities by the residents of Daraa province.
Umm Anas, a housewife residing in rural Daraa, used to prepare 150 kilograms of Makdous every year, but this quantity fell to just 50 kilograms during the current year because she could not afford the high prices of its ingredients.
According to Umm Anas, Makdous is one of the main popular dishes that Syrians cannot dispense with.
Umm Anas told Enab Baladi that Makdous eliminates the need to buy canned and other expensive food types.
The cost for preparing Makdous in Daraa doubled from 2019, especially after the massive decline of the Syrian pound's value, as it reached 2,500 SYP against the US dollar at the end of last September, after it was 635 SYP to the US dollar at the end of September 2019, according to the website of "Syrian Pound Today" (a Syrian Pound tracking website).
Since the beginning of last May, the Syrian pound has fallen to an unprecedented level, which affected the markets, raised the prices, and further worsened the difficult living conditions in different Syrian regions.
Fifty-year-old man Raed al-Yousef told Enab Baladi that the cost of making 100 kilograms of Makdous is worth 100,000 Syrian pounds (SYP = 43 USD), while the average salary of a Syrian employee is estimated at 40,000 Syrian pounds (SYP = 17 USD).
Moreover, the preparation for the winter's food supplies is not limited to making Makdous, as Syrians are used to store homemade jams, mulukhiyah, bulgur, tomato paste, and other foodstuffs. In addition, Syrian people have to bear the school costs of their children and the responsibility of securing heating fuel; therefore, they cannot afford all of their needs.
As for Omar al-Mohammed, a daily wage worker of 3,000 Syrian pounds (SYP = 1.31 USD), the high cost of preparing Makdous makes it a luxury against the other family needs during the current times. Its preparation became based on the possibility of saving money.
Poverty, hunger and deprivation
Enab Baladi reviewed the costs of the Makdous' ingredients. The one kilo of eggplant costs 200 (SYP = 0.087 USD) after it was sold at the price of 150 (SYP = 0.066 USD) in 2019. The walnut price rose from 5,000 (SYP = 2 USD) to 13,000 (SYP = 5 USD) per kilo, while the price per one kilo of pepper doubled from 200 to 400 SYP (0.087 – 0.175 USD).
The price per one kilo of garlic reached four thousand (SYP = 1.747 USD) after it was 1000 (SYP = 1.574 USD) in 2019, while the one liter of refined oil rose from 900 to 3,000 SYP (1.417 to 1.31 USD. Moreover, the price of one liter of olive oil increased from 1700 in 2019 to 4,700 SYP this year (2.677 to 2.052 USD).
According to the latest report by the World Food Program (WFP), issued at the end of last August, 9.3 million people in Syria suffer from food insecurity, and 2.2 million persons are at risk of food insecurity.
Even though food prices have declined by 3 percent for the first time in a year, they are still 22 times more than the average prices before 2011.
if you think the article contain wrong information or you have additional details Send Correction