Fuel missed in stations but found on stalls in Syrian regime-held Daraa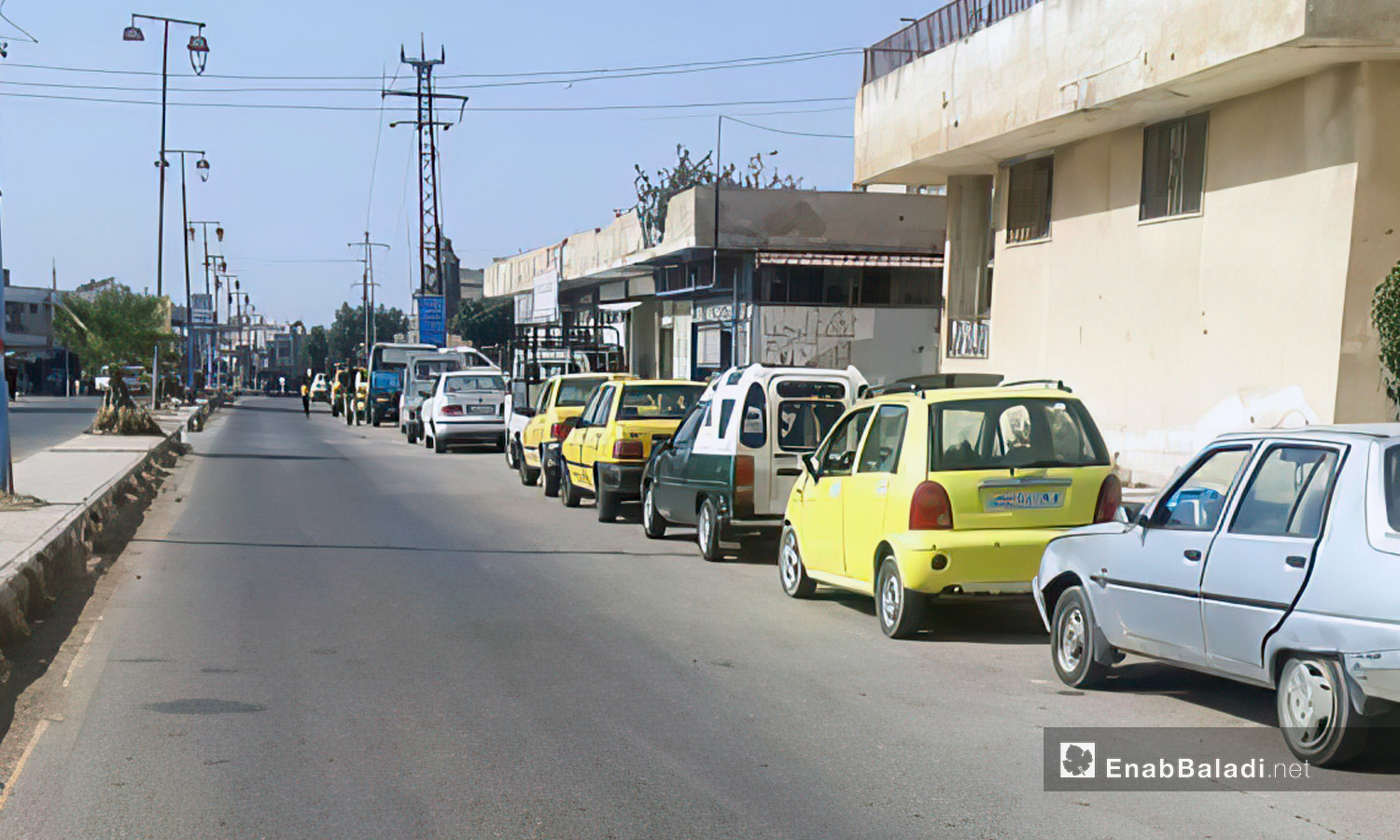 Daraa – Halim Muhammad  
While Raed was heading to fill up his motorcycle's tank with his subsidized fuel allocation distributed through the smart card system, his motorcycle stopped suddenly for it ran out of fuel. The forty-something-year-old man was not able to push his motorcycle for a longer distance. Therefore, he bought a liter of petrol (0.2 gallons) from a fuel stall on a sidewalk, at a price eight times double the fuel station's price. 
Since the beginning of last September, securing fuel has been a crisis for people with cars and motorcycles in the governorates under the control of the Syrian regime; they often have to stand in queues for hours and even days without being able to fill up their tanks.
Raed told Enab Baladi that he did not give up hope that he can refill his motorcycle's tank with fuel each week. Therefore, he keeps going to the fuel filling station whenever he has the chance and gets five liters of fuel a week (1.3 gallons). It is worth mentioning that each liter of fuel costs around 250 Syrian Pounds (SYP – 0.1 USD).
Long fuel lines and insufficient quantities
Raed fails to refill up his motorcycle with fuel every time he waits for hours in a fuel queue because the filling station attendant, pretty much all the time, announces that the station has sold out of petrol before people get their fuel allocations. Besides, many quarrels and shootings take place while people wait in long fuel lines with frustration. 
Raed highlighted that his subsidized fuel quota does not match his needs; it can be "sufficient" only for three days. Thus, searching for gasoline on the black market remains his only option.
Subsidized fuel is distributed through a smart card system; privately-owned vehicles and private vehicles used for special economic events and activities receive up to 100 liters (26 gallons) of fuel a month, while motorcycles receive 25 liters (6.6 gallons). Besides, public vehicles take 350 liters of fuel a month (92.4 gallons.)
The price of a liter of gasoline on the black market reached 1,000 SYP (0.4 USD) at the beginning of the crisis. However, after the rise in the price of free "95 octane"gasoline from 575 SYP (0.2 USD) to 875 SYP (0.3 USD) since the beginning of this October, its price doubled.
Gasoline is always available on "the fuel stalls" in Daraa, and any car or motorcycle owner can buy the amount he wants, but for 2,000 SYP (0.8 USD) per liter.
Enab Baladi monitored gasoline sources on "the fuel stalls," which cannot be found in fuel stations, and obtained an answer from a vendor. The vendor argued that owners of private and public vehicles are trying to take advantage of the price difference between subsidized gasoline and black-market gasoline by selling their allocations to the "stalls."
The "stalls" vendors leave a room to obtain profit margin when setting the price for a liter of gasoline, bought by those who cannot give up driving and whose subsidized allocations are insufficient. 
Meanwhile, some taxi drivers have stopped to earn a living by driving passengers across the governorate because they can receive a fair wage from selling their rations of subsidized fuel.  
Unimplemented promises 
During the past years, the war-ravaged country has been experiencing frequent crises, including shortages of fuel and essential commodities. The "smart card" system has been imposed by the Ministry of Petroleum and Mineral Resources at petrol stations since August 2018 to restrict the quantities of filling fuel for public and private vehicles.
The Syrian regime has taken several measures to reduce overcrowding and relieve pressures on the fuel filling stations.  
The government officials attribute the causes of the crisis to "the American occupation of the Syrian oil fields and its tight blockade on the Syrian economy. Besides, the Baniyas Refinery is currently undergoing renovation work," according to what the official Syrian News Agency (SANA) quoted from the Minister of Oil and Mineral Resources in Syria, Bassam Tohme, on 16 September.
Tohme said, at that time, that the maintenance work at the Banias Refinery will be completed at the beginning of this October and will increase the production of gasoline by 25 percent.
However, the beginning of October only saw an increase in the prices of gasoline, and the ration fuel distribution system will be still operational once every seven days;  the assigned amount of fuel declined to reach 30 liters (7.9 gallons) last September after it was 40 liters (10.5 gallons). 
if you think the article contain wrong information or you have additional details Send Correction