Transportation dilemma on Quenitra and Damascus route concern people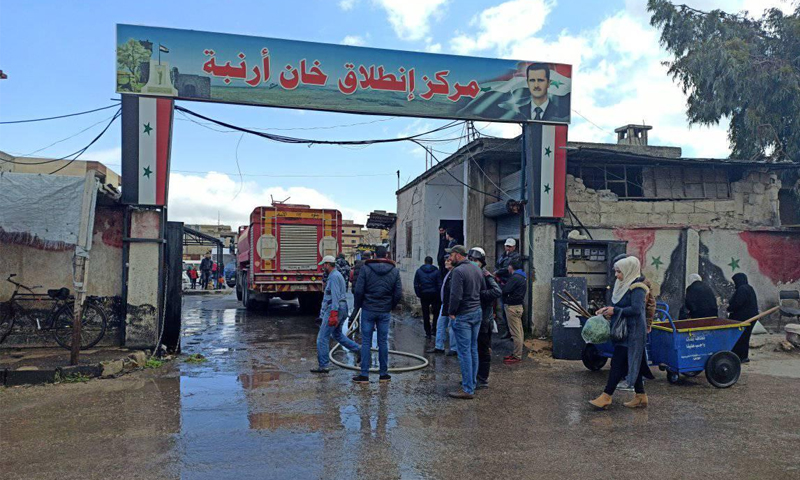 Enab Baladi – Quenitra
Every working day, Yassin faces the suffering given by the lack of transport vehicles "mini buses" between his workplace in the Syrian capital of Damascus and his residence in the southern province of Syria.  
The suffering of Yassin, who is from the province of Quneitra in southern Syria, is exacerbated on Thursdays (the last working day of each week) because the drivers of minibusses do not stop in the designated area in the bus station of al-Sumeria, southwest of Damascus, something which is against the law, as Yassin told Enab Baladi.
Yassin has to pay an SYP 1,000 cab ride (0.45 USD) every Thursday in order to be able to reach his home, while the bus fare amounts to SYP 250 (0.01 USD).
However, minibus drivers argued that it is the hike in prices of fuel and bus supplies in Syria, which constitutes a significant reason for not adhering to the official line.
Majdi al-Hussein, a driver on the Damascus-Quneitra route, told Enab Baladi that the bus fare is estimated at SYP 250 (around 0.01 USD), which means that "the service of transportation of passengers is almost free."
The price of a kilo of engine oil increased from 1,500 (0.68 USD) to SYP 7,000 (3.2 USD), and the cost of a "wheel and tire package" is between SYP 125,000 (57.3 USD) to 400,000 (183.4 USD), while the price of engine parts increased by more than 60 percent, as monitored by Enab Baladi.
In addition to the high prices, the drivers suffer from a daily lack of fuel at the stations and long queue lines to receive the necessary requirements.
All these factors together forced the drivers not to continue working, or to contract with factories, companies, or schools to save an amount of money each month.
The pro-government al-Watan newspaper reported that the number of "minibusses" operating on the Damascus-Quneitra route is currently 70, while the number of registered buses on the line is 350, meaning the absence of 280.
Eventhough many efforts were made for compelling the drivers of "minibusses" to reach the last stop of the route—by not refueling their buses until making sure that they are committed to being on their own route, setting up an appropriate mechanism to fill the diesel, and by relying on a database from the Traffic Police Command— "the transportation crisis" is still dominant amid of the vehicle owners' lack of commitment to work on their route, the governor of Quneitra, Tariq Karishani, told, in a statement, al-Watan.
With the absence of a radical solution to the problem that caused the suffering of the people related to the use of public transportation, the suffering of Yassin and the rest of the people of the governorate will continue.
if you think the article contain wrong information or you have additional details Send Correction