"Salvation Government" in Idlib requires obtaining permit before construction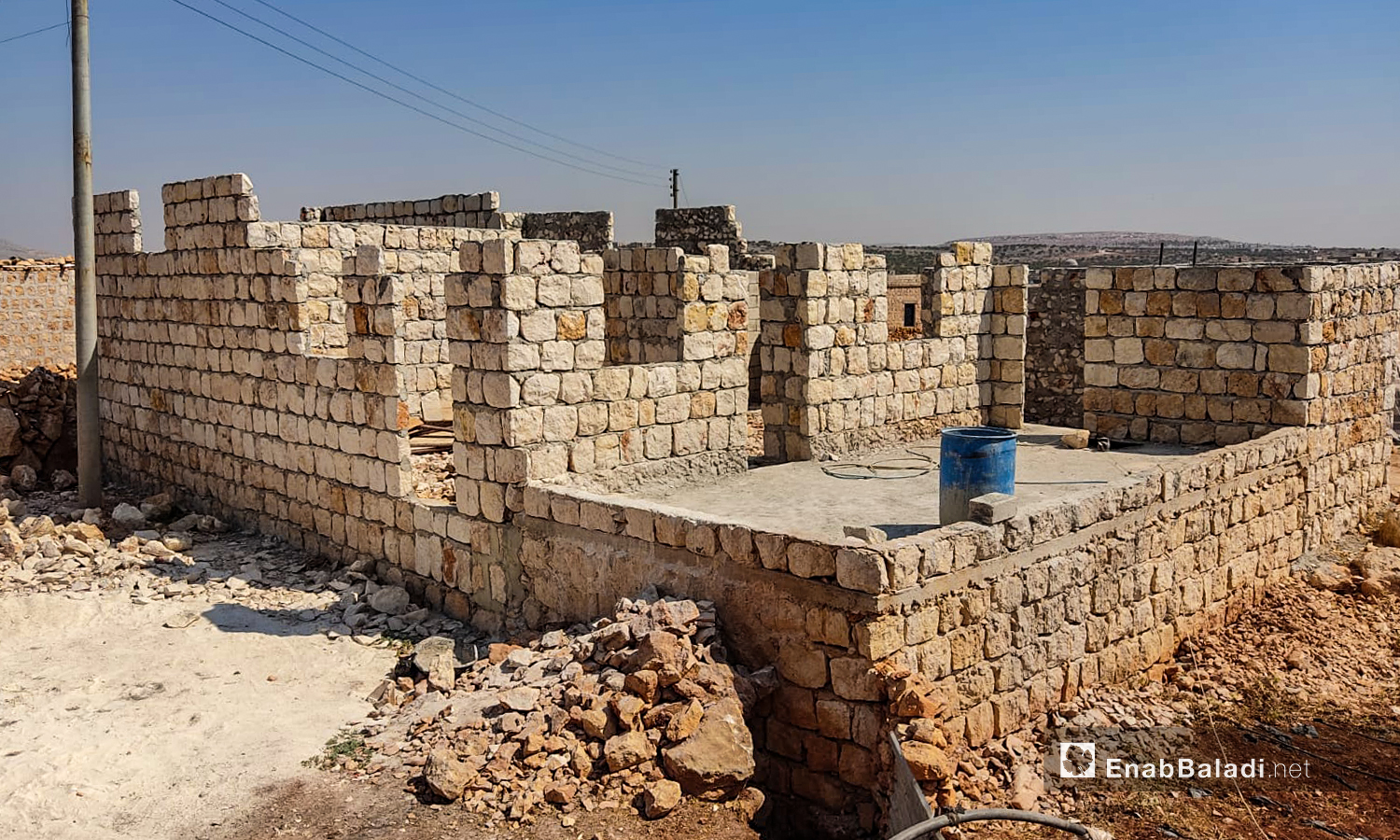 Ahmed, a displaced resident from Aleppo, where he worked for years, decided to return with his family to his village of Kafr Arouq, northwestern Idlib, to live there because of his parents' current economic and living conditions.
To live independently outside his family home, Ahmed (a pseudonym for security reasons) started building a house about a month ago on an area of 100 m2. The house which he inherited from his father, included two rooms and their utilities.
However, after building the house's foundations and during construction work, Ahmed was surprised by the arrival of staff members from the local village council informing him to stop the building until obtaining a permit from Harem city, northwestern Idlib, according to what he said to Enab Baladi.
This forced Ahmed to stop construction works to obtain the permit documents of real estate registration and surveying records and a payment of about 200 Turkish liras (TL = 27 USD). Nevertheless, Ahmed informed Enab Baladi that he was not granted the required building permit, which delayed the completion of his house's construction and moving decision.
To find out more about building permits in Idlib province, Enab Baladi contacted the Department of Technical Services' director in the Syrian Salvation Government (SSG), Mustafa Hajj Latouf, who said that granting permits has not stopped in the city councils. He added, the SSG has begun to grant building permits in the towns and villages of Idlib countryside.
Latouf discussed the types of construction permits granted by the directorate, including the building permit on lands within the regulatory plans.
He explained that the permits are issued from the municipality based on the property owner's demand. Latouf continued saying that the acquisition period of the permits varies according to the conditions of the property. He said, if the property is ready, partitioned, and meets the necessary requirements and plans, the permit is issued within days.
According to Latouf, the Technical Services Directorate also grants industrial, commercial, and agricultural authorizations, besides providing permits to industrial facilities, under conditions approved in the Licensing Law, "for public safety and to prevent environmental pollution."
Latouf indicated a significant demand for building permits, which require real estate registration and surveying records, as well as a municipal approval.
He added the construction permit ensures that the building system and public safety are not violated.
The SSG in Idlib established the "real estate documentation office" affiliated to its local administration and services ministry to document and save property transactions of houses and lands in the area.
The "real estate documentation office" has reactivated the department of "regulation of real estate offices" of the "general directorate of real estate," in all branches of the directorate in the opposition-held regions.
if you think the article contain wrong information or you have additional details Send Correction