"Salvation Government" bans construction of real estate in Idlib without licensing
The "Syrian Salvation Government (SSG)" operating in Idlib province, northern Syria, has prevented real estate construction in Idlib without obtaining a license.
In a statement released on 12 September, the SSG said that "it is strictly forbidden to establish any residential or commercial building or any infrastructure project, including water, sanitation, and other works, or any occupations of any kind for these properties without reviewing the "directorate of local administration and services" in Sarmada district."
The SSG required citizens to obtain a building permit, written approval, or construction license, along with all the necessary documents for the works to be performed.
The SSG's statement mentioned that violators of the decision would be subject to prosecution, in addition to financial, administrative, and legal deterrent measures against the employer, the lessor, or the seller.
The SSG justified its decision by pointing out the many violations of public and private property outside the implementation master plans of cities and towns.
The director of the "technical services directorate" in the SSG, Mustafa Hajj Latouf, said previously to Enab Baladi that the granting of building permits has not stopped in the city councils. He said the SSG has begun to grant construction licenses in the towns and villages of Idlib countryside.
Latouf discussed the types of construction permits given by the directorate, including the building license on lands within the towns and villages' regulatory plans in Idlib.
He clarified that the permits are issued from the municipality based on the property owner's demand.
Latouf continued saying that the time required for receiving permits varies according to the conditions of the property. He added, if the property is registered, partitioned, and meets the requirements and plans, the construction permit is issued within days.
According to Latouf, the "technical services directorate" also grants industrial, commercial, and agricultural authorizations, besides providing permits for industrial facilities, under conditions approved in the Licensing Law, "for public safety and to prevent environmental pollution."
The SSG requires the residents in Idlib to obtain a "legal status statement" or security clearance as one of the documents necessary to complete the real estate transactions in Idlib.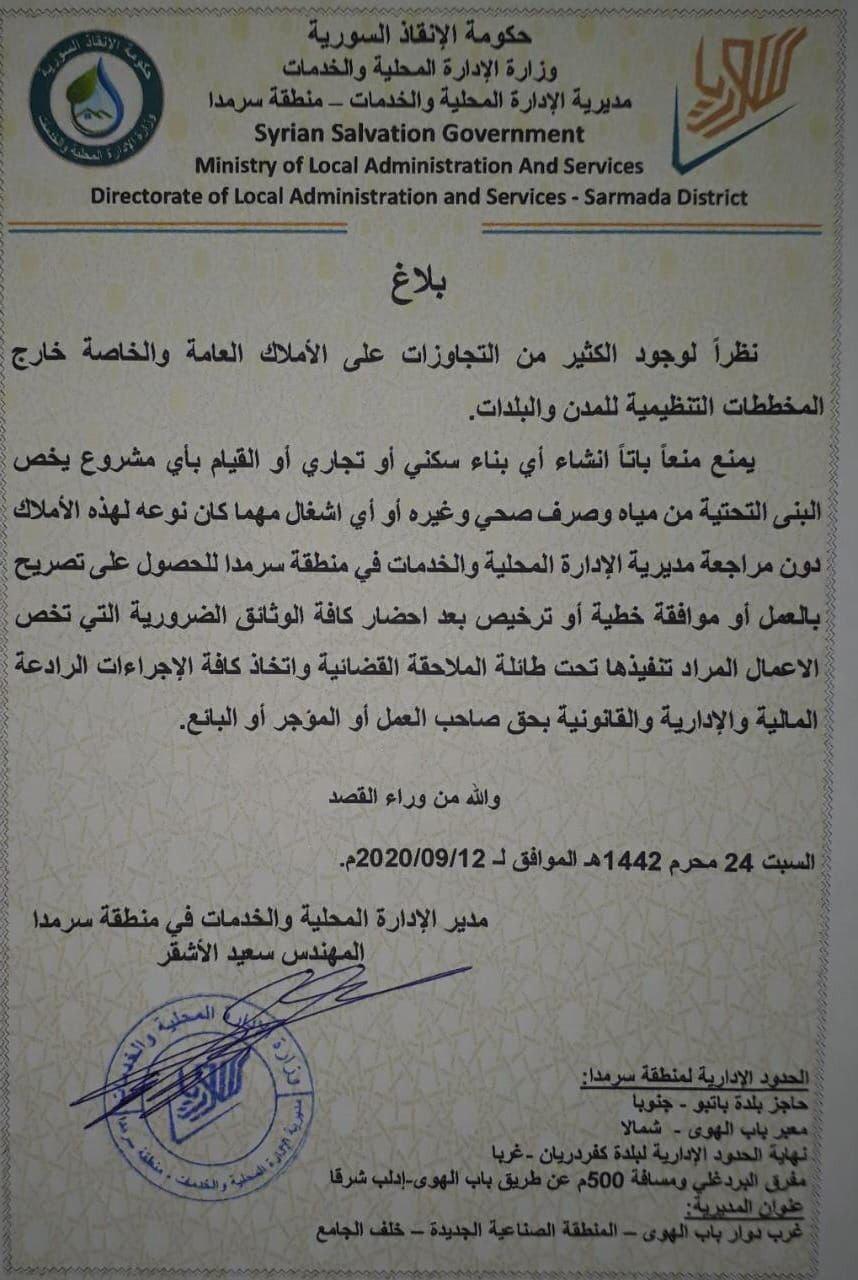 if you think the article contain wrong information or you have additional details Send Correction