Rubble accumulation in Daraa camp of Palestinian refugees exacerbates its residents' suffering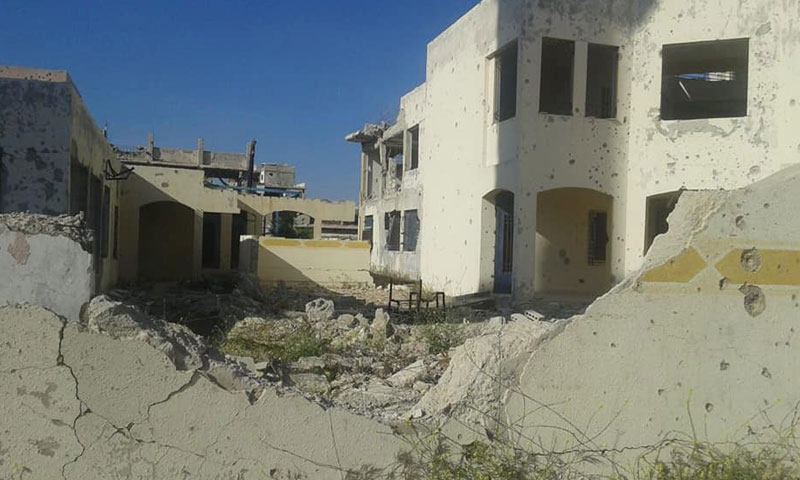 The residents of Daraa camp for Palestinian refugees have been suffering from the accumulation of destroyed houses' rubble in the streets while being unable to remove them because of the high costs and the absence of any role for the relevant organizations.
On 30 August, the "Action Group for the Palestinians of Syria (AGPS)" reported that residents of Daraa camp complained of rubble accumulated in some streets, thus hindering their movement.
The AGPS' correspondent added that the residents kept the ruins in front of their houses, which resulted in closing some streets and narrowing others.
He pointed out that cleaning the streets from the destroyed houses' rubble needs high material resources that the camp inhabitants do not have.
The correspondent indicated that neither the United Nations Relief and Works Agency for Palestine Refugees in the Near East (UNRWA) nor the refugee foundation or the Syrian regime's municipalities did their job in the camp. He pointed out that no rubble has been removed from the streets of the camp for a year and a half.
Palestinian refugees in Syria are distributed in nine official camps in the "al-Nayrab" camp in Aleppo, "Hama" camp, "Homs" camp, "Khan al-Shih" camp, "Khan Dannun" camp, "Sbeineh" camp, "Qabr Essit" camp, "Jaramana" camp and "Daraa" camp in southern Syria.
Nevertheless, the informal "Yarmouk" camp is considered the largest in terms of its population, as it was home to 144 thousand persons, according to the UNRWA's estimations.
The AGPS was established in 2012 and included a number of jurists and media professionals. It documents violations against Palestinian refugees in Syria.
Syria's reconstruction file was linked to the file of non-harmful remnants of the war of buildings' rubble caused by the bombing, especially in the areas controlled by the Syrian opposition from southern Syria in Daraa to the Eastern Ghouta region, Homs, and Aleppo.
The rubble constitutes a major obstacle for the residents who remained in their houses, cities, and towns, amid the government's failure and citizens' inability to take action.
While no official authorities in Syria took real steps to resolve the rubble problem, thousands of citizens bore the burden of rehabilitating their properties, while a large part of Syria's infrastructure remains under ruins.
The United Nations (UN) described Syria's destruction as "unprecedented" and estimated the reconstruction cost at 400 billion US dollars.
Despite the Syrian regime government's provisions for the removal of rubble through Law No. 3 of 2018, which provides for "removing the rubble of buildings damaged as a result of natural or unnatural causes or subject to demolition law," the implementation on the ground has not really started yet.
if you think the article contain wrong information or you have additional details Send Correction