Displaced families living in worn-out tents in northern Syria encounter harsh weather conditions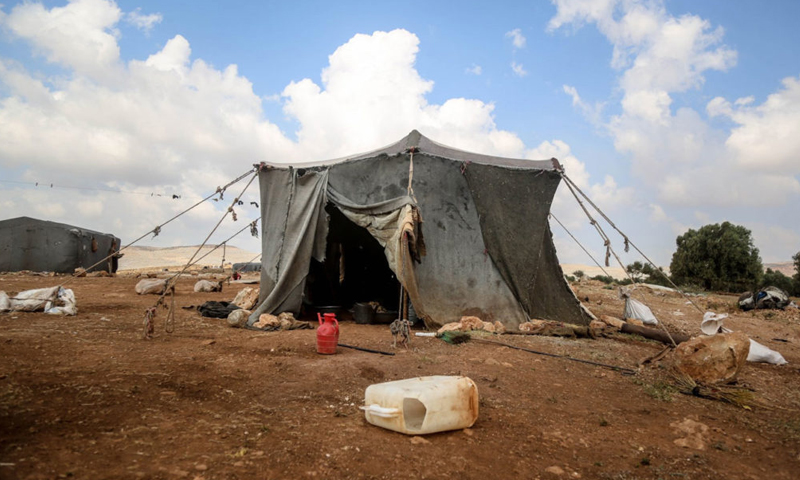 Idlib – Iyad Abdel Jawad
" It is like I am in an oven whose temperature increases whenever the air temperature rises," with these words, Muhammad Stout, a displaced person from the village of Shalakh, describes his stay in a worn-out tent in the village of Kafr Aruq in the northern countryside of Idlib.
Stout lives with his wife and children in a tent that does not protect them from the harsh weather conditions, insects, or reptiles. Besides, the tent has worn out because of intensive, prolonged use; a relief organization provided Stout and his family with this tent two years ago after they were forcibly displaced from their village, Shalakh in Idlib countryside, after their house was bombed. 
Patchwork tents do not protect their residents against blazing hot summer or cruel cold winter
This is not the case of Stout alone, as Malik al-Jumah, the director of al-Jumah displacement camp, located on the outskirts of the town of Hazano, in Idlib countryside, talked about the state of the tents that were established a year and a half ago to Enab Baladi, indicating that there are almost 50 tents of the "A-frame" type. Their price is low compared to others.
Al-Jumah added that most of the tents are now worn-out and uninhabitable. Besides, they do not protect their residents from extreme heat, driving people to go out in search of trees to shelter them from sunlight.
According to the camp director, several appeals were made to several organizations to help secure tents, but without response.
Ahmed Ghaylan, the director of al-Zaitouna displacement camp, located on the outskirts of Killi town, told Enab Baladi, "We have been displaced 11 times in three years, and we are stilling using the same tents. We have not been able to replace them since our first journey of displacement from the eastern countryside of Maarat al-Numan." He added that the tents are deplorable and unfit for human habitation.
Ghaylan talked about the attempts made by several families to repair their damaged tents by patching holes or tears, but these attempts no longer succeed.
Around 66 families live in al-Zaitouna camp, while the number of tents in the camp reaches 55, and the number of worn-out tents is 40, according to Ghaylan. 
The number of families living in "al-Zaitouna" camp is 66, while the number of tents in the camp is 55, and the number of worn-out tents is 40, according to Ghaylan.
Ghaylan called on all public and civic organizations and associations to help the people to replace their tents.
Unable to replace their old worn-out tents
The Director of the "Syria's Response Coordination Group (SRCG)," Muhammad Hallaj, told Enab Baladi the proportion of worn-out tents in Idlib is estimated at 65 percent, and they are uninhabitable due to their tears caused by various environmental factors, whether extreme heat or cold. 
He explained that most relief organizations distribute the ridge/ A-frame tent to the displaced people. These tents are characterized as not long-lasting and trap the air, indicating that most of the tents were exposed to fire and ignition, whether in the summer or the winter. They are "not resistant" to harsh winter conditions such as cold, low temperatures, rain, torrential winds, and storms.
Hallaj pointed out that more than 95 percent of the tents need insulators, and "every year, we demand the provision of insulation materials, but the response is feeble."
What are the ridge tents?
There is more than one type of tents, and the rigid one is the worst among them. It is a low-end tent, according to Qasim Muhammad, a logistics coordinator at Ataa for Humanitarian Relief.
Muhammad added to Enab Baladi that a tent is a place for displaced families to shelter. Inside tents, the displaced people cook and carry out all their activities, and when cooking, the cloth is close to the fire, and there is no place for ventilation, which causes fires.
With the advent of winter, the organizations isolate the tents, but the "rigid" tents cannot be separated. There are no poles, and even the floor is not adequately insulated.
Idlib camps
Nearly 1,300 camps in northern Syria house more than one million displaced people who suffer from difficult conditions, such as too high temperatures in the summer and extreme cold in winter, as estimated by the SRCG on 28 August.
The total number of camps reached 1,293, inhabited by one million 43 thousand and 689 people, including 382 random camps with 185,557 people, and 911 regular camps with 858,132 people.
There are 19,102 people with disabilities in the camps, and 10,146 widows (women without a breadwinner).
Of the total population of 4.1 million, 2.8 million people (76 percent of whom are women and children) in northern Syria depend on humanitarian assistance to meet their basic needs, such as food, water, shelter, health care, and education, while the number of internally displaced persons is 2.7 million.
if you think the article contain wrong information or you have additional details Send Correction