Why are females banned from working in tourist destinations in Raqqa?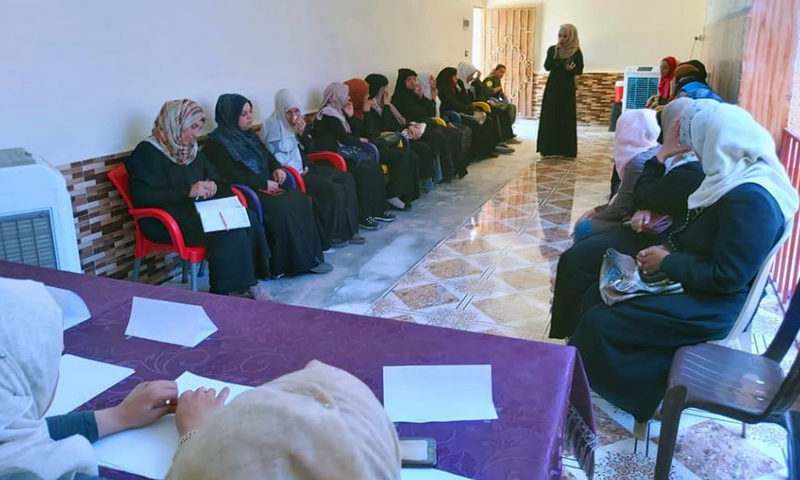 Enab Baladi – Raqqa
"Umm Abeer" used to work in a cafe in the city of Raqqa, to provide for her five children, the oldest of whom is 16 years old. However, she lost her job after the Kurdish- Autonomous Administration of North and East Syria (NES) issued a decision, that prevents women from working in tourist sites and facilities. 
The family has no other source of income, because "Umm Abeer" is a divorced woman with five children living in a house that she has to pay its rent every month, taking advantage of her salary of 3,500 Syrian Pounds ( 2200 SYP = 1 USD ) in exchange for ten hours of work per day.
A circular released by the "Women's Committee" in "the NES-linked Civil Council of Raqqa" on 4 August, in coordination with the "Culture and Antiquities Committee," strictly banned the employment of female attendants and waitresses in tourism sites and establishments including restaurants, cafes, and hotels. Anyone who breaches this decision shall be held accountable, paying a fine estimated at 500,000 Syrian Pounds (215 USD).
No another source of income
"Umm Abeer", who declined to mention her exact name for security reasons, complained about the new resolution, saying that it targets poor female workers only. She also demanded the resolution makers allow women who are committed to standards of public morality to work and to expel the women who make violations of moral standards at the workplace.
"Umm Abeer" denounced allowing women in the NES-controlled areas to carry weapons, attend training military camps, and work in mixed-gender checkpoints, wondering, "Why is women's labor force being fought in this humiliating way? And why are women's livelihoods and the livelihoods of their children being disrupted as well?"
An ill-considered decision
Youssef al-Jasem, a cafeteria worker in the city of Raqqa who uses a pseudonym for security reasons, considered that the decision to stop the work of waitresses and female attendants is a new policy to put pressure on civilians into their work, and abuse the rights of the privacy and freedom of women.
He told Enab Baladi that both men and women are entitled to work, pointing to the need for female workers in Raqqa, and that is why women from the city join the military checkpoints and battlefronts of the "Women's Protection Units", one of the factions affiliated with the Syrian Democratic Forces (SDF).
Abu Issa al-Othman, the owner of a "cafeteria" in the city of Raqqa, considered that the decision issued by the NES  was not well- studied, as work does not diminish the value of women in the city, as he put it, and women are with men in all workplaces.
Al-Othman told Enab Baladi that women work together with men in all the institutions run by the NES, asking, "Why did not similar decisions prevent women from working?"
He sees no reason for preventing waitresses from working in "cafeterias" and cafes that adhere to laws, regulations, and moral and ethical rules.
"For the preservation of women dignity"
This decision was released after "the Civil Council of Raqqa" and "the Health Committee" issued Resolution No.5 at the end of last July, which prohibits public gatherings in catering facilities—cafes, cafeterias, and restaurants—and provides that people should take extra precautions, and make social distancing in parks and public places to help reduce the spread of the novel coronavirus (COVID-19), Osama al-Khalaf, a journalist in the "Raqqa Civil Council," explained to Enab Baladi.
Al-Khalaf said that the reason behind the issuance of the decision is the expansion of the phenomenon of waitresses working in the city, and the "fear" of the young women group being "dragged behind these places," as he put it, even though the "tourism control" tours were conducted to ensure that the conditions of the waitresses' work in catering facilities were appropriate and safeguarded. 
He added that the decision was proposed before the lockdown, and was issued for "logical and moral reasons that protect and preserve the dignity of women at work, and prevent the exploitation of the phenomenon of their work as "waitresses." 
This decision is "a rights-oriented vision against bullying in society that can be practiced on waitresses in tourist sites" and was adopted after a long marathon of discussions with the owners of cafes and "cafeterias," who offered positive feedback. 
Article 120 of the Syrian Labor Law No. 17 of 2010 stipulates that the Minister shall determine, by ministerial decision, such activities, instances, and circumstances where women shall be allowed to perform night work, as well as harmful, immoral, and other activities prohibited to women. 
What are the alternatives?
As an alternative for women with no academic degrees that entitle them to work, the "Women's Committee" in the NES and civil society organizations operating in the region organize projects, especially for widowed/divorced women and elderly women.
"The Youth and Sports Committee opened educational courses in nursing, first aid, and computer sectors for young women. Besides, the "Women's Committee" carried out programs for traditional baking and pastry and cultivating legumes, in addition to sewing and embroidery courses, after which the graduates were given sewing machines to work. Furthermore, other self-awareness and personal development courses were held to support women, according to al-Khalaf.
Given that "The work of women as waitresses in cafes and restaurants is totally unacceptable by the tribal and religious community of Raqqa," according to al-Khalaf. Women have other alternatives and areas where they can work. For instance, illiterate women can work in the agricultural sectors, mainly in the woodland and plant nurseries, kindergartens, and nursery schools. Plus, they can work in the field of cleaning and sterilizing in private and public hospitals. 
Al-Khalaf indicated that the "Civil Council of Raqqa" and the "Women's Committee" are concerned with providing women with job opportunities that contribute to "uplifting women and safeguarding their rights."
Al-Khalaf pointed to the difference in wages and salaries earned by women in the NES-controlled areas according to the entity with which they work. Female workers in the "Civil Council" institutions and centers receive a salary of 233,000 SYP (102 USD), while the salary of women working in projects supported by civil society organizations is between 200 and 300 USD. 
if you think the article contain wrong information or you have additional details Send Correction