"Smart Card" brokers in Homs… serving or exploiting people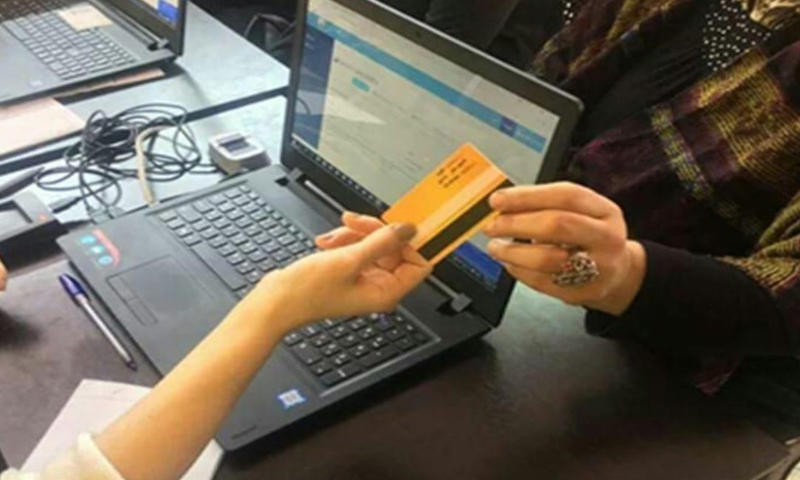 Homs – Orwah al-Mundhir
The "smart card" system has fallen short in alleviating the Syrians' suffering of standing in long queues and bribing government employees at the gates of the "Social Consumer Corporation" before and the "Syrian Trading Company" currently.
As the "smart card" system came into implementation, brokers emerged in Homs countryside and started charging certain amounts from citizens to help them collect their allocations of subsidized materials, thus increasing their suffering.
After the rise in commodity prices in Syria, the Syrian regime's government included allocations of sugar, oil, tea, and rice on its list of subsidized goods through the "smart card" system.
The "smart card" project, implemented by Takamol company since August 2018, was adopted to distribute allocations of petrol for vehicles, heating oil, and cooking gas. It also aimed to provide basic foodstuffs to households at reduced prices and set monthly allocations to Syrian families from these materials for "rationalization of consumption of allocations."
Additional collection commission
Some brokers exploit the residents' need to obtain allocations of subsidized materials through the "smart card" in northern Homs countryside. They charge a "collection commission" of 200 Syrian pounds (SYP = 0.093 USD) for every kilogram of rice, sugar, or liter of oil. The amount is divided equally between the broker and the employee of the "Syrian Trading Company," who in turn swipes the card and hands the materials over to the citizens.
Ziad Jawdat, a 36 years old construction worker from the city of al-Rastan, said to Enab Baladi, "since the government began distributing our allocations via the smart card, I could obtain my share of goods only once by myself, but I had to skip my work for two full days."
This forced Jawdat to resort to one of the brokers to obtain his allocations of subsidized materials. The broker took advantage of Jawdat's need and the Syrian Trading Company's inability to increase its sales outlets and provide the required quantities of goods.
Enab Baladi talked to one of these brokers named Nour (who refused to give his full name for security concerns.) Nour's relative works in the Syrian Trading Company, and people of his area reach him to obtain their allocations.
Nour manages to collect allocations for at least 150 smart cards. He charges 100 (SYP = 0.046 USD) for himself and another 100 (SYP = 0.046 USD) for the Syrian Trading Company's employee. By doing so, Nour was able to secure an extra income, as he told Enab Baladi.
Nour added that he started this work when he asked a friend working in the Syrian Trading Company to collect his relatives and his cards' allocations. Then, Nour and his friend began offering this "service" to those who do not want to stand in long queues and wait.
Brokering aggravates suffering
The emergence of the "smart card" brokers has increased the suffering of citizens unable to pay extra sums to collect their allocations. When materials arrive at the centers of the "Syrian Trading Company," the employees deliver allocations to those who pay additional commission, leading to more difficulty and suffering for the citizens waiting in queues.
Fadia Dulah, a widowed mother of three children from Talbiseh city, told Enab Baladi, "at the beginning of every month, my battle begins at the door of the Syrian Trading Company, to bring my family's allocations."
She added, "I try to save as much as possible, and I cannot afford to pay for smart card brokers; however, the dependence of so many families on them has increased our suffering."
Once the materials arrive, the Syrian Trading Company's employees begin swiping the cards whose owners pay commission, while the rest of us wait for the goods that remain after they finish distributing them," Dulah said.
She added, "we have made more than one complaint. The employees and brokers are not stealing our allocations of subsidized materials, but they are stealing our time. Meanwhile, the employees share the profits, and no one is paying attention to our suffering."
"Coronavirus"… another reason why people are resorting to brokers
As the spread of the novel coronavirus (COVID-19) Pandemic increased in Syria, the government decided a set of precautionary measures that involved social distancing. Nevertheless, people waiting in long queues cannot comply with these measures, prompting a number of northern Homs countryside residents to rely on "smart card" brokers to collect their allocations to avoid the coronavirus infection.
Forty years old, Khaled al-Ahmed, is a worker at a farm in Kafr Laha, in the al-Houleh Plain of rural Homs. He told Enab Baladi that he is committed to the strict measures, because his family members suffer from chronic diseases, which put them at risk if they were infected with the virus, which is why he had to resort to brokers, to avoid overcrowding and transmission of infection.
The "Syrian Trading Company" began selling sugar and rice through the "smart card" early this year. Every person gets one kilogram of rice and sugar, with a household share of three kilograms for families of three or four people, while families of five or six members receive five kilograms of sugar and four kilograms of rice.
The upper limit for families of seven members is six kilograms of sugar and five kilograms of rice.
Meanwhile, 200 grams of tea is sold at the price of 900 (SYP = 0.417 USD), the subsidized kilogram of sugar is sold at 500 (SYP = 0.231 USD) and the subsidized price of rice at 600 (SYP = 0.278 USD), exclusively from the Syrian Trading Company's halls.
if you think the article contain wrong information or you have additional details Send Correction