Local council of Ras al-Ain calls on citizens to remove their destroyed houses' rubble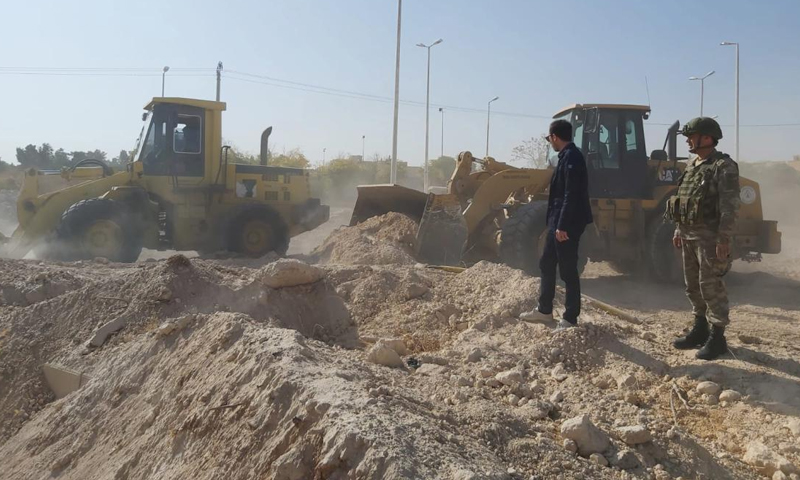 The local council of Ras al-Ain city in northwestern al-Hasakah has called on citizens whose houses were damaged by the military actions to submit a request for their removal.
The council issued a statement on its "Facebook" page on 12 August that said the local council's "Directorate of Registration and Licenses" has invited citizens whose houses are unfit for habitation, or irreparable, to demolish them for public safety, within a maximum period of 15 days.
The statement held the citizens who have "ramshackle" houses and did not submit a demolition request the responsibility of the damages that these houses may cause to the surrounding citizens.
The head of the local council of Ras al-Ain, Marei al-Yousef, said to Enab Baladi that the "Directorate of Registration and Licenses" is restricting the dilapidated houses that are threatening the life of others.
Regarding the fact that the owners of the houses do not have proof of ownership, al-Yousef added, "we know the homeowners, and even if we do not know them and they did not have official documents, we ask for witnesses to prove their ownership to these houses."
Al-Yousef pointed out that currently there are no mechanisms for compensating citizens whose houses will be removed in the area, or projects for the restoration of houses damaged by military actions, but there might be in the future.
As initial reactions, some Facebook users condemned the council's call, demanding compensation for the affected citizens and rebuilding their houses.
Turkey's Şanlıurfa province, which oversees the service field in the area, following the "Peace Spring" operation, has worked on cleaning and removing the rubble from the cities of Tal Abyad and Ras al-Ain, northeastern Syria.
On 9 October 2019, Turkey launched its "Peace Spring" operation against the Kurdish "People's Protection Units (YPG)," during which it controlled the cities of Ras al-Ain and Tal Abyad before stopping the operation under an agreement with Russia and the United States separately.
if you think the article contain wrong information or you have additional details Send Correction