Idlib's roofs are not covered up with red color due to stoppage of making homemade tomato and pepper paste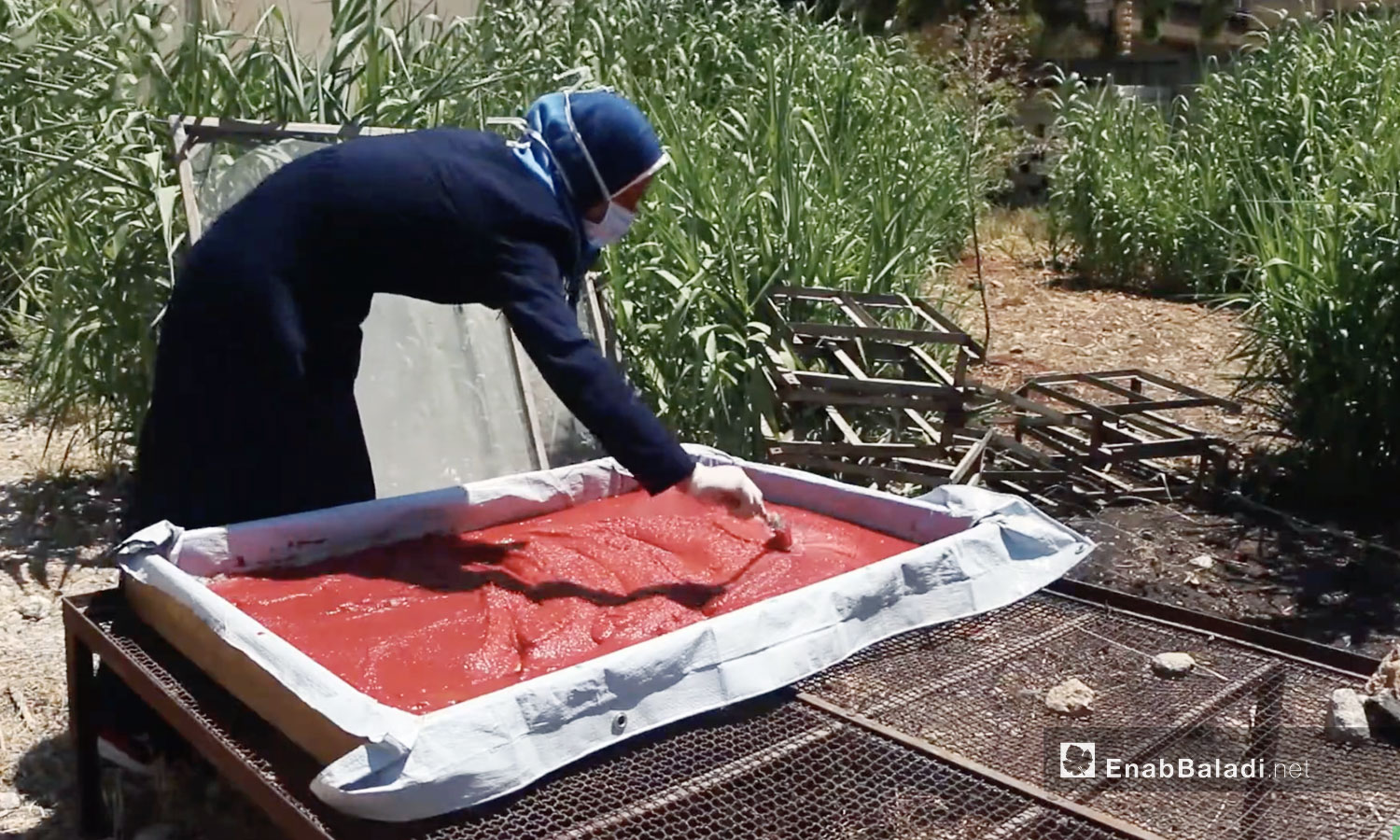 Enab Baladi – Idlib
The roofs of houses in northwestern Syria's Idlib have not been covered up with the red color for the first time in years due to several reasons, the most important of which: the absence of peace, security, and stability, and the high costs of items necessary for long-term food supplies, which are only available in July and August of each year. 
After her husband was injured during a bombardment by warplanes on the town of Tell Manas, east of the city of Maarat al-Numan in the southern countryside of Idlib nearly four years ago, and her family suffered from a "difficult" living condition, Fatima al-Muhammad began to search for a source of income to provide for her family by working from home.
Al-Muhammad chose to work in the field of preparing emergency food supplies, where families buy products and foodstuffs and then give them to al-Muhammad. Then, she dries and prepares them to be consumed during the wintertime.
Poor working conditions 
Muhammad's recent exodus to "Killi" camp, north of Idlib, forced her and her daughters to stop preparing long-term food supplies because she lives with her family in a tent "on the dirt." However, making a long term food storage requires a "clean" place, a condition that is not currently available in her tent, according to al-Muhammad. 
Al-Muhammad told Enab Baladi that making long-term food supplies requires a large area, and it is better to be prepared in a traditional Arab house to get ample exposure to sunlight, and this is not available after displacement, primarily if the woman working in this field resides in a tent or an apartment in the city.
People not making long-term food supplies for their high costs 
The repeated displacement, harsh living conditions, and low financial capacity have prompted citizens of Idlib to abandon the habit of preparing "an emergency food supply. They started to depend on buying ready-made products from the shops near them.
Hayam al-Khalaf, a displaced woman from the village of Basqala in the southern countryside of Idlib to the city of Idlib, told Enab Baladi that she began to depend on buying canned food or ready-made supplies from shops in small quantities because preparing "long-term food supplies" now costs more than 300 US dollars or its equivalent in Turkish lira for an average family of no more than five members.
She wondered, "What if there were more members in one family?! I think, preparing an emergency food supply, in this case, would be almost impossible," especially for the displaced family, in light of the high prices of renting houses and other daily requirements.
For his part, Nuri al-Shayeb, the owner of a grocery that sells ready-made products in the city of Idlib, told Enab Baladi that most of those who buy the ready-made food products after the four-fold increase in the prices of materials this year compared to the previous year are women who have a job outside the home in addition to the "well-off" families.
Al-Shayeb indicated that most people, due to the high cost of living and the instability of the security situation, purchase their daily household needs "on a day-to-day basis."
"Mouneh House"
While women give up their work, "preparing long-term food supplies," and citizens refrain from purchasing them due to the high prices, initiatives are being launched to provide job opportunities in preparing foodstuffs and securing supplies through women's efforts.
The "Mouneh House" project has been launched for over a year. It is a food supply project that brings together several women in a house, to "join hands" and provide the best possible in producing and delivering what the housewife needs in terms of supplies, based on the different seasons for their preparation, according to the director of "Henna Association for Women and Childhood Development" in the city of Binnish, Kawthar Ali Pasha.
In an interview with Enab Baladi,  Ali Pasha said that the project aims to change better the reality of women affected by war, support their capabilities, and strengthen their character in working life.
Besides, the objective of the project is to develop the role of woman in various areas of life, provide high-quality food supplies in the city's homes, and provide more job opportunities for women who need to support themselves and their families, as there are ten working women within the project.
Producing food supplies for long term storage varies from year to year based on the "deteriorating" security and economic conditions, which cause the high cost of the raw materials used in the project and other expenses. As a result, this was reflected in the high prices of products in "Mouneh House," especially in the current year.
Ali Pasha added that project management is making every effort to ensure that the prices are appropriate for the customers. Every year it works to provide and market different and large quantities of "Mouneh House" products, which increases the incentives for those in charge of the project to continue and advance it in a greater and broader way.
The project's products include tomato and red pepper paste, makdous, pickles of all kinds, jerky,  dried vegetable and fruit such as eggplant, squash, pumpkin, raisins, apricots, dry figs, dairy products such as cheese, and Arabic labneh, Mulukhiyah, grape leaves, peas, and green beans, along with all kinds of jams such as apricots, sour cherries, figs, and pumpkin.
if you think the article contain wrong information or you have additional details Send Correction