Families of northern Syria risk their lives by scavenging on rubbish dumps to earn a living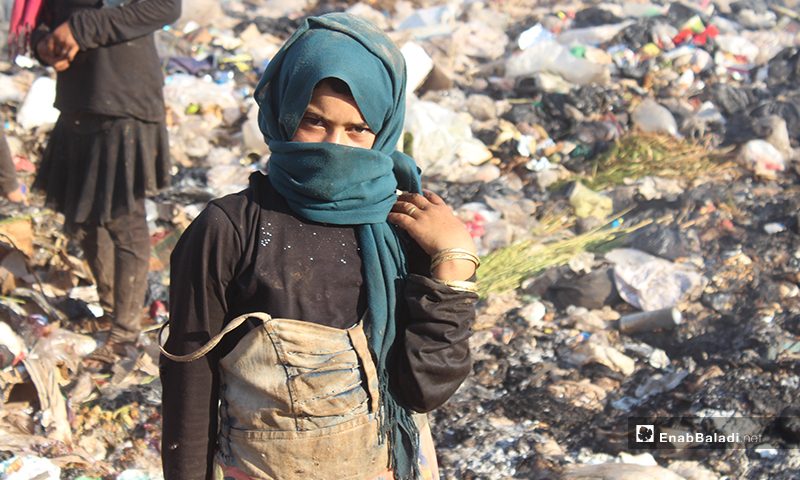 Idlib- Iyad Abdel Jawad 
The stench smell emanating from the rubbish dump and the diseases that it may cause have not prevented Muhammad Sattouf, a farmer displaced from the village of Tuwinah in the Ghab Plain to "al-Ikhlas and al-Safwa" camp, from scavenging on rubbish dumps to provide for his four children and protect them from hunger after he lost hope of finding a job in his work field, agriculture. 

https://www.youtube.com/watch?time_continue=139&v=F9mekRRyd4A&feature=emb_title
Not a unique situation 
Sattouf told Enab Baladi that he tried a lot to find a proper job. Still, due to the lack of job opportunities in the area and his suffering from migraine headaches, he was forced to be a waster picker, searching for recyclable materials through waste dumps and containers in the Qah area.
Sattouf has a young child with meningitis, receiving medical treatment in Turkey and accompanied by his mother. Sattouf is forced to leave the rest of his children alone home for seven hours a day, mainly from sunrise to sunset. 
Thirty-year-old Sattouf travels more than 20 kilometers (12.4 miles), collecting only junk of 1,500 Syrian pounds (SYP= 0.6 USD), in order to buy bread for his children.
The case of Muhammad Sattouf, who contracted a skin disease, as a result of his direct contact with waste during waste picking, is no longer rare in northwestern Syria.  
Nearly 4.1 Syrian people are crowded in northwestern Syria, including 2.7 million internally displaced persons; 76 percent of whom are women and children.
Most of them live below the poverty line and depend on humanitarian assistance that enters through one border crossing (Bab al-Hawa), according to a report issued by the United Nations Office for the Coordination of Humanitarian Affairs (OCHA) on 13 July. 
Muhammad Stout was displaced after his house in the village of Shalakh in rural Idlib was destroyed to the village of Kafr Aruq to live later with his family of three children in a tent. He started working in  an automated bakery, but he was unable to continue in the bakery due to a previous back injury
Stout could not find a suitable job after that, so he resorted to collecting scrap materials and plastic from the landfills located between the villages of Kafr Aruk and Kafr Dariyan, taking his wife and children with him for help.
He stressed that he chose to scavenge on rubbish dumps in order not to ask people for help and survive amid a lack of humanitarian organizations' support. He added that assistance is only granted to widows and orphans, indicating that he is not happy with this work because he, being a waste picker faces discrimination; people mock and look down on him. Besides, Stout and his family experience several respiratory diseases because of waste picking. 
Disease claims lives of waste pickers…  Viruses and germs are not the only ones in open dumps
Dr. Alaa al-Mahmoud told Enab Baladi that the work of children, adults, and sometimes older adults in salvaging waste, has become widely recognized and prevalent in northwestern Syria.
According to Dr.al-Mahmoud, the hazards faced by scavengers are considered "great" and "grave," and in some cases, waste can take the lives of their pickers, due to the increased risk of transmission of some viral and bacterial diseases. 
The risk is high in waste containers of used medical consumables such as syringes, needle heads, and intravenous (IV) catheters, as some viruses can be transmitted as a result of injuring the hand of a child or an adult, causing hepatitis B or C, and other urinary infection or sepsis.
Dr.al-Mahmoud highlighted that a child or young person could be exposed to mosquito bites that are spread widely in the landfill sites, transmitting Plasmodium parasites that cause the severe "malaria" disease that leads to high temperatures, nausea, diarrhea, and sweating.
Dr.al-Mahmoud added that a waster picker could be infected with "dengue" fever or "yellow" fever, indicating that he may also be exposed to the flies, which increases the risk of infection with "Leishmania."
He indicated that animals scattered throughout landfills and dumpsites, such as mice, may transmit hantaviruses that infect the lungs.
Besides viruses and germs, waste scavengers are vulnerable to injuries by sharp objects such as broken glass, nails, and sharp metals. These injuries, in turn, may lead to tetanus. Moreover, they might be exposed to an attack by some rabid dogs whose bite can cause tetanus and rabies virus infection and sometimes lead to death when left untreated.
Possible solutions, who bears the responsibility?
 Muhammad Hallaj, the director of the Syrian Response Coordination Group (SRCG), told Enab Baladi that no consistent statistics are available on the number of waste pickers in northwestern Syria, even though numerous scavengers/waste pickers are at risk of various occupational hazards due to the nature of their work.
Hallaj confirmed that the numbers are increasing, especially in the camps established in areas adjacent to the dumpsites, such as the areas of Kafr Lusin and Sheikh Bahr and the vicinity of Idlib city.
Hallaj pointed out that the virus infection that doctors talked about could be transmitted from one region because waste materials are transferred to recycling factories. These materials are recycled in unhealthy ways and reused. 
Hallaj presented a set of solutions: Waste dumpsites have to be placed at a far distance from residential areas and camps, waste has to be appropriately destroyed, fences should be set up around dumpsites which are to be controlled, to ensure that people do not enter them.
Regarding those working in the field of waste collection, Hallaj stressed that the humanitarian organizations in northern Syria should bear responsibility for an accurate assessment of the conditions of the needy.
Hallaj also held the ruling parties on the ground directly responsible for the spread of the waster pickers' phenomenon because of the lack of price controls, the vast rise in prices, and lack of job opportunities, which made people resort to such dangerous work.
According to a report by the United Nations Office for the Coordination of Humanitarian Affairs (OCHA), 75 percent of communities in northwestern Syria are unable to afford the costs of basic foodstuffs, with increased psychological and social pressure, poverty, and a lack of job opportunities exacerbated by the effects of restrictions associated with the spread of the coronavirus pandemic (COVID-19).
if you think the article contain wrong information or you have additional details Send Correction