Young people of Raqqa seek refuge in drugs to overcome their endless crises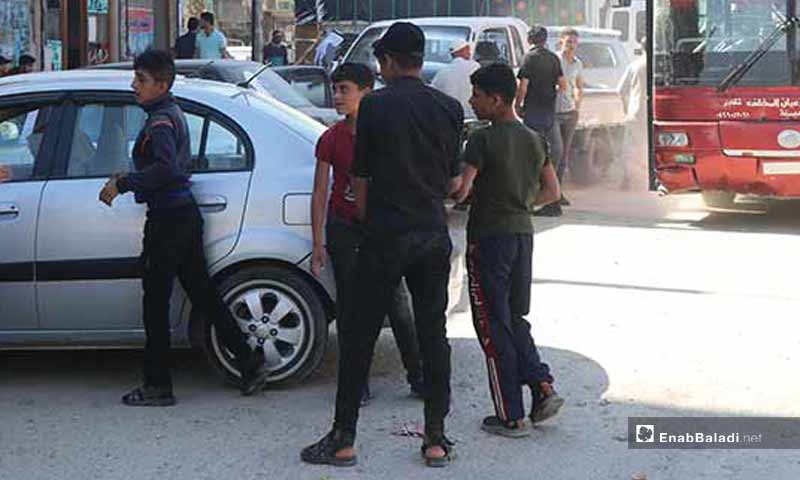 Enab Baladi – Noureddine Ramadan 
"A year ago, my friend encouraged me to take one narcotic pill which made me live in another world, and since then I could not afford to quit drugs," with these words, Firas, who lives in the city of Raqqa, tells Enab Baladi, the story of his drug addiction.
Firas complained to his friend about his tragic situation, who gave him a chill pill, assuring him that it would make him forget about all these difficult times he is facing.
The young man, who did not turn 20 yet, added that narcotic pills are available among friends for whoever needs them, and for "the ones who do not have enough money to buy the pills, we as friends can lend them a hand," as he put it. 
Firas hopes that he can stop using drugs, but he cannot, arguing that it helps him cope with stressful situations. He added that he will quit drugs when his conditions improve, although he acknowledged that it is challenging to do that.
Tariq Abu Ziad, a 27-year-old man who chose this name when speaking with Enab Baladi, said he never thought of using addictive substances and becoming an addict, but he is a neurotic patient and once one of the doctors prescribed him chill pills. 
"I have got better since then and never needed to revisit a doctor. I am a strong young man who is only looking for a sense of comfort," Abu Ziad said. 
There is an increase in the prevalence of drug abuse in the city, amid the absence of official data released by the responsible bodies, while some organizations are carrying out awareness campaigns about the dangers of these neurotic substances. 
How do drugs reach the city?
With the help of a drug addict, Enab Baladi tracked the source of the illegal drug sale and reached a drug dealer who agreed to speak only on the condition of using the title "the Prince."
The drug dealer pointed out that the drug trade spread two years ago when the Syrian Democratic Forces (SDF) took control of Raqqa city and expelled the so-called Islamic State (IS) from the city. People feared IS, who used to impose cruel punishment for any slightest crime committed.  
He added, "I started selling drugs in Raqqa two years ago with the help of some people. I was able to contact a security figure who helped me gain and sell the pills," adding that the source of the drug is al-Tabqah, west of Raqqa, and the drugs are available there through dealers from the regions under the control of the Syrian regime.
The drug dealer "the Prince" highlighted that most of his customers are young men and women and older people, noting that sometimes children ask to buy some narcotic pills. Yet, he refuses to sell them and advises to avoid using drugs, said the drug dealer.
He added that "I have to work as a drug dealer because I got a medical condition due to an airstrike carried out by the Syrian regime in 2013, which prevents me from doing other jobs."
The drug dealer is not the only one in the city. Still, actually, "there are dozens of drug dealers, and we do not know each other, but I hear about them from some drug addicts, and we all peddle our own products secretly, for fear of the security authorities. Although I know some drug dealers, we agreed between us is that we do not know each other if we get arrested." 
What is the interpretation of social researchers?
Sociologist Talal Mustafa explained to Enab Baladi that the spread of drug trade is historically linked to the outbreak of wars, and this is what happened in countries such as Lebanon and Afghanistan and now in Syria.
This trade generates vast amounts of money for the forces that control separate cities, such as the city of Raqqa, which was controlled by IS, then "the Syrian Democratic Forces" (SDF), and other military factions. The de facto authorities provide these substances in society, and they ignore the activities of drug promoters to some extent.
Regarding the increase in the number of drug addicts, Mustafa believes that this increase is natural in a city that has suffered war for years, where no party gives primary importance for the social structure, especially young people and adolescents. Moreover, some de-facto authorities intend to adopt systemic policies to target that category of people with these narcotic substances and try to recruit them into their ranks. Thus, it is normal that fighters find an outlet for their grief and concerns through drugs. 
Authorities fight against drug abuse and illicit trafficking
The director of the media office in the Raqqa Civil Council, Mustafa Al-Abed, told Enab Baladi that the phenomenon of drug abuse spread greatly a year ago in the city of Raqqa, and it is now virtually non-existent.
Al-Abed talked about the procedures taken by several bodies to combat this phenomenon, as a newly established council's tourism office is working to combat the use of narcotic drugs and alcoholic beverages banned in the cafes across the city and to take strict measures including the closures of cafes. 
For its part, "the People's Municipality" affiliated to the "al-Raqqa Civil Council" publishes awareness-raising bulletin boards about narcotic drugs and conducted several campaigns to combat them.
The Youth and Sports Committee in the city also holds vocational and scientific courses for young people in several fields, intending to provide them with job opportunities that will keep them pre-occupied and fill the void, which leads to negative social behaviors, according to al-Abed. 
These bodies work together with the Organized Crime Bureau of the Internal Security Forces in Raqqa, to combat drug abuse.
Independent civil society organizations and relief organizations operating in the city are also launching awareness campaigns about the dangers of narcotic drug abuse, according to what Enab Baladi monitored through the official pages of several organizations.
if you think the article contain wrong information or you have additional details Send Correction