Why Syrians recall fifties?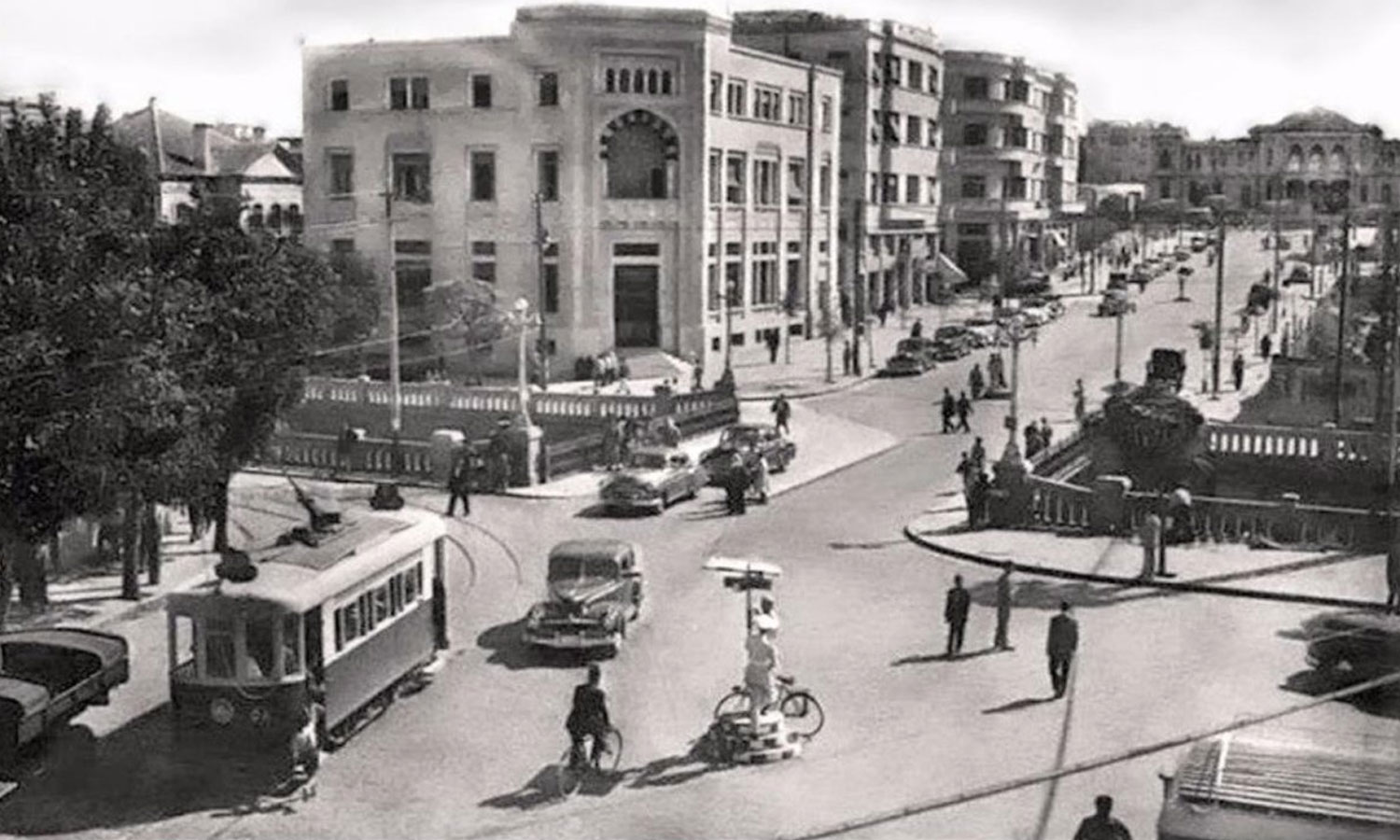 Enab Baladi – Yamen Moghrabi
While passing through a street in Damascus, a young man grabbed the collar of  the former President of the Syrian Republic's shirt, Shukri Al-Quwatli, and told him: "Mr. President, we want freedom." Back then, al-Quwatli answered him: "Oh my son, you are holding the President's shirt and shooting in his face, is there more freedom than this?"
No one knows the exact details of this story in Syria's political history, but it has been circulating among Syrians on social media platforms almost on a daily basis. The story reflects a "golden" political age in Syria's history between its independence from France in 1946 and the arrival of the "Ba'ath Party" to power in 1963.
Syrians' interest in that particular story opens the door for questioning the reasons behind it: is it a growing nostalgia for the past, an escape from reality Syrians live or even an ambition to restore the political and cultural life?
In the early fifties, Syria witnessed a transfer of power between several figures. The number of those who came to power from 1922 (two years after of the French Mandate) until the Syrian-Egyptian unity in 1958, amounted to 12 presidents, including the chain of command who carried out military coups.
Alongside the transfer of power, there were several political newspapers which enjoyed a high degree of freedom which reached mockery of the President of the Republic at that time, Adib Shishakli.
Such liberties represent what Syrians called for after more than 50 years, that is to say in the first months of the Syrian revolution, according to Ph.D. holder in sociology, Talal Mustapha. The sociologist considered that Syrians' recollection of the fifties does not stem from being only "nostalgic", but rather came in response to the Syrian regime practices at the beginning of the Syrian revolution.
At the time, there were calls for more freedoms and power transfer, long before calling for the regime's overthrow. Back then, demonstrators used to hold the Syrian flag, which later was linked with the regime and was called "the regime's flag."
However, after all the crimes committed by the Syrian regime, Syrians found themselves on the other side of the equation, while their flag of independence represents this contrast, especially after being a national symbol for all Syrians, according to the researcher at the "Hermon Center for Studies", Talal Mustafa.
Until 2011, the flag of freedom and independence was in all Syrian governmental institutions and was recognized through stamps, or through an eagle symbol on the post office building in the Syrian capital, Damascus. It also appeared in celebrations of the Evacuation Day in 2010, when a horseman carried the flag in the northern province of Aleppo.
All details lead to nostalgia
Researcher Talal Mustapha thinks that people feel nostalgic for the past either politically or socially when they cannot find solutions to their sufferings, which is seen throughout the Arab world in general.
This was explained by the Syrian journalist, and director of "SyriaNews" website, Nidal Maalouf, who said Syrians' current situation prompts them automatically to be nostalgic for the 50's, in the light of a "catastrophic present and vague future", especially that the living conditions in the fifties were ten times better than today's.
According to Maalouf,  "in the fifties, paychecks of several months were enough to buy a house, make some savings after providing the basic needs," He added "while in some newly formed countries in East Asia, an individual's income has improved dozens of times in the past three or four decades, the income of Syrians has declined to less 40 dollars a month."
Syrian social researcher, Kibriyae al-Saour, shares the same opinion as Talal Mustafa and Nidal Maalouf, and thinks that this state of "nostalgia" for a period that many Syrians did not live in, comes from the fact that the fifties were "better on the political and economic levels, while life requirements were less. Back then, people had a civil and political life as well as the freedom of information," even if it was not an ideal period in the absolute sense.
Was it the best period ever?
Enab Baladi interviewees all agreed that there were other factors in 1950 which directly contributed to Syrians being nostalgic for it; namely the wide margin of freedoms, the peaceful power transfer, as well as the economic and social conditions.
Even amid military coups, there were other statesmen and political parties, that were dissolved by "Baath Party" in 1963, which al-Assad maintained and kept when he came to power in 1971.
On 8 March in 1963, several officers of the "Arab Socialist Ba'ath Party" (ASBP), known by Military Committee, carried out a military coup, and toppled the late President, Nazem al-Qudsi, and the government of Khalid al-Azm, the Prime Minister.
The Military Committee included Hafez al-Assad, Muhammad Imran, Salah Jadid, Ahmed al-Meir, and Abd al-Karim al-Jundi. Seven years later, Muhammad Imran was exiled and assassinated by unknown persons in Lebanon in 1972, while Abd al-Karim al-Jundi committed suicide in 1969, and left a note in which he accused al-Assad of treason.
As for al-Meir, he held the position of the Syrian ambassador in Madrid and died in Syria in 2007, while Salah Jadid died in the Mezze military prison in 1993, after Assad turned against him in 1970.
These developments were followed by a long period of political stagnation, under al-Assad family's rule, which took over for more than 50 years, making everything before they came to power beautiful and worth remembering.
Mustapha explains "maybe the 50's was not a golden age," however, if compared with periods of al-Assad family's rule, it was certainly golden on the political and social levels, in addition to the educational and institutional sides."
Nostalgic not only for the past …but also for the future
It would seem that sharing pictures and stories about the Syrian society in the fifties of the last century is a temporary result of the current crises Syrians encounter. However, a study conducted by the "Harmoon Center for Contemporary Studies" showed that this nostalgia is triggered by a deep desire to restore a similar political life to that of the fifties'.
According to the study, which was published on 15 June and was reviewed by Enab Baladi, a high percentage of Syrians between the ages of 18 and 35 want a democratic government within a civil state after al-Assad's departure from power in Syria.
The study pointed that they do not prefer the application of Sharia laws in Syria, which negates the prevailing idea that a large segment of Syrians have religious tendencies, especially those residing in areas outside the regime control.
The study found "positive responses" by youth towards a unified civil legislation for all Syrians while attempting to secure equality among all Syrian citizens, regardless of their ethnicity and doctrines.
The conclusions obtained by the study revealed youth orientations and gave hope about today's Syrian society that resembles to that of the 50's in many angles and which calls for better political conditions and an even better democratic life.
How can nostalgia be used?
According to researcher Talal Mustafa, the Syrian regime has tried to remove all cultural, intellectual, political and economic features from the 1950s and erase the Syrian memory to the point that today's youth know only "Syria under al-Assad dynasty's rule"
He also tried to "normalize" the absence of democracy and elections from the political life, therefore youth attempts to discover Syria's bright history is important to stand against those who believe otherwise.
According to journalist Nidal Maalouf, nostalgia can help us learn from past experiences as well as learn from the lessons Syrian have paid dearly. He considered that it is necessary for people who have failed to achieve positive results to review their history well and determine what they have missed. Hence, Nidal Maalouf thinks it is necessary for Syrians to known their past.
As for the researcher, Talal Mustafa, he believes that restoring the pre-Assad period is a "confrontation with the forgery committed by Hafez al-Assad",  in order to display a different image of Syria for next generations, as well as affirming the possibility that Syria can be a democratic country.
if you think the article contain wrong information or you have additional details Send Correction